Creating Your Book Cover
Making a front cover that pops for your self publishing project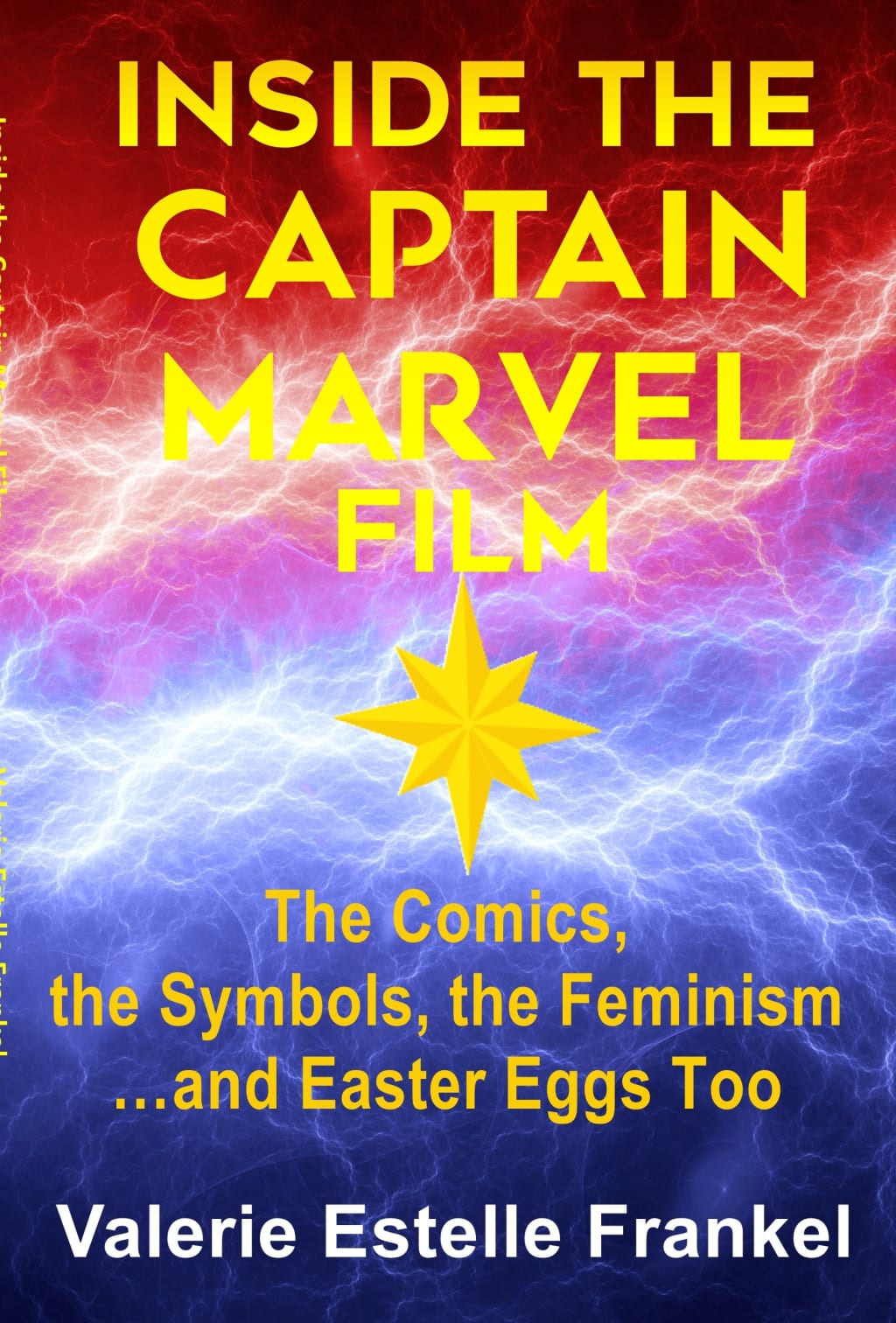 blob:https://vocal.media/3f2b4cc5-3a43-4ce0-9168-768fe850358f
Get a decent graphics program and a high quality background you like. One or two pieces of high quality royalty free clipart and some text and you're done, as with the Captain Marvel cover above. This one's ready to be an ebook. Of course, a paper book needs a bit more precision.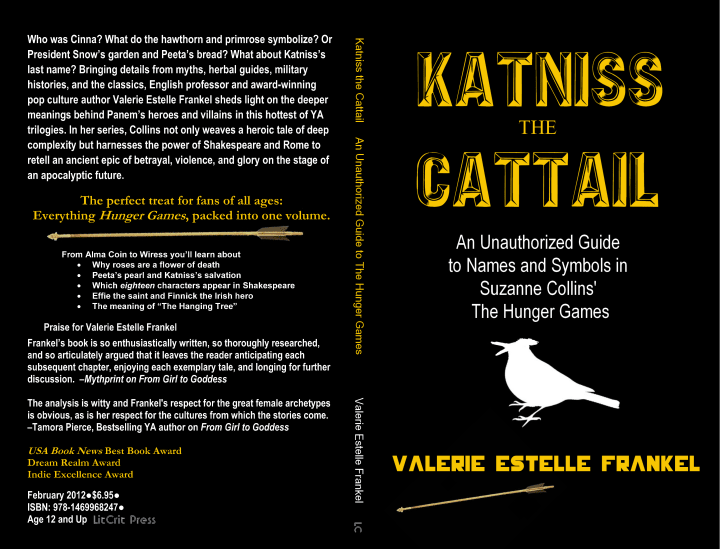 My Hunger Games Guide Cover : Full Cover with Spine for a 5.5 x 8.5 Book
The back cover is a Word document saved as a very high quality picture using a file converter though I likely should've used Printscreen). This image was then pasted into a full size jpg picture (8.5" height by 5.5" back width plus 5.5" front width plus spine plus [1.25" bleed times four sides]) using a graphics program (KDP has a calculator tool for spine width and a template for covers). The template was pasted over this temporarily to make sure there was enough margin around the edges. The text on the front and spine were created and manipulated for size and position in the graphics program as were the bird and arrow pictures. A search online for free fonts produced the Embossed-style lettering and the Hunger Games font. Note the large empty square on the back cover, left for the KDP barcode. This cover was deliberately made simple and stark to imitate the original Hunger Games cover.
If you're using Amazon KDP to self publish, you should get their cover template. You'll need to have finished writing your book so you know how many pages it is. This template, downloadable as a picture, tells you how wide your spine and bleed around the edge should be and marks the space to leave for the barcode. I make my picture in a graphics program, paste their template over it, and turn it transparent so I can make sure my image fits. Then you can create the front-side-back like the one below. KDP needs a pdf—zamzar.com is excellent for changing your graphics file into a pdf of the same size. Then your cover will be ready to upload.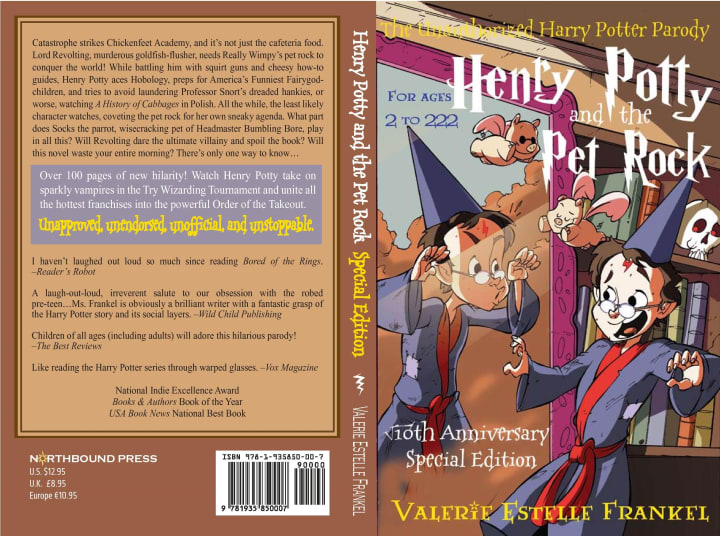 This one had a self-publishing company (Northbound Press), so they made the spine and formatted the back cover. I sent them the front cover art (designed by an artist on DeviantArt) and a Word file with the desired back cover text.
Back Cover in detail:
[Summary]

Catastrophe strikes Chickenfeet Academy, and it's not just the cafeteria food. Lord Revolting, murderous goldfish-flusher, needs Really Wimpy's pet rock to conquer the world! While battling him with squirt guns and cheesy how-to guides, Henry Potty aces Hobology, preps for America's Funniest Fairygodchildren, and tries to avoid laundering Professor Snort's dreaded hankies, or worse, watching A History of Cabbages in Polish. All the while, the least likely character watches, coveting the pet rock for her own sneaky agenda. What part does Socks the parrot, wisecracking pet of Headmaster Bumbling Bore, play in all this? Will Revolting dare the ultimate villainy and spoil the book? Will this novel waste your entire morning? There's only one way to know…

[Taglines]

Over 100 pages of new hilarity! Watch Henry Potty face sparkly vampires in the Try Wizarding Tournament and unite all the hottest franchises into the powerful Order of the Takeout.

Unapproved, unendorsed, unofficial, and unstoppable.

[Endorsements]

I haven't laughed out loud so much since reading Bored of the Rings. –Reader's Robot

A laugh-out-loud, irreverent salute to our obsession with the robed pre-teen…Ms. Frankel is obviously a brilliant writer with a fantastic grasp of the Harry Potter story and its social layers. –Wild Child Publishing

Children of all ages (including adults) will adore this hilarious parody! –The Best Reviews

Like reading the Harry Potter series through warped glasses. –Vox Magazine

[Awards]

National Indie Excellence Award
Books & Authors Book of the Year
USA Book News National Best Book
Valerie Estelle Frankel is the author of Free Guide to Self-Publishing and Book Promotion: Inside Secrets from an Author Whose Self-Published Books Sold in Thousands as well as many pop culture books.