Communicating Better as an Entrepreneur
Jack Mondel on how to communicate better as an entrepreneur.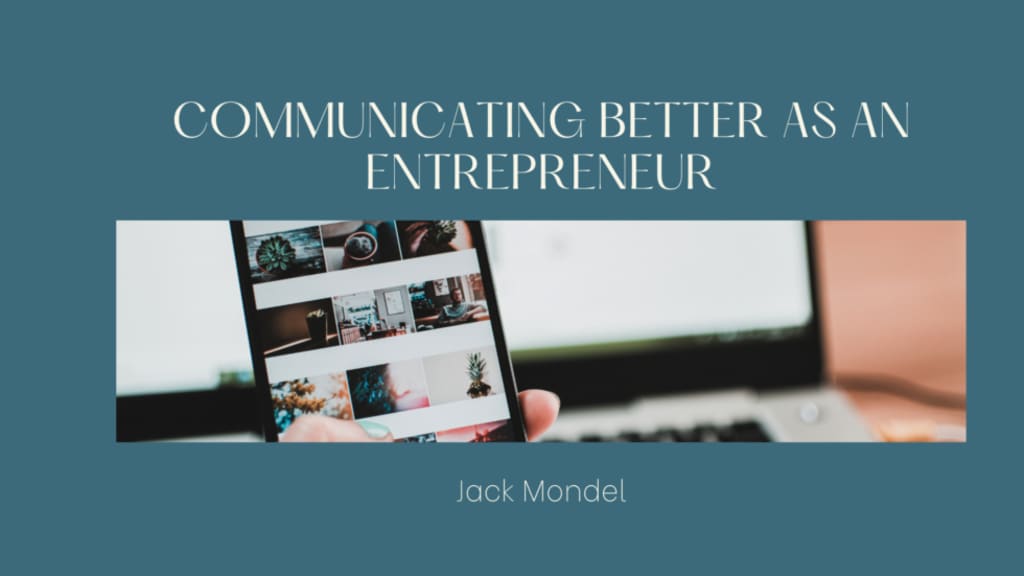 The success of any business leader relies on much more than their willingness to succeed. It relies too on how effectively they communicate across mediums, purposes, and demographics. Good communication skills can improve relationships, boost earnings, increase self-esteem, and even improves leadership skills. There is no aspect of business that an entrepreneur's communication skills do not influence, so improving these skills can significantly boost an entrepreneur's chance for success.
Be a Good Listener
Exemplary businesspeople always have their pulse on both the internal and external business environments. Listening to others with an open and curious mind is crucial. Too many entrepreneurs make the mistake of deciding what communication means early in the conversation and then seeking to fit the rest of the details into the framework they decided upon. In doing so, they miss the opportunity to truly understand the factors influencing their business. Show listeners their sharing is valuable by focusing on the conversation, using good eye contact and body language, and asking thoughtful questions. People who feel heard are more likely to become repeat communicators, helping entrepreneurs continue to monitor their internal and external business environments effectively.
Learn to Organize Information
Listeners are busy and highly distractible. For this reason, savvy business professionals include the most important information upfront and use the remaining time to support their main idea. Businesspeople looking to improve this skill might find it helpful to think of their opening words as an elevator pitch for the conversation.
Use Emotional Intelligence Skills to Overcome Obstacles and Increase Trust
We know that people naturally want to support individuals who make them feel safe, heard, and valued. As entrepreneurs who rely on customers, employees, investors, and others to succeed, this skill set is critical for building goodwill with stakeholders. Being mindful of the fact that we are all seeking happiness, avoiding pain, and struggling with the human condition from the perspective of our own unique backstory, can help us respond to others with respect and empathy.
Communication is constantly evolving, and no matter how skilled a communicator one may believe themselves to be, becoming a better one should always be a work-in-progress for any successful entrepreneur.
About Jack Mondel
Jack Mondel has always been the kind of businessman that has had the tools that are necessary to succeed ingrained in him. He completed his undergraduate degree at Rider University in Trenton, New Jersey with his Bachelor's Degree in Marketing. After graduating from Rider University, Jack dove into the wide world of finance, where he began learning all about the important ins and outs of the stock exchange. However, marketing was still a big part of his skillset, and he stayed in the marketing field as well.
When not focusing on marketing, however, a big passion of Jack Mondel's has been working through and learning more about stocks and trading. Jack's ultimate end objective is to establish a stock exchange that is among the most prosperous in the world. People who have worked with Jack have praised his stock skills, even going so far as to say that he' a prodigy. Jack Mondel has constantly surrounded himself with people who are dead set on helping him finish that goal.
When not in the office, Jack is a huge horse lover how has spent over three decades breeding and selling racehorces. Jack has worked with almost 70 horses, one of which was selected to race in the Kentucky Derby. Jack currently is located in Miami, Florida, where he loves to spend his time in the year-round beautiful weather by indulging in some great outdoor activities, such as swimming, fishing, and sailing with his family.
how to
About the author
Mr. Jack Mondel is the Corporate Development Officer of MIH and works closely on strategic initiatives, branding and overall corporate strategy. Follow Jack Mondel's website, JackMondel.com, to learn more about his accomplishments!
Reader insights
Be the first to share your insights about this piece.
Add your insights