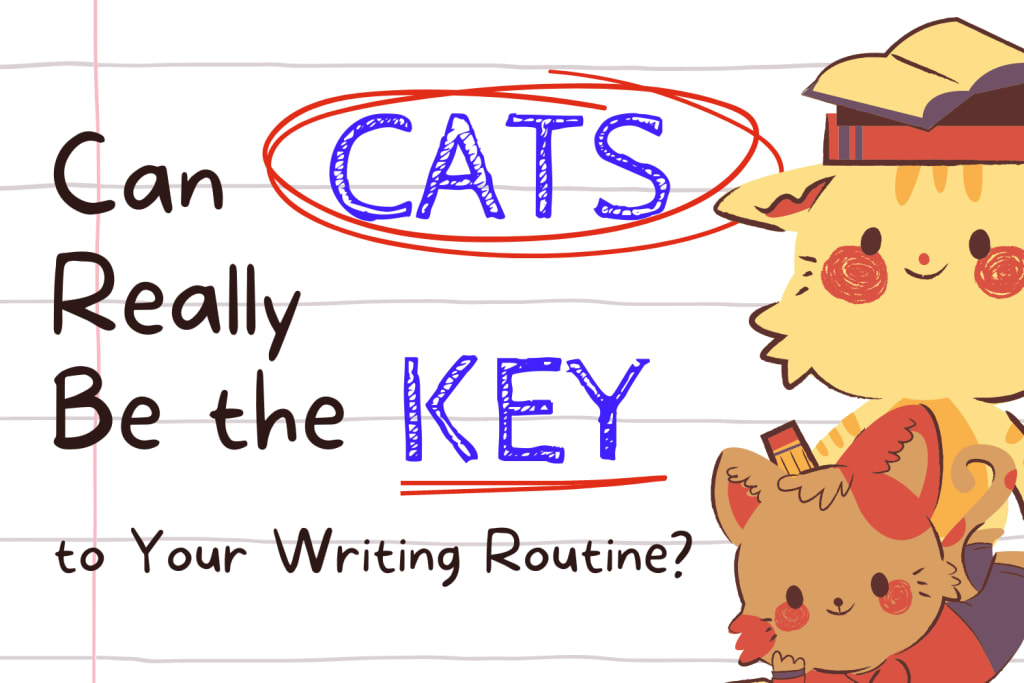 Writing and cats: two loves of mine that go hand-in-paw. (Via @lynmri on Tiktok)
Related: 7 Unique Halloween Writing Prompts to Give Your Readers THE Capital-C CREEPS
Why is a Writing Routine Important?
As a writer, having a writing routine can be a great way to form successful goals and writing habits for yourself. Many writing routines quickly develop into a regular workflow that is easily attainable and manageable from day to day.
Other benefits to writing routines may include increased productivity and focus, decreased procrastination, and an overall sense of motivation.
Should Writers Have a Writing Routine?
A writing routine can be a huge help for writers who want to take their writing to the next level. However, it may not be for everyone.
Writing is NOT a linear process, and some writers would much rather go with the flow than stick to a hard set of guidelines. Everyone's different! (Via @lynmri on Tiktok)
When deciding whether or not to start a writing routine, consider what your big visions are for your writing, and then break it down into smaller pieces. Do you want to write x amount of words per day? Do you aspire to build the next bestselling book series from the group up? The key is to be realistic with your goals...
And, on occasion, to enlist the help of your favorite furry friends.
Interesting Ways That Cats Can Help Your Writing Routine
If you are a writer that also owns a cat, then you may find that your cat can help you to make your writing routine special. Here are some ways:
Having any pet companion by your side can greatly boost your morale, and cats are no different. The benefits of increased morale, in the writer's case? Increased inspiration to keep on writing.
Protip: pet your cats, and pet them often. At least in my opinion, there are few feelings more satisfying—or motivating.
Encouragement to take breaks
When your cat is needy for food, it may be a sign that you are, too—especially if you've been writing for a long time without stopping. Likewise, taking walks and/or playing with your cat gets you up and moving, which is recommended between long periods of sitting/inactivity.
As it gets late, your cat can be your signal to wrap up your thoughts for the day and head to bed.
They're insistent on getting that quality cuddle time each night. (Via @lynmri on Pinterest)
Even if you don't own a cat, we all know that cute cat pictures and videos are a great way to decompress. Moral of the story: the more cats, the merrier.
Helpful Tips for Establishing a Writing Routine
Writing groups are a great way to find people that will inspire you creatively. Not only will you have people who share a similar interest to you, but you will also have writing partners to bounce ideas off of and get advice from.
In addition, writing groups are a wise choice when it comes to accountability. If you really want an established writing routine, get others in the group to remind you of your goals and (most importantly) help you stick to them.
Bonus points if you exchange cat pictures with your fellow writers—the PURRfect pick-me-up!
No two days are ever the same, and every writer has other important aspects of their lives outside of writing. Keep this in mind when setting your goals, and be prepared for other obligations that pop up throughout your week.
Another big influence on writing: good ol' writer's block. How will you keep your routine going when you're scrambling for inspiration? Consider saving these writing prompts to keep the creative juices flowing when you get stuck.
You're likely to give up on your writing routine much quicker if you find it unenjoyable. To combat this, make a playlist for your writing sessions, plan exciting activities to do for when you hit those new milestones, and, of course, carve out some time to show your cat some love.
Come on...you know you want to.
Are cats the key to your writing routine? Share your thoughts in the comments!
Reader insights
Be the first to share your insights about this piece.
Add your insights