Campaigns in Real Time with Dynamics 365 Marketing
Dynamics 365 for Marketing - Campaigns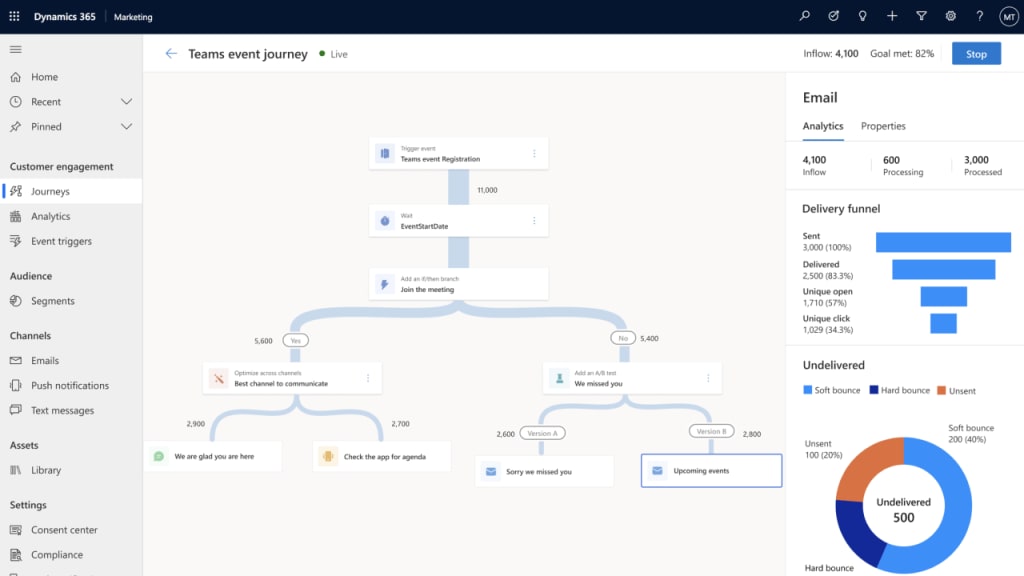 It is already known by all that the health crisis has led to a great technological transformation. Consumption habits have changed, with online sales skyrocketing and causing companies that were not yet fully digitized to start adopting technology.
This has triggered a large number of companies to incorporate Artificial Intelligence (AI) or Internet of Things (IoT) software tools and applications, seeking to meet the new consumer demands.
Consumer expectations and technological progress are leading companies to adopt on-demand marketing or real-time marketing, through the multiple channels available (SMS, Email, RRSS...). Those organizations that do not know how to adopt this new marketing trend, and that ignore customer behavior in real time, may suffer lost opportunities, giving an advantage to their competitors who had known how to adapt.
Before implementing a technological solution, it is vital to define a strategy, regardless of whether we are talking about marketing or real-time marketing. At Dynamics Square, we help our clients draw up a plan, defining the workflow and the key elements that will be based on the technological solution. Starting from some objectives, we analyze the different targets, the actions to be carried out and the expected results, which will serve to adjust and continue with the established plan.
This trend of needing to reach our customers at the moment they are interacting with us has led to improvements in Dynamics 365 for Marketing, hand in hand with AI, to obtain real-time information. With this new functionality, businesses can create event-based journeys that reach customers across multiple touchpoints, increasing potential customer relationships. Let's see it in more detail:
Real Time Marketing with Dynamics 365
Real-time marketing allows you to personalize customer interaction using transactional, behavioral, and demographic data from Dynamics 365 Customer Insights.
Now we can create event-driven customer journeys that allow us to react to customer actions in real time. For example, journeys can be triggered based on real-world customer interactions, such as walking into a store and connecting to a Wi-Fi network, or triggered by virtual interactions, such as visiting a website.
And not only this. Some of the most interesting novelties of this new functionality are:
Designer of intuitive and optimized customer journeys for tours based on events.
Journeys are triggered in real time so you can respond to customers right away.
Automatically add or remove customers from a trip based on their actions.
Personalize each customer's experience based on their actions during the trip.
Do you want to learn how to apply all these new features in your Dynamics 365 Marketing environment? We explain how to get it up and running in just four steps:
Four steps to set up your Real Time Marketing environment
We already know everything that this new functionality includes, but to understand it better, we are going to see an example of what we mean by Marketing in real time. Suppose we have an eCommerce and we collect all the information on our website, about visitors and buyers, through Customer Insights.
Let's imagine that we want to impact those people who have been looking at one of our products for more than two minutes but have not finally bought it:
Set up the Customer Insights environment
The first step will be to set up the Real-Time Marketing Preview Customer Insights environment. This point is fundamental as well as practical since the Customer Insights tool provides us with analytical information on which we can determine the actions to be carried out in real time. It's not available in all regions yet, so you'll need to switch regions if it's not in yours.
Select an event trigger
Once we have everything set up we will need to define a custom event trigger for, for example, any visitor who viewed the product. Event-driven customer journeys allow you to react in real time to customer actions based on real-world interactions, such as walking into a store and connecting to a Wi-Fi network.
Define your goals and KPIs
In addition to the trigger, we must define an objective, for example, "promote the sale of product X", and a goal to consider that objective as good, such as "get 50% of the people who look at the product to buy it". Defining the objectives and the Key Performance Indicators (KPI) is very important because they allow monitoring the progress of the marketing plan. They are necessary to guarantee compliance with the goals and objectives that we set in the marketing plan. In other words, thanks to these key indicators, those responsible for marketing actions can obtain relevant information about the strategy in real time and make the appropriate decisions.
So far, we already have what we are going to measure, why we are going to measure it and what for. In other words, we are going to see who looks at a product for a long time and does not get to buy it to take actions with the aim of boosting those sales and finally getting them to buy it.
Creating the customer journey
To boost this sale, our tour will have some "allies" that will help us interact with the potential customer. We will create a customer journey with the actions we are going to take to induce the customer to make the purchase. For example, we can send you reminders or push notifications about his interests or to give you a discount if we observe certain hesitancy in the purchase. The actions that we define in our customer journey should help achieve the objective in a non-invasive way. It is good to be aware of our clients, but it is necessary not to be excessively insistent, an over-impact could have the opposite effect to what we are looking for.
As we can see with this small example, Real-time Marketing allows us to be much closer to our clients and potential clients, to be able to act in real time based on what we are learning from them every second. In this way, we will better understand your tastes and behaviors and we will be able to offer you products or services that best suit your needs.
Dynamics Square, as a specialist consultant in Dynamics 365 and Power Platform with more than 12 years of experience, can help you define use and/or business cases to address your future marketing campaigns in real time in the most effective way possible, without no kind of commitment, we can talk whenever you want!
business
About the author
John Smith is a well-known writer and we can understand how fantastic writer he is. His extreme and overwhelming writing style have touched the mind of many as he always writes factual matter.
Reader insights
Be the first to share your insights about this piece.
Add your insights