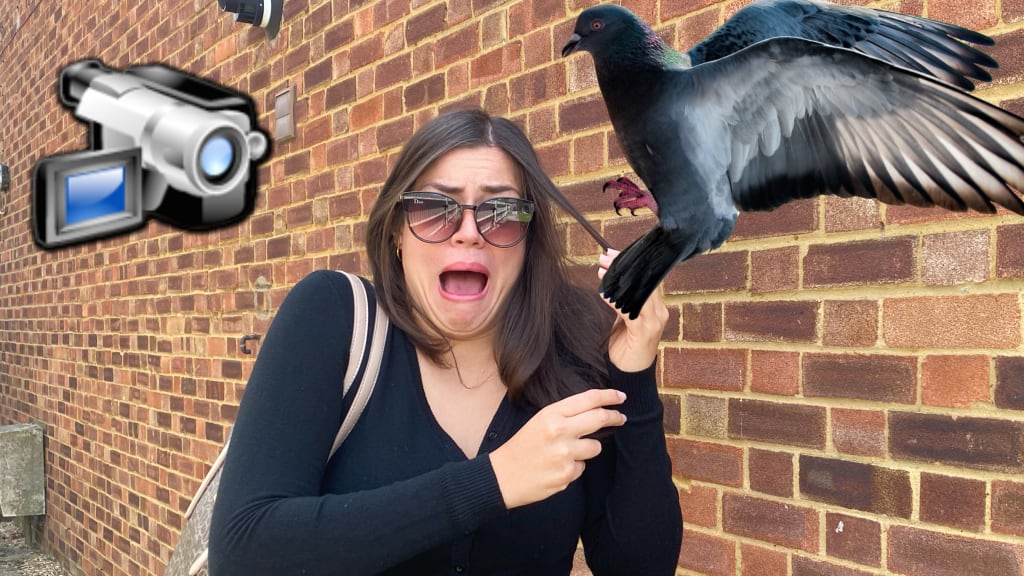 Real footage of me on my way when I was disrespected by a Pigeon
Camera-Shyness - feeling uncomfortable to speak, act or even be in-front of a camera. It's natural. Knowing that your every move will be recorded and can be played back is intimidating and most people cannot let go when in-front of the camera.
Growing up I always loved art, dance and shows. I am dramatic in every sense of the world, but I was pretty shy. At a pretty young age I gathered that those things didn't combine well and so I made it my mission to become less shy. I developed a habit of trying out new things and leaving my comfort zone.
All my life I adored our trips to Peru and told my family, as soon as I'd turn 18, I would relocate there. Effectively I did. After a few months of travelling I bought a one-way ticket to Peru and decided to build a new life. I wanted to work, find friends and establish this as my home. Everyday I would search for jobs, projects, volunteer work etc. I also dived into the entertainment industry and would spend lots of time looking for gigs.
Eventually I bagged an audition for a major ad campaign. I was so excited and nervous. I believed this would be my break through. The day of my audition came and I was only even more nervous. Traffic was horrible and it didn't make it easier for me. Eventually I jumped off the bus and started to work towards the studio. With every step, I felt more nervous and had to pep talk myself into feeling confident. I was so busy with my thoughts, I would have never expected what followed.
About 5 minutes away from my destination, my hair received a load of pigeon droppings. I was speechless. I went running into a public restroom and started washing my hair. I was close to tears, maybe this industry wasn't for me after all, I thought to myself. But it's funny how strength sometimes is born from unusual sources. I looked up and decided I was going to smash this. And nothing could stop me!
I arrived at the studio, which was beautiful and everyone was so kind. The director explained the idea of the campaign and I was supposed to act as if I were playing with a cat and a laser pointer. Let me spare you the details. I did horribly. I could not let go and play the role. It was a disaster and I left knowing I wouldn't get the part.
I never got the part, but I still felt empowered because I had discovered something I hadn't been aware of and now, I could work on it. I went to as many auditions as I could. (And did horribly at many of them too!)
Later at Dance College, one of my teachers told us to practice speaking to the camera and becoming comfortable in this situation. That too, is one of the reasons I decided to start a YouTube Channel and upload videos. With every video I have made, I have felt more comfortable to speak to the camera, in a room where nobody else is.
If there is one main idea you can extract from this anecdote, it is that: sometimes things go to plan and sometimes they don't, but you will always keep a memorable story. Nothing is as bad as it first seems, once you get used to doing it. The only way we can expand our horizon is by doing new things so I would like to motivate you to do something you might have wanted to do, but didn't have the courage to do so before.
Thank you very much for reading this. I hope you were able to laugh about my little anecdote and you too, feel empowered to do something new. Life is short and self-humour makes it more enjoyable. If you know somebody who may enjoy reading this, feel free to forward it to them. I am grateful for your support. With Love, Gabriella.