Buy Digital Gold Online From AeronPay
Digital gold is a method of investing and buying gold online without literally holding the gold yourself.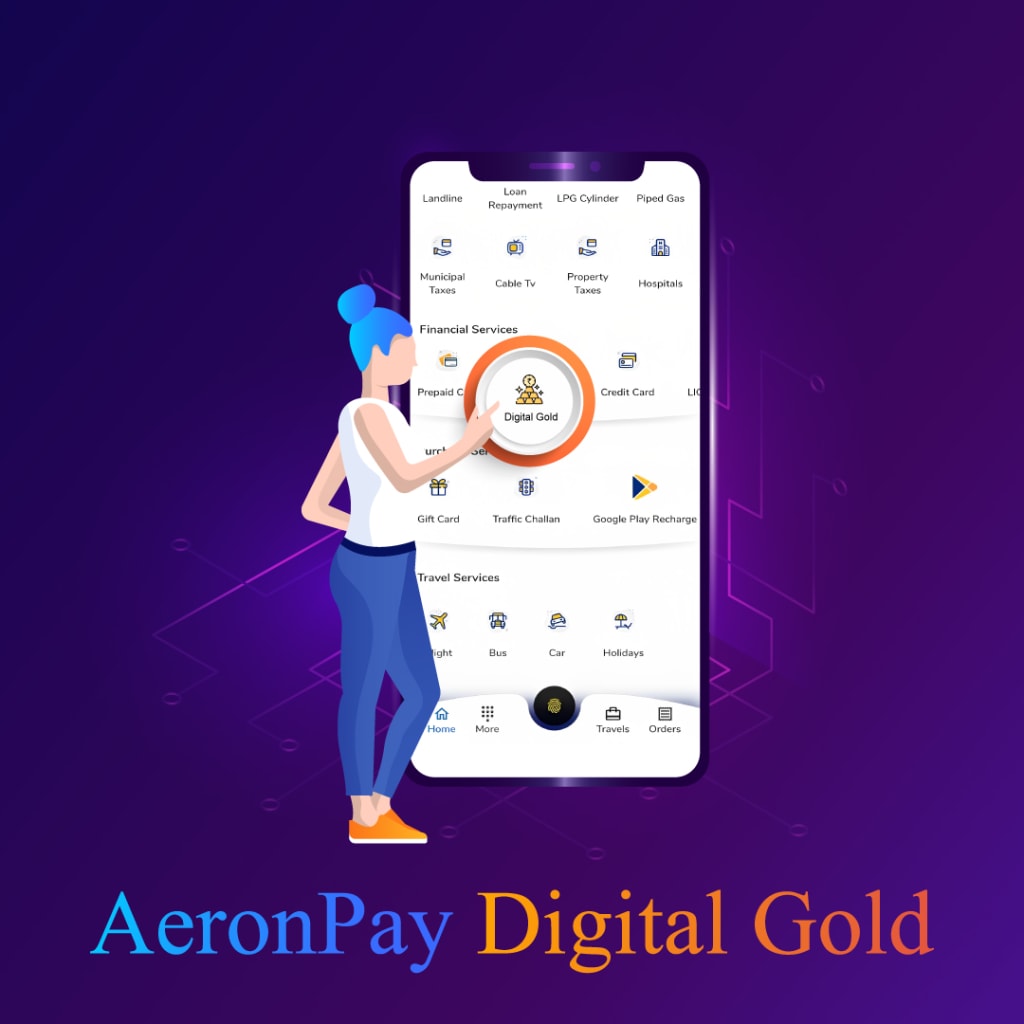 AeronPay Digital Gold
AeronPay is an Indian fintech company, based in Rajasthan, founded in 2018 by Bhavesh Soni. It is one of India's emerging fintech industries and the leading digital payments and mobile commerce services company that provides UPI payments, full-stack payments, and financial solutions to consumers.
This company helps contribute immensely to this mission (Digital India), which is transforming the traditional forms of finance and making billions of people cashless in India, and also strives for the upliftment of the fintech industry.
Some of the highlights are: -
• Earn Real Cashback points on every transaction.
• No charges on Add-Money from Credit Card.
• This is a great fit for our users because it is simple and easy to use.
• Digital Gold and Silver at your fingertips! Buy, sell and store gold and silver and get delivered at your Door-Step - anytime, anywhere.
As per the report, the company's revenue at that time was Rs 5,00,000. The company's recent revenue growth is Rs 1,800 crore and the company aims to grow the revenue to Rs 10,000+ crore by 2024. In terms of geographical expansion, the company will soon open its branch offices in 5 metro cities as well.
To provide better services in fintech industries with a strong innovation team, the proprietary technology and application of the company are available for retailers, merchants, and consumers, on any preference access. The services can be accessed from the Web, Point of Sale devices, or through a Mobile Wallet application. The company is currently tied up with leading fintech giants such as Paytm Payment Bank, Indusind Bank, Airtel Payment Bank, ICICI Bank, DBS, YES Bank, Razorpay, and many more. As of 2021, AeronPay offered 50+ services and had onboarded 3500 merchants/distributors and 8,50,000 customers. Its app was downloaded 180K+ times on the Google Play store and has1M+ happy customers.
A Virtual Prepaid Card is a Digital version of a Physical Prepaid Card; you can generate your virtual prepaid card through AeronPay mobile application. Once you have one, you can use it to make daily transactions.
To have an instant transaction, firstly you have to add money to your Prepaid Card. Once Money is added, the card works the same as a physical card; you have to enter the 16-digit card number, its security code (CVV), and its expiry date to make a payment.
Digital gold is a method of investing and buying gold online without literally holding the gold yourself.
AeronPay Digital Gold Is a trusted and transparent platform for purchasing 24-karat pure gold.
Buy and Sell Digital Gold & Digital Silver Anytime, Anywhere from AeronPay.
Reasons to Buy Digital Gold From AeronPay:-
Investment in Gold means making your financial status stronger for the future, So make it with AeronPay.
BIS Hallmark:- Buy 24K gold with BIS hallmark.
Can be Done with a Small Amount:- One can start investing in digital gold even with a very small amount of money. It depends on the buyer how much they want to invest.
Easy to Buy & Sell:- You can buy and sell Digital gold within the App.
Promo Code:- Get a special promo code on Festivals & Special days.
Safer Option:- Digital gold is often considered one of the safest options to store gold. So, one does not need to worry about the gold getting stolen.
Real Cashback:- No more gift vouchers and better luck next time, Only real cashback.
Real-Time Rates:- The digital platform will keep you updated about every minute rate in gold fluctuation.
Steps for Digital Gold Buy/Sell:-
Buying and Selling Digital Gold and Silver is too easy and quick with AeronPay.
Step 1 – Download The AeronPay Application From Google Play Store/ App Store.
Step 2 – Open AeronPay App & Click Digital Gold Icon.
Step 3 – Click On the Buy /Sell Option.
Step 4 – Enter the Amount Or Grams And Click On Buy/Sell.
Step 5 – Digital Gold Bought/Sold successfully.
Reader insights
Be the first to share your insights about this piece.
Add your insights