Build a Following Before Publishing
Advice on Selling Your Books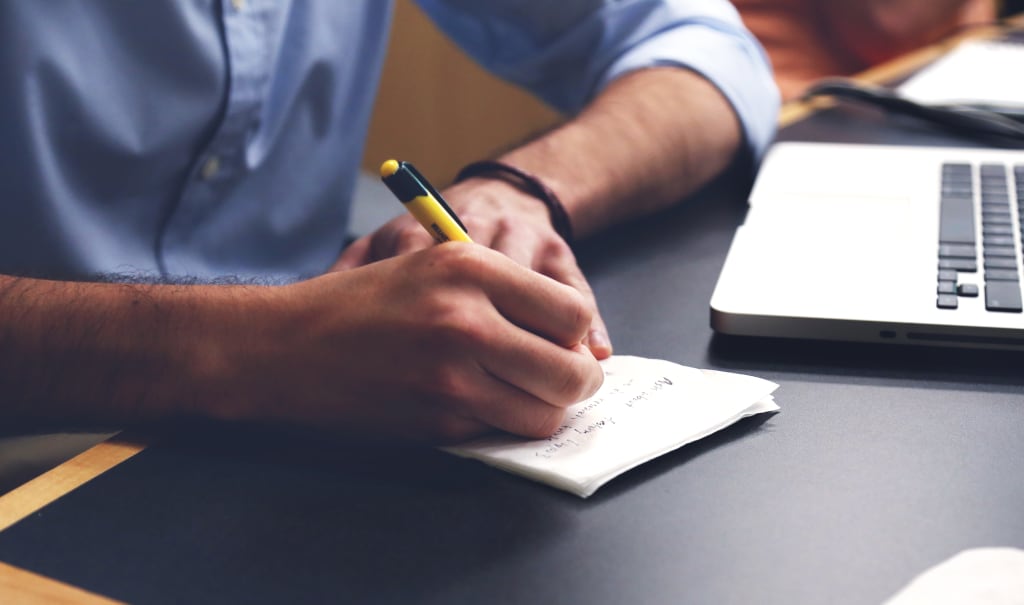 What are we looking at here?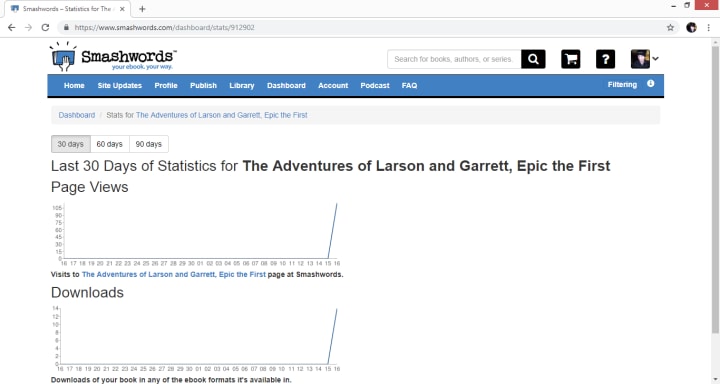 This is a screenshot from my laptop. I published an ebook through Smashwords and within eight hours, I got over 100 page views and 14 downloads. So what, right?
Now, this was accomplished without letting anyone know the date and time of publication. After the book was published, I still didn't tell anyone that it was out and available. I also didn't tell anyone that it was free.
Free books obviously get more downloads than priced books, but the percentage is what's great. Out of 100 people seeking a new fantasy adventure, 14 people thought the title, cover art, and blurb were intriguing enough to generate just over a 10% download average and all within the first eight hours of publication.
I present this little snippet of the writer's life to you, not in the spirit of self-indulgence, but rather to show all you debut writers, weekend writers, and aspiring writers that it's not really that difficult to engage new readers. So long as you have an interesting title, a well-crafted cover that matches that title, and an intriguing blurb, people will download your work.
But will they buy it?
This book was free and it was just released. Through Smashwords, new titles appear readily for a while, so releasing a ton of free new titles is a great way to build a fan base. Perhaps, it's more appropriate to say that releasing a ton of new titles is a quick way to attract new consumers…
What if the books suck, though, and no one likes them, and you pile up bad reviews?
This is also a great way to become the worst writer known, and then no one will buy your books when you release priced items. My question to you then is the following: from where are you learning how to write, edit, market, and sell your books?
Are you taking a creative writing course? Are they teaching you how to title your work, or what kind of cover is best and why, or how an interesting blurb should read? Who teaches that stuff?
Do you belong to a writers group where you all meet, even if online, and pass stories around for peer editing and critiquing? Does that group also tell you that for a small fee, they'll list your book on their website where they get 100,000 hits a day, and people will see and buy your book? Why would anyone be buying your book? Did you buy any books from that site? Did you know about that site before you were a writer?
Are you trading a bunch of free ebooks with your writer buddies and passing out five-star reviews on Amazon, Barnes and Noble, and Apple Books so that readers who purchase from those sites will see just how amazing your book is because it has 300 five-star reviews?
Did you read the reviews of Harry Potter and the Philosopher's Stone before you bought it? What sold you? The movie? Maybe, before the movie, you saw an ad for the book. Maybe, before the movie, a friend of yours read it and told you it was good. Maybe, you just saw it by accident while looking for fantasy, and what happened…?
The title, the cover, and the blurb sold you, right?
Then, you read the book, and you liked it because you were able to identify with the characters or the plot, or you just enjoyed the way it was edited. Edited…not written. You don't know how Harry Potter was written because you never read the first draft, or the second, or the rewrite. All you know is that before it was published, a team of editors combed through it to make sure it was most captivating to a broad audience, but who is teaching you how to captivate a broad audience?
Look, being a successful writer entails more than crapping out 100 titles in a 100 months and getting 100 five-star reviews for each. Being a successful writer means selling copies of your books to readers, regular people who will then talk to their friends and families about what they like…and what they don't like.
If none of this is making any sense to you, that's fine. I won't presume to tell you how to live your life, but if you're an aspiring writer or even a debut novelist—someone with only one novel out—it's important to start your career off right. I mean, this is why you're writing, right? Well, it's at least why you're publishing what you write. You are publishing your art because you want people to buy it, and then you can be a writer earning a living wage without having to work a day job.
So, how do you start your career off right? Step one is reading this article. I'm sure I planted some new concepts into your brain dirt, and I'm sure those concepts will grow into wonderful ideas, but where can you go to have all of my questions answered? Where can you go to have all of your questions answered? Where can you go to find new information that will spark new questions? Finally, where can you go to receive step-by-step outlines that will make you a successful writer?
Right freakin' here.
This manual brings to your fingertips all the practical knowledge required to build your long term writing career. Any writer of any level will benefit from the material within this comprehensive guide. From the neophyte to the professional, anyone who reads this book will learn everything from formulating an idea for a story, to practicing the art of the short story, to writing proper fanfiction, and writing an original novel.
This book not only teaches how to write, but also how to market, edit, publish, and all with exercises and even free resources. From start to finish, the ideas presented are done so in an easy to understand and entertaining fashion. By the end of this manual, you will not only know how to write, edit, publish, and market your book, but you'll know what kind of publishing is right for you.
Why don't publishing companies want you to know these secrets? Publishers run an exclusive good ole' boy club, and in doing so, they choose who they help to succeed, and who they help to fail, but when you learn these secrets, you'll know that no writer needs a publisher in today's internet age. Bypassing a publishing company not only allows you to maintain control and earn the bulk of your income, but it relegates the old, dinosaur, publishing companies to obscurity.
This ebook is .99 cents. I promise; you cannot miss with this comprehensive guide. You will find at least one piece of helpful information that will help you become a successful writer. You know .99 cents is worth at least that much!
Tell me that wasn't a great sales pitch. Now, I'm tooting my own horn! But seriously, thanks for reading, and you can find several free resources and other articles just like this one on my website, Stories by Dennis. I really do want to help you guys out because I've been where you are. Don't make my mistakes. Check out the Editing and Free Resources tab or drop-down menu. Thanks again.
advice
About the author
Creator of the Lokians SciFi series, The Adventures of Larson and Garrett, The Dragon of Time series, and more.