Blogging Planner - What It Is and How to Use It!
Need to keep organized? Use this!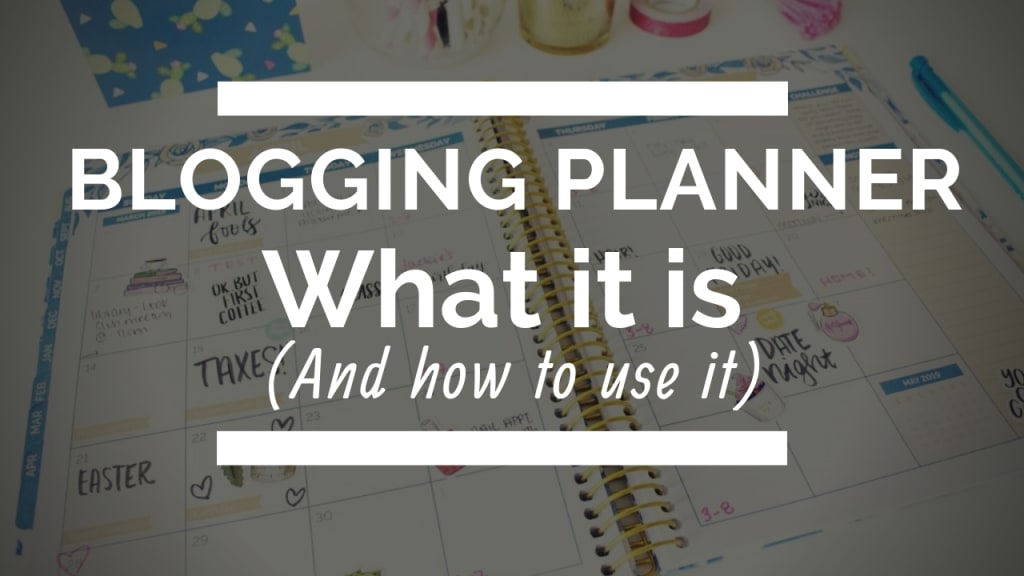 So, you're a blogger, right? You have a million ideas running around in your head at any given moment, right? How do you keep it all organized? You've (maybe) heard of a blogging planner and thought it was a good idea, but never knew how to use one or how it would work for you. Or, maybe, you've never heard of a blogging planner and you need to know more! Well, here I will tell you all of the things you need to know about a blogging planner and how having one will help you out IMMENSELY!
For me, a blogging planner consists of a 3-ring binder and a notebook. That is where I write everything and anything for my blog. I have other methods I tried as well, like a planner and a work-desk calendar. I used those two before I tried out this method. Either method is fine. The notebook consists of all of my blog post ideas, to-do lists, crochet pattern ideas (FYI I run a craft blog), and blogging notes that I learn from watching/ reading other bloggers. For scheduling out my blog posts, I use Google Sheets.
What even IS a blogging planner?
A blogging planner could mean a number of different things to a number of different bloggers, depending on your own individual style. Generally, what a blogging planner is... well, it's a plan for your blog. Hah. Great explanation, right? Maybe I should elaborate a bit.
It helps plan out your blog posts.
So, you could do this in a form of digital work (i.e. using an app, using Google sheets or Excel) or you could be a little bit more manual (i.e. work desk calendar or planner). I personally use a mixture of both. Whatever form you choose to use, it's basically a calendar that helps you write down and plan out all of your posts so you're not lost and scrambling for what to post each week.
Keep all of your ideas in one place.
I don't know about you but I get ideas at any time and any place. I will write down an idea in my phone, on a piece of paper, the draft section of my blog, a Word Doc, sticky note, napkin at a McDonald's drive through—you name it, I've done it. But what happens when you get a great idea, you plan everything out in your head, get it on to paper, and.... where the heck did I put it?! Was it page 5 of my notebook, the used napkin I threw out when I dropped ketchup on my pants after that wide turn, or in the notes app on my phone?
If you have a blogging planner, you can write all of your ideas down wherever you want, but now you have an organized place to transfer them to! It works perfect when you're in a pinch for a blog ideas, too. You'll have a whole list of ideas to pull from when your creativity was sparked!
To-Do Lists Galore!
Again with the damn napkin—I write to-do lists everywhere. They keep me sane. They keep me on track, and they keep me organized. But what happens when you're writing a to-do list and you lose it?! (RIP to all the grocery lists left at home. You'll be missed.) I can't tell you how many times I would write two to three to-do lists a day and lose every one of them. It ended up wasting me more time than saving it! Now, I use one sheet to write down every single thing I need to do. Then I pull from that and plan out my days. Both of these sheets are ripped out of my notebook and placed, front and center, in my binder so I can always see it right away.
***
The best thing about a "blogging planner" is there is no "one size fits all" type thing. What works for me may not work for you. It's all about your personal style and your blog. Here I've given you lots of ideas (And many other bloggers could give you totally different advice!). So get yourself a binder, figure out everything you need to organize, and get down to it!