Bhuvan Bam Wearing a Printed Shirt in Taaza Khabar, all You Need to Know.
Bhuvan Bam Featuring Printed Shirts.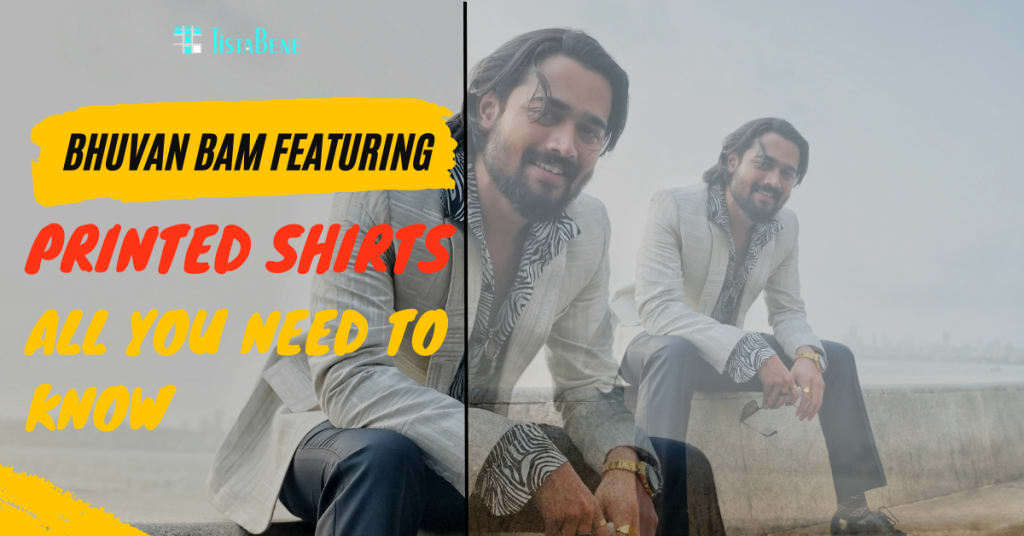 Bhuvan Bam is a comedian, singer, and YouTuber. These influencers began off as YouTubers, comedians, or singers. His comedic series BB Ki Vines is well-known on YouTube. In 2018, Bam became the first Indian YouTube content creator to reach 10 million subscribers. BB Ki Vines is his YouTube account, where he posts 2-12-minute videos illustrating the life of an urban teenager and his wild interactions with friends and family, all directed by Bam. In August 2016, bam released a music video for Teri Meri Kahani. Sang Hoon Tere, Safar, Rahguzaar, and Ajnabee were the next to arrive. He also co-starred in the short film Plus Minus with Divya Dutt, which won a Film Fare Award. Recently Bhuvan bam's series named "Taaza Khabar" came on OTT platforms which is a treat to watch.
The series is a gift for Bhuvan Bam fans, who would get to see him play an entirely different character for nearly three hours. Aside from that, the show's narrative may not captivate you. I watched Taaza Khabar as a long-time Bhuvan Bam fan who has grown up watching BB Ki vines. It is the most recent Bhuvan Bam production, with six 30-minute episodes directed by Himank Gaur and created by Bam himself.
Outside of the BB Ki vines universe, I binge-watched Taaza Khabar and enjoyed seeing Bhuvan Bam. Bhuvan is available as an actor, writer, producer, and singer. His admirers are in for a real treat.
Plot:
Taaza Khabar is another rags-to-riches tale in which a sanitisation worker (one who works for the cleaning and betterment of society in cleanliness and making it germ-free) gains the ability to prophesy the future. 'Taaza Khabar' is the news that he receives on his phone before it happens and that only he sees. It's a superpower Bhuvan gains after a series of events. Taaza Khabar begins with Bam being impoverished, fighting to make ends meet, and living in a nice bungalow. 'Taaza Khabar' is the story that happens in between.
Brief story:
Taaza Khabar is no longer available. Fans of Bhuvan Bam have been anticipating this series for a long time, as the social media sensation has finally transitioned from his BB Ki Vines avatar to demonstrate his acting abilities in a full-fledged series. Will he impress, or will his first try fail? Let us investigate.
Bhuvan Bam evolves into Vasant aka Vasya in Taaza Khabar, a man who collects money in a pay-and-use lavatory. With an alcoholic father, a devoted mother willing to steal for the sake of her son, and her one true love, Madhu, who works as a sex worker, his life is caught in a rut. Vasya wishes to escape the hellhole, but he lacks the necessary funds. He is a kind man who assists and cleans a woman who has fallen in his restroom and is blessed with a miracle. While it appears to be more of a curse than a blessing at first, the situation quickly reverses and it appears as if Lady Luck has smiled on Vasya and his squad, but you have the sense that this will not last!
Outfits of Bhuvan Bam in Taaza Khabar
Bhuvan bam's style is different and unique we have seen him wearing funky t-shirts for men and other bold and quirky over light and plain and so he did he wore quirky printed shirts for men which are amazing and from that he wore a quirky printed white and black zebra printed crepe shirt from Tistabene's collection which is a clothing company from jaipur. rather than this Bhuvan bam wore a lot of shirts with jackets and quirky printed shirts for an amazing look. His way of styling and presenting himself is unique and different from other actors which is the one important interesting thing to know about him rather than his acting and shows.
WRAP UP:
Your dress makes you different from others. The story of the movie and every other thing is okay and great to be but your dressing sense matters the most and the Tistabene collection helps you to adapt the best dressing sense by providing everything from quirky printed shirts to linen kurtas for men and everything in between. Try wearing something different and experiment with the looks for great results.
Reader insights
Be the first to share your insights about this piece.
Add your insights