Best Websites to Kick-Start Your Art Business
Starting an online art store can be difficult and expensive, so why not kick-start your business with these print-on-demand platforms? Sit back and watch the money roll in.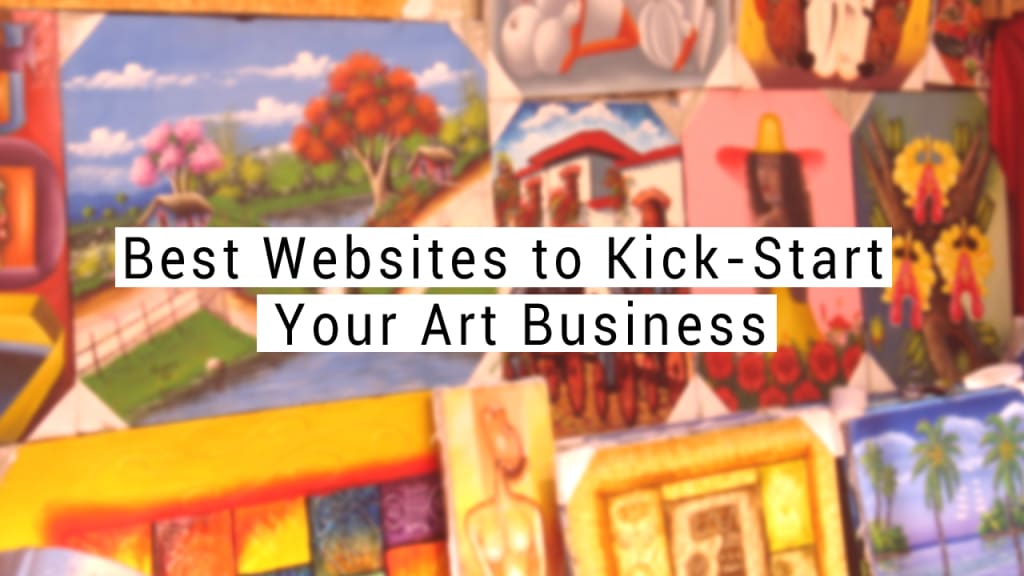 Many artists can attest to having a beautiful library of artwork just sat on their computer collecting storage, so why not take that portfolio and start making some money from your talent? The big question is, how?
Beginning a small art business can be stressful, costly, and overwhelming to someone with little to no business experience. Often is the case that artists simply do not have the time or funds to print and package their own artwork when they start off, so the best way to kick start their art business is by outsourcing to companies that print and package their artwork for them.
These companies provide a platform for artists to display their artwork where potential buyers can peruse an artist's works and even choose to have their favourite artwork printed on various products, not just paper prints.
With so many different platforms popping up, it can be challenging to choose which ones to begin on, so we have compiled this list of the three best platforms to sell your artwork online.
Before we begin, it is essential to bear in mind that by selling your art through these platforms, you will not be earning the total price of each sale since these companies will need their commission to cover the costs of printing, packaging, and postage. Though it varies between companies, your profit will be roughly 20% of each sale. Some sites allow you to choose your products' price, while others have a fixed commission rate for each product.
Some important aspects to remember when signing up for these platforms:
- Always read through their Terms of Service to ensure that your artwork does not infringe on their policies before uploading them (your account could be suspended, then you would not be making any money!)
- Ensure that you retain all rights to your artwork and content.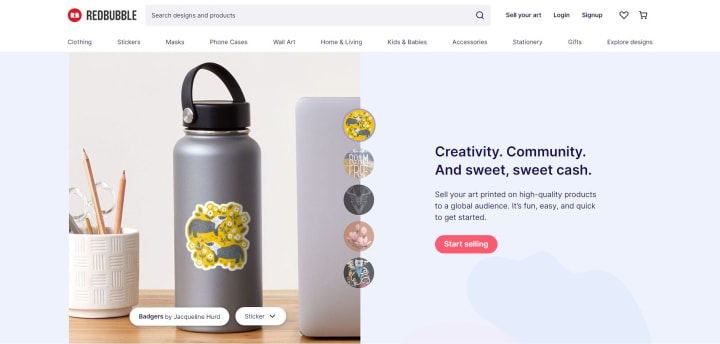 This is probably one of the most well-known platforms for artists to sell their artwork on. Providing not only prints but also t-shirts, bags, stickers, device cases, etc. It is a great place to start off your art business and grow your audience.
Redbubble allows you as a seller to set your own prices, starting from a base price that varies on the type of product. It would be best to browse other sellers' prices to see what price you should start off at before revising your prices as your shop gets more popular!
This platform has a minimum payout rate of $20, meaning that you would have to make $20 worth of profits before cashing out your earnings.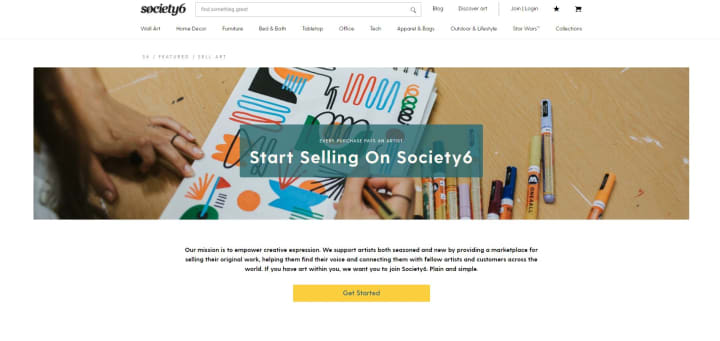 A well established and reliable platform, Society6 have a vast collection of products that you can print your artwork on, not only providing good-quality prints but also phone cases, backpacks, notebooks, pillows, and more!
A great feature of Society6 is that the site allows artists to choose their profit margin when it comes to their art prints, framed prints and canvas prints. The default is 10%. However, for other products, the profit is decided by Society6 due to the varying costs of printing on different products and materials.
Once you have uploaded your artwork to Socity6, you can pick and choose which products best suit each artwork, however for certain products, you will have to reupload your artwork with adjusted dimensions.
It is important to note that Society6 only pay their artists via Paypal in USD, meaning that if you are an artist living in another country, you would have to put up with Paypal's daily fixed conversion rates when you want to withdraw your funds.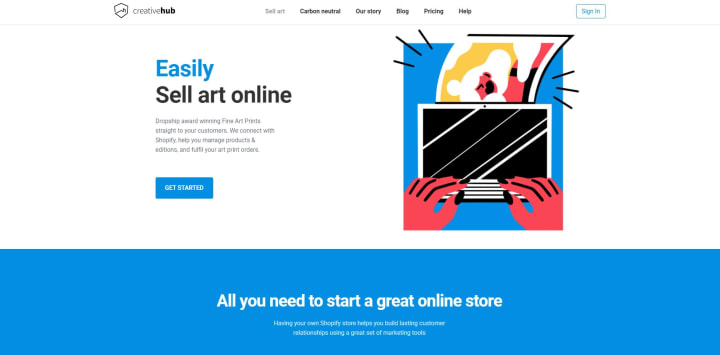 CreativeHub is a multi-function platform for artists where they can print, sell, store, and share their digital artwork.
Although they only offer prints as opposed to other platforms, which may provide a range of products, this platform provides a high-quality 'Fine Art dropshipping service' where they will print and deliver your art sales to customers with a certificate of authenticity! Even going as far as printing your business' logo on the packaging for that extra professional feel.
What is great about this platform is that CreativeHub allows you to set your own prices for the prints you upload. What is even better is that they take no commission from your sales; the only costs are the production and packaging, which vary depending on the quality of the prints and paper you select.
However, to access this service, you need to create a Shopify store to link your CreativeHub products. I would recommend this service to artists who can fund Shopify's subscription plan.
It's up to you as a seller to advertise your artwork on social media, but here is some additional advice you can use to make yourself stand out amongst the crowds of artists:
No need to stick to one store:
There's nothing that is stopping you from selling your artwork on more than one platform, all three of the above stores' state in their Terms of Service that you have all rights to your artwork, meaning you are free to do with it what you like and are not chained to one website. The only issue would be that different sites require differing document sizes and image formatting, which can be time-consuming.
Give each of your pieces a name:
This is a great way to get noticed as it can be the deciding factor between a buyer scrolling past your work and proceeding to checkout.
Steer clear of brands and fan art:
There is a fine line between fan art and copyright infringement. More often than not, these platforms would rather be safe than sorry and remove any artwork that teeters along this line. It is best to stick to your own original content and build an audience through social media, directing them through your shop(s).
Thank you for taking the time to read our blog! If you enjoyed the content or learnt something along the way, please consider leaving a '<3' below! We would appreciate it if you could leave a small tip to support us in our mission to provide free, weekly infotainment content for you to enjoy!
You are the reason we can continue doing what we love and making all of this possible. We are forever grateful for your support!