Benefiting Secrets to Restaurant Accounting with QuickBooks Hosting
7 benefits of how your restaurant accounting can benefit from QuickBooks hosting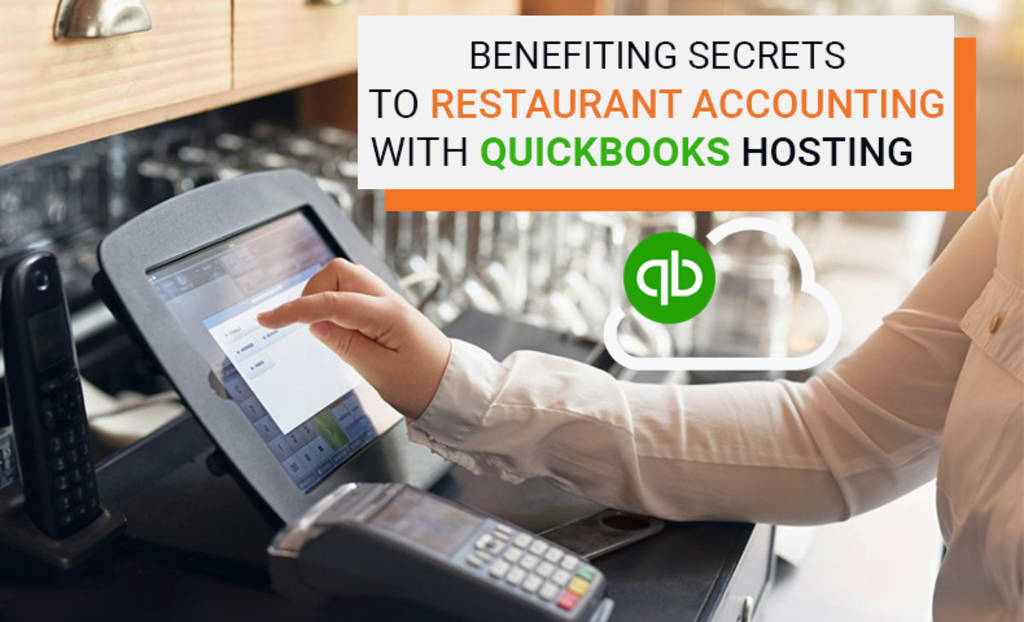 Benefiting Secrets to Restaurant Accounting with QuickBooks Hosting
The restaurant business is no doubt an excellent profession. However, running it smoothly, especially from the accounting perspective, is a tough nut to crack. If you are a restaurateur, you would know the juggling act between the cash register and serving the customers. For cases like these, QuickBooks accounting software can come to your rescue.
Take a look at the 7 benefits of how your restaurant accounting can benefit from QuickBooks hosting.
1) Generate Customized Report
Entering your accounting information in the hosted QuickBooks can help generate an endless array of your business reports. With the help of these reports, you can manage your restaurant business by taking well-informed decisions.
If you want, with only one report's analysis you can take decisions related to restaurant management, staffing, or the menu. This can aid you to improve operations. With your data stored in the QuickBooks hosting platform, you can your business-related reports and financial statements with your stakeholders.
You can avail a lot more with hosted QuickBooks like:
Generate annual, monthly or daily report
Schedule emails and reports to your colleagues, partners or accountants
Use the generated restaurant accounting software report as per your advantage
Keep a check on the profitability, loss statement, total earnings, etc.
Determine your budgeted spending plan and compare income statement
2) Process Payroll Transactions
QuickBooks hosted on the cloud can assist you to handle your employee payroll transaction efficiently. With your QuickBooks payroll feature you can pay your employees:
Monthly
Biweekly
Weekly
Your accounting software allows you to create accounts of every employee into the system. You can also organize it as per their deductions and SIN (Social Insurance Number) and can be ensured of:
Employees receiving an appropriate hourly rate (payment system)
Properly assessed taxes
Individual deductions
3) Oversee Accounts Payable and Operating Expenses
Be it a small or a big restaurant, a lot of expenses are involved in the operation. The expenses that come as a priority is related to occupancy. This includes costs related to:
Utility payments
Building maintenance and repairs
Janitorial services
Property taxes
Building insurance
Rent
Other expenses include:
Employee discounts
Health insurance
office supplies
Menu printing
Uniform expenses
Marketing costs
Equipment maintenance and repairs
Licenses and permits
Depreciation expenses
With restaurant accounting QuickBooks you can create different charts of accounts and enter all of your transactions into the system. This would populate your accounts chart and help you in creating financial reports like:
Profit and loss statements
Balance sheets
Cash flow reports
With QuickBooks, you can make invoices accurately and make payments on time. So, your shipment or service payments never lapses. Added to this, your QB accounting software efficiently posts the expense to your created accounts chart and makes timely payments by generating an electronic payment or cheque to the vendor.
4) Tracking Inventory
Where food and beverages are the two aspects on which majority financial transactions are made, it is vital for you to manage the inventory. With QuickBooks, you can match regular sales with reports directly from the POS (point of sales) system. This helps you too minimize errors and determine the sales related to food and beverage comped in one day.
Again, daily reconciliation is also a vital aspect of restaurateurs. You can reconcile revenues (daily) against the settlement, that too via the assistance of remote desktop hosting, and determine cash shortage or cash over.
When the daily sales reports get collected, it transforms to become historical data. The saved data in the hosting platform can help you to:
Determine to make small or huge changes in your business
Predict forecasts related to sales
Compare sales figures varying from month to month
By now, the above benefits would definitely have given you a stark idea of how you can manage all your restaurant accounting with the aid of QuickBooks hosting. Running a restaurant business means being involved in many operations. It starts right from kitchen management to vendor payments to cash sales. Don't remain stuck in financial operations when you can get it sorted with QuickBooks in no time!
advice
About the author
Rupinder Kaur works as Senior SEO Associate with Sagenext and passionate writer. She is currently all in works writing about Quickbooks hosting, Technology and trends in accounting and tax.
Reader insights
Be the first to share your insights about this piece.
Add your insights