Beginner's Guide To Join Vocal Media
How to be an effective writer on Vocal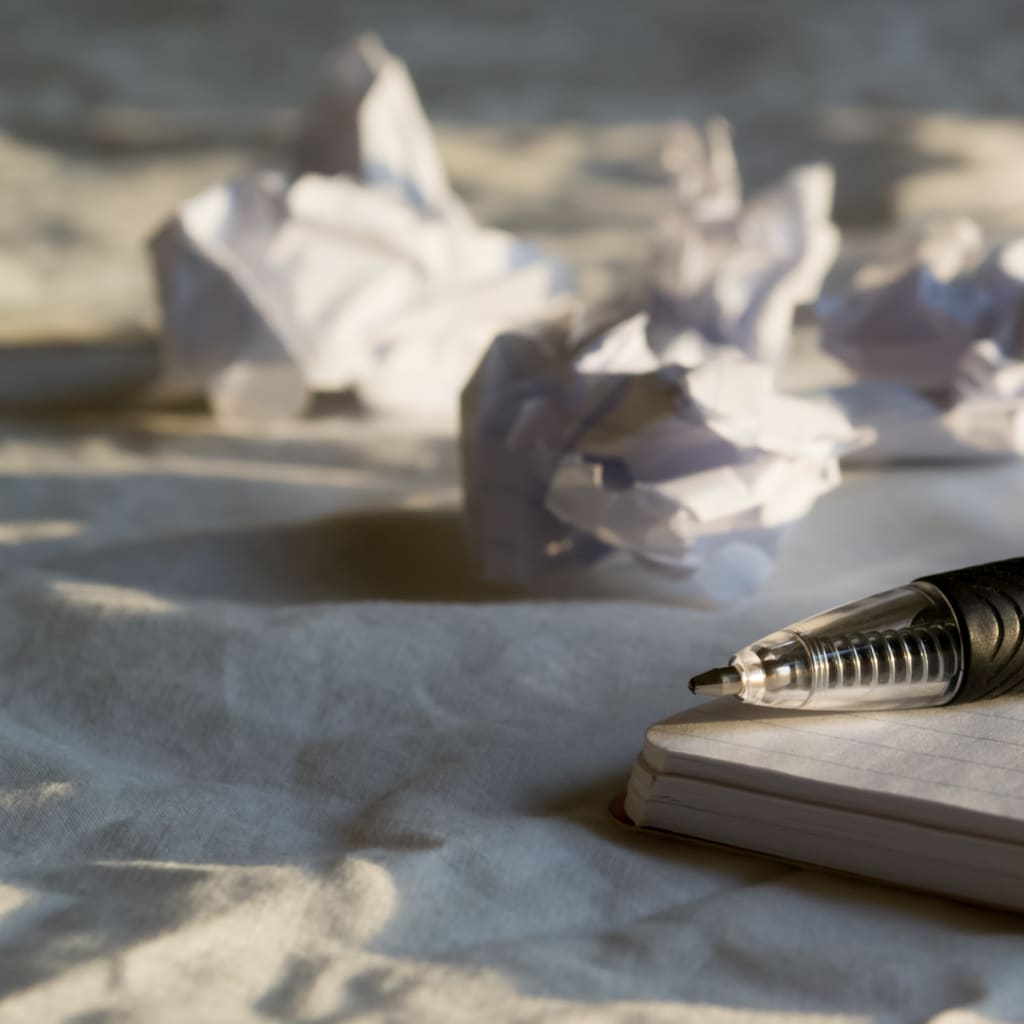 Photo by Steve Johnson on Unsplash
It's been one month since I started writing for Vocal. With the experience I have had so far, I highly recommend you to join Vocal.
I will show you the steps to follow to join Vocal and how to be a successful writer:
How to join Vocal
It is very simple. When you go to the website vocal.media, you will click the "sign in" button on the top right of the page. You will write your email and a password, then you are a member of Vocal.
You can create an attractive profile page. You are allowed to mention all your social media accounts in your public profile along with your short bio.
How to upgrade to V+
You can upgrade to V+ by paying $1 for the first month for a limited time and then $9.99 for the coming months. You may cancel this membership anytime.
The pros of being a V+ member
The most important feature V+ users have is to be able to join exclusive challenges. It was the reason for me to be a V+ member. I wanted to join the Travel Cuisine challenge and upgraded my membership. Please read my story I submitted for the challenge:
There are certainly some other features that make V+ membership appealing. I will post it as a screenshot for you to see the differences between being a Vocal member and a V+ member.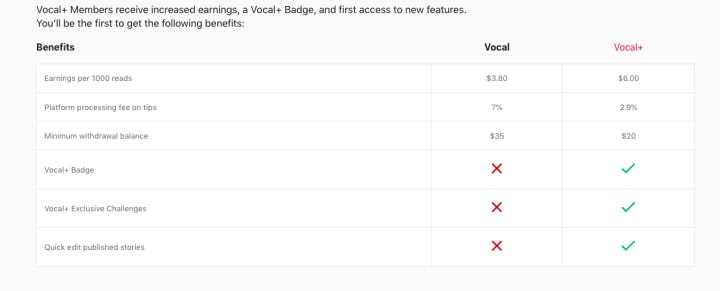 How to create an article
First of all, please note that stories to be submitted to Vocal must be at least 600 words and the poems 100 words. You have the opportunity to repurpose your published stories along with the original ones on Vocal. If you republish your article, please mention it as a disclaimer at the end of your story.
As soon as you sign in to Vocal, you are ready to create your story by clicking on the black Create Story button on the top right of the page.
You have to write a title, subtitle, a featured photo, and your story of a minimum of 600 words to be able to submit to Vocal editors for review. You may also embed video links to enrich your stories.
How to format your story
There is a formatting tool, which is very easy to use. As seen in the below screenshot, you may have all the tools you need to format your article. You have to select a word or a phrase to modify it as desired. You are allowed to make hyperlinks for your references and even make lists of things by numbering or bulleting.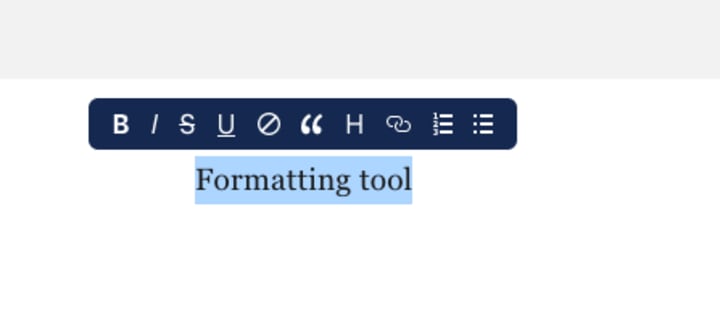 How to submit to communities in Vocal
There are communities instead of publications in Vocal to submit your stories to. When you finished writing your article, you have to choose which community you would like your article to be submitted to.
As seen below, you will choose the name of the community you think your story might fit. Yet, please know that Vocal editors may not agree with you and post your story to another community.
When you choose a community, relevant tags will appear beneath. You will choose as many tags as you like that appear on the screen. If the story is for a challenge then click the Submit to challenge button, as well. If not, just go with the Submit for Review button.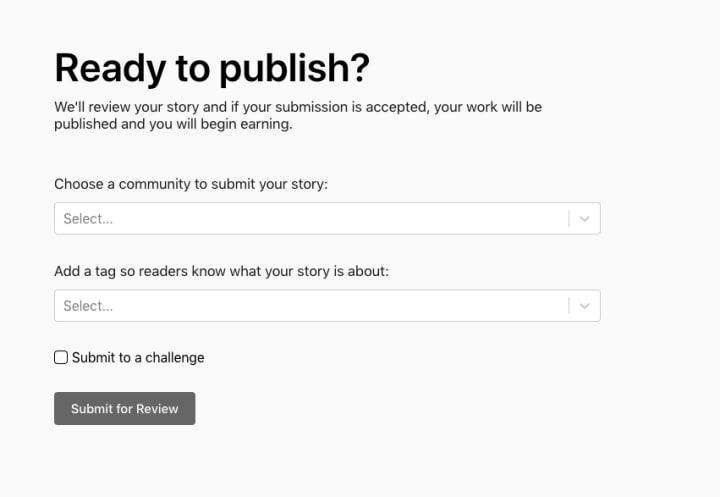 To be able to find the relevant community for your story, please go to the communities' page and read the information on their pages.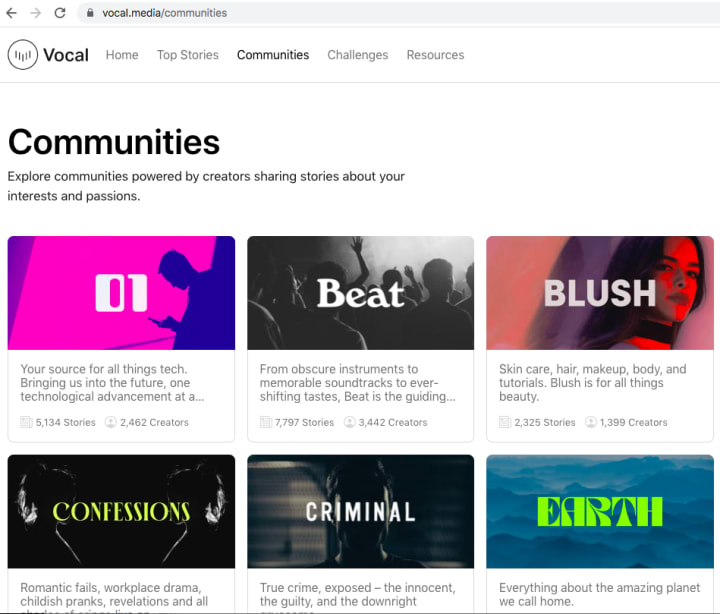 How to earn Vocal bonuses
Please note that you must have a Stripe account to earn money for your stories on Vocal.
You may receive tips from anonymous users from $1 to $20 and this tip will go directly to your Stripe account while other earnings will stay in your wallet until they reach $20 for V+ and $35 for regular Vocal members.
You will receive $5 when you publish your 5th story on Vocal and get $10 after your 10th story. I personally received these bonuses and I also heard from a friend that you will receive 50usd when you publish your 50th story.
If you like 15 stories of your fellow creators by clicking the heart icon at the bottom of each story, you will also receive $5 for your engagement.
Along with the bonuses I experienced, you will receive earning from the reads of your stories.
Conclusion
I prepared this story to show the steps I took after exploring the Vocal writing platform to be able to use it effectively. These are the steps I took after signing in to this platform.
I hope newcomers like me will find my story useful.
how to
About the author
Economist, certified English<>Turkish translator, writer, NFT collector
https://gulsenuyguc.medium.com/
https://www.linkedin.com/in/ece-uguc/
https://www.quora.com/profile/Ece-Uyguc
https://www.reddit.com/user/Uyguc2021
Reader insights
Be the first to share your insights about this piece.
Add your insights