As If Our Childhood Couldn't Be Destroyed Further.... Not Only Is Toys 'R' Us Closing down, but Their Founder Just Passed Away
No Tagline Necessary....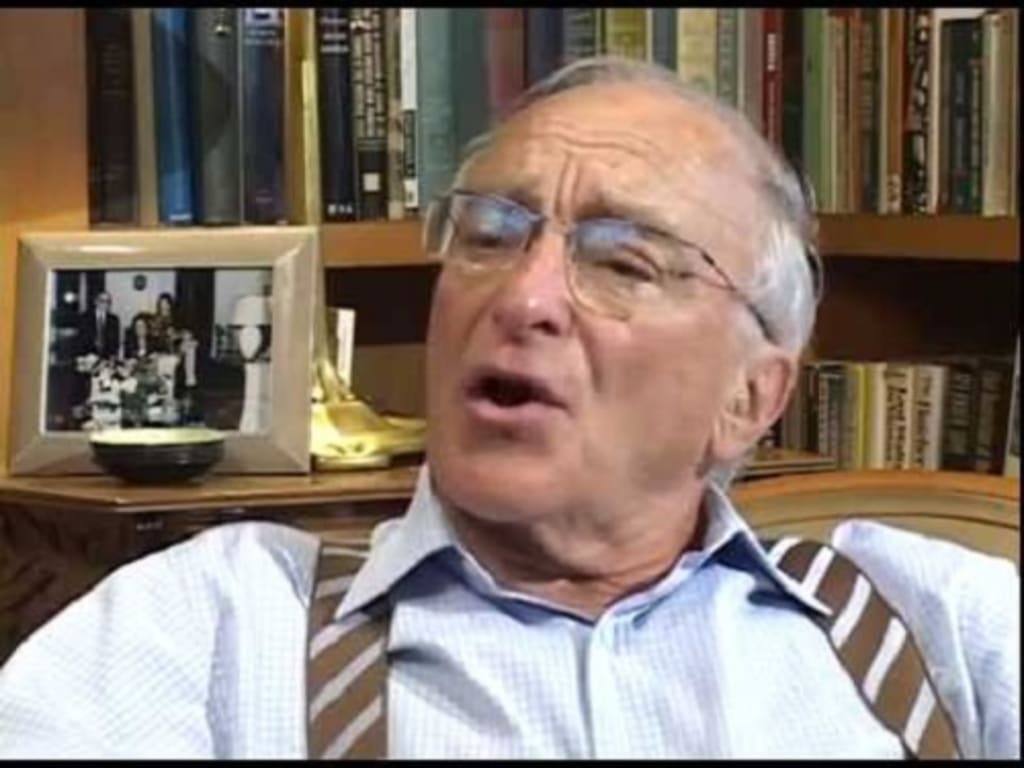 His name is Charles Lazarus. A modern-day Saint Nicholas. No one really knew (or honestly cared that this was the guy who brought us the big giraffe on TV and countless aisles of G.I. Joe's and Barbies to boot) who he was except that he originally ran a baby-furniture retail store back in 1948. Who knew, right?
Who knew the guy began arguably the biggest chain in the country for toys?
The first Toys 'R' Us location actually launched back in 1957; and it was the first retailer to go with mass-merchandise of that particular line at remarkable discount prices. Novel idea. As you can imagine, no one would have ever thought to run a massive toy store like that — 365 days in the year (and not just during Christmas).
But Charles did. He saw that it would work.
The fact is, it originally wasn't going to be easy. At the time, his direct competition came from department stores, so discounts and aggressive markdowns were the norm, which made it difficult to keep things going. However, Charles pressed on. The brand was then sold to Interstate Departments Stores Inc. in 1966 due to bankruptcy....
But it was Charles.... the founder: he was responsible for actually pulling the brand out of that bankruptcy and actually went public with it in 1978.
By the mid-90s, Toys 'R' Us became the biggest toy seller in the entire United States. Smaller chains branched out as a result. It seemed like Charles had a monopoly more so than even the copies of the board game on the floor — that is, until he stepped down in 1994 as CEO and became chairman for a comfortable four years following.
It was then, just within that decade, that a little known retailer by the name of Walmart stepped up their game, selling more brands than big giraffe could, heating up the market. Times got tough, saddled with debt in the heat of the competition that caused a leveraged buyout in 2005, but Toys 'R' Us hung in there proudly....
To no avail, just in 2017 the company filed for Chapter 11 bankruptcy for protection, but then had to liquidate after that Christmas season came up terribly short. It was inevitable....
Toys 'R' Us was going to be no more....
Effectively, the company was closing — or selling off all 735 of its U.S. stores. But as you can see by the headline here, that's not all....
Mr. Lazarus, our Saint Nicholas: he died shortly after. At the tender age of 94.
I mean it when I say there shouldn't be a tagline at all with this. It breaks my heart. Some of these brands aren't just retail products, but remembrances of what it was like to be a kid. Or a mom. Or a fun-loving dad shopping for Christmas or birthdays at the biggest toy store in town.
We can't be mad or sad too much, as the legacy Mr. Lazarus left behind was one of love, compassion, fervor, and honestly no bad feelings at all toward the course of events he couldn't even begin to plan to expect.
After all, he did his job just fine. So this honors him, Mr. Charles Lazarus — and to top it off, sir, here's a nostalgic video for you on what it means to be a "Toys 'R' Us kid."
(I'm actually singing along right now. No, seriously, I am.)