ALOE VERA: A LOW MAINTENANCE YET A PROFITABLE CROP!
ALOE VERA: A LOW MAINTENANCE YET A PROFITABLE CROP!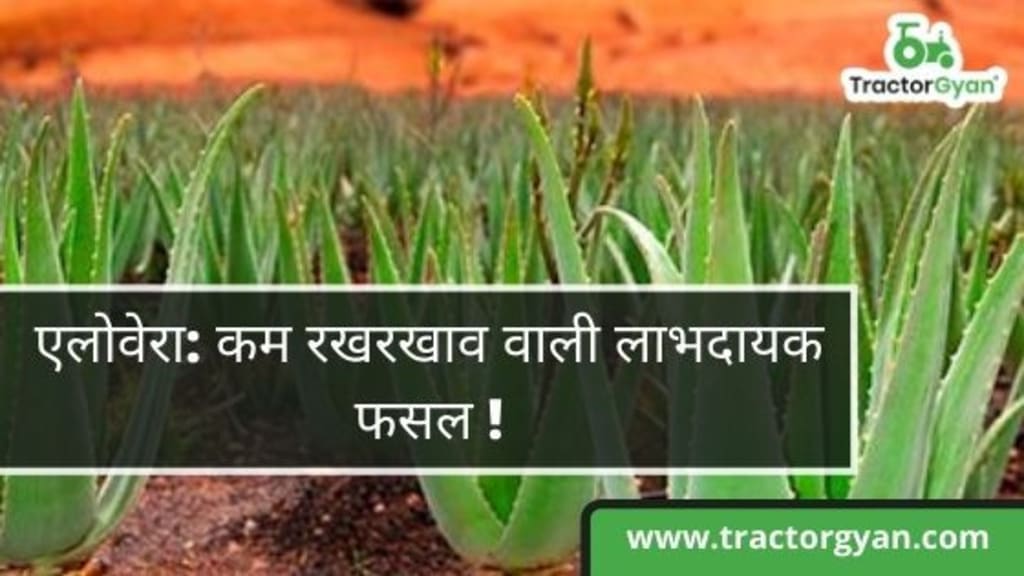 Are you a small scale farmer who is tired of getting a low profit after giving your 100% and want to grow a crop with high profits that don't require much maintenance then, 'Aloe Vera' is the solution to all your problems. Aloe Vera is a crop that is easy and convenient to grow and has a high demand in medicinal and Ayurved industry. Here is all your need to about Aloe Vera farming.
Soil
Aloe Vera is a crop that can be easily grown on any type of soil but cultivating it on a well-drained soil can give you higher yields. Nourishing your soil with a lot of organic substances instead of chemicals can result in good yield too.
Climatic conditions
A region with a hot humid climate and a good amount of rainfall like 1000-1200mm is best for aloe vera cultivation. Especially if you are going to opt for sucker plantation that means if you are going grow it using seedlings that rainy season is perfect for you.
Land preparation
You need to add nutrients like FYM, N, P, and K2 to your land before making beds to make it suitable for cultivation as well adding organic substances to your soil can be a big step to boost your cultivation. As well as you can add pesticides like Neem Cake to keep away pests like termites.
Irrigation and drainage system
You don't only need a proper irrigation system but a proper drainage system as well. Because they can still survive the conditions of drought but standing water in your field can cause severe damage to your crop.
Protection and harvesting
It is better to use organic pesticides to save it from pests as it is used for medicinal purposes as well as they give better results than the chemical ones.
After 7-8 months your Aloe Vera leaves are ready to be harvested. It is usually harvested once in a year and it can yield for 4-5 years after planting. It is recommended to harvest leaves in the month of October or November while the flowers in December or January and should be dried well before storing. It usually yields up to
Demand in market and profit
Due to its high medicinal values, both its flowers and leaves have a great demand in medicinal and Ayurved industry. And it usually gives a high profit of around
Hope you get a new start and have a great Aloe Vera yield with a huge profit.
Aloe vera is found to grow in hot humid and high rainfall conditions. It is grown in all kind of soils but well drained soil with high organic matter, is most suitable. It grows well in bright sun light. Shady conditions results in disease infestation It is highly sensitive to water stagnation. Therefore, well drained high land should be selected for its cultivation. A rainfall ranging from 1000 – 1200 mm is ideal for aloevera cultivation. Seedling Preparation and Planting Since it is difficult to grow aloevera from seeds, seedlings are normally raised from roots of the plants. Sucker itself can be used as seedlings as in Banana. Rainy season is ideal for sucker plantation. A spacing of 1.5 x 1 ft, 1 ft x 2 ft or 2 ft x 2 ft is followed. Land Preparation About 2-3 ploughings and laddering are done to make the soil weed free and friable. Land leveling is then followed. Along the slope, 15-20 ft apart drainage are made.
It contains various organic compounds which ci1res diseases. Of these, the main use is aloine. Besides, these it contains 12 types of vitamin, 20 kinds of amino acids, 20 kinds of minerals, 200 different types of polysaccharides, and various kinds of glycol- protein which are used for human health. Alaine A, and Alaine B, are principles of the ayurvedic medicine
Stay connected with Tractorgyan