Advantages of Stainless Steel Pipe Fittings
Stainless Steel 304 Pipe Fittings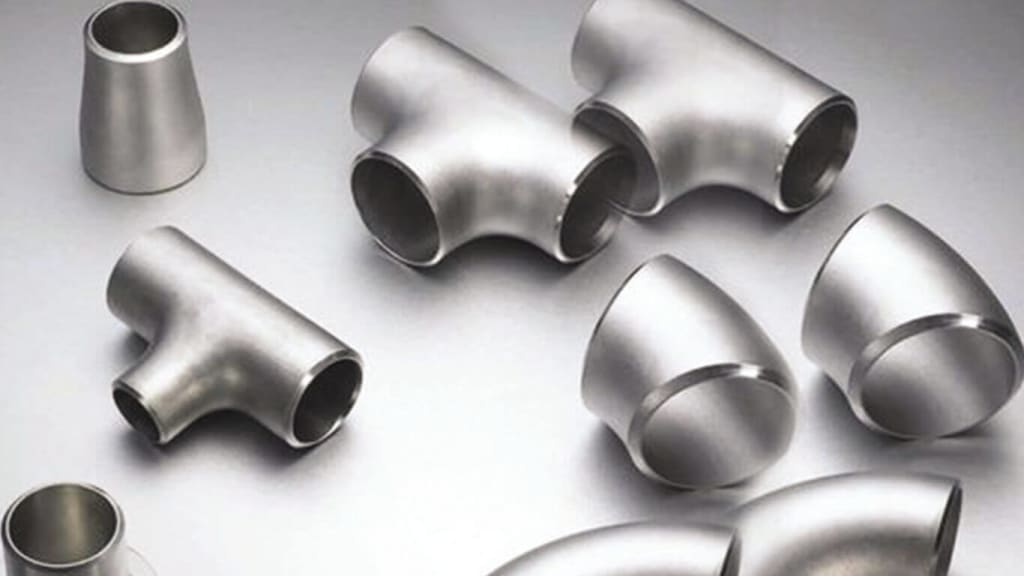 What is the Stainless Steel Pipe Fittings?
Stainless Steel Pipe Fittings are made of stainless steel which is an alloy. Stainless steel is highly corrosion resistant and durable. It has cryogenic toughness and resistance to high temperatures. Stainless steel has several grades but the most commonly used stainless steel grade is 304, 316, and 316L.
For applications such as wastewater and chemical transport, stainless steel is usually overlooked when contractors pick materials for metal pipes due to its high cost when compared to alternatives such as PVC. Stainless steel pipe, on the other hand, has a long list of benefits for industrial and commercial applications, making it a material with high value and returns on investment.
In pipe systems, a fitting is used to link straight pipe or tube components, adjust to different sizes or shapes, and control (or measure) fluid flow for various reasons. When buying pipe fittings, several factors, most notably size and form, must be taken into account to guarantee that they are a good fit for your needs. Another thing to keep in mind is that the material utilised in pipefitter fabrication is the substance.
Certain constituents, such as chromium-nickel-iron alloys and chromium, would significantly affect the steel's hardness and look. Below, we'll go through the Advantages of stainless steel pipe fittings:
Longevity
Certain constituents, such as chromium-nickel-iron alloys and chromium, would significantly affect the steel's hardness and look. Below, we'll go through the advantages of stainless steel pipe fittings.
Multi-Purpose
Stainless Steel 304 Pipe Fittings are extensively utilised in industry, including commercial construction, energy, crude oil refining, and even shipbuilding, but they are also popular in homes. They're used in fire sprinkler systems and tubes that carry water, as well as hazardous gas, oil, and steam. Stainless pipe fittings are much more corrosion resistant due to the addition of stainless steel to the steel. Chrome-plated pipe fittings can also aid in the prevention of corrosion and the preservation of the appearance of freshly polished steel. Chrome plating is more widely used in the automobile sector because it produces a naturally dazzling appearance.
Environment-friendly
Stainless steel isn't made from petroleum. It doesn't need to be coated or lined in any manner, unlike other pipe materials. When stainless steel pipe has to be replaced or disposed of, it is 100 percent recyclable, reducing the environmental effect. Recycled scrap metal accounts for up to 50% of all new stainless steel manufacturing in the United States.
Variety
Because steel can withstand heat treatment, finding stainless steel pipe fittings with the proper amount of carbon for each purpose is straightforward. Ferritic stainless steel is typically employed when a project demands a large volume of steel due to its inexpensive cost and broad application. Austenitic stainless steel is commonly utilised in the automotive industry due to its corrosion resistance. Because of its strength, Martensitic Stainless Steel is used to make wires and springs. However, until the carbon content hits 1.0 percent, it is only employed for certain, non-industrial reasons.
Durability
Due to its durability and strength, stainless steel is one of the most popular grades for pipe fittings and has been used in the building of pipes and pipe fittings for many years. The most common varieties, however, are Stainless Steel 304 Pipe Fittings. The heat treatment gives stainless steel 304 pipe fittings the ability to grow even stronger. The heavier the steel becomes more chromium-nickel-iron alloys are added, which is why one of the toughest steel sorts is considered. Applying a coating of chromium to create a more resilient surface is another technique to increase robustness. Chrome-plated pipe fittings are not only long-lasting but also prevent corrosion and make cleaning considerably easier.