A Writer's Vulnerability
A short, personal essay on writing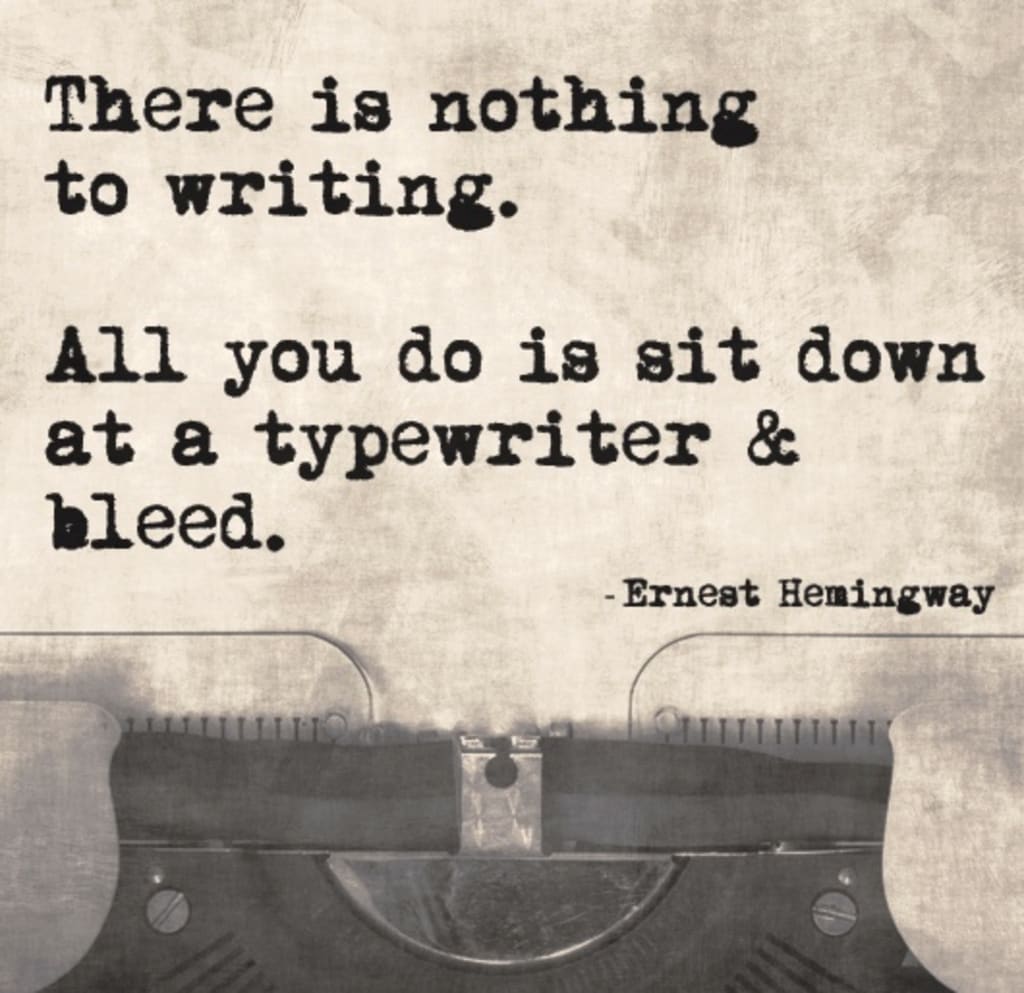 From kindovermatter.com
It's strange that there are so many people out there who offer tips and tutorials about writing, myself included, and often forget that writing is an art and art is the language of the soul. Since no soul is perfect, there is a perseveration in the writing community over great writing techniques and all we wish to do is take that to heart and sharpen our craft, but I want to propose, or rather remind those who may have forgotten, that we never ignore our imperfections and remember that they are the guiding force to our artistic spirit. A writer's vulnerability builds a successful career with ease.
Our experiences wherever they are on the spectrum of splendid to horrific are what led us to our notebooks, computers, tablets, even phones to just write. When the flow of inspiration hits, we study the cracks, the bruises, and the hidden design of our perceptions and that usually elevates into something similar to an out-of-body experience where the present fades and you transport yourself to hidden memories, worlds no one knows exists yet, or time travel. The practical may call it escapism, but we all know our art helps us confront our truths rather than escape them. Indeed, we are no less truth-seekers than we are plotters, world builders, character designers, analysts, researchers, travelers and more. All of this is so natural to us and when we surrender to the flow, it's a gorgeous experience. That is why I want to warn my fellow writers not to fall under the pretense of forcing yourself to follow rather than lead.
I grew up to be a very disciplined person and discipline was framed under the guise of force. Anything I wanted to earn needed to be through a forced effort and this became my mantra for years. I cracked the whip on myself and it made my shoulders tense, I worked overtime and my dry hands grew calluses. It took pure fatigue for me to realize that even though the discipline was increasing, my authenticity was crumbling. I was ignoring my screaming heart: "I'm tired! Please listen!" Once the body and mind rested, I could finally hear my heart and it spoke more poetic, artistic beauty than I had ever forced before. The heart doesn't always need discipline; it thrives on experience and blossoms when it can breathe freely through an artistic medium.
So I echo to my fellow writers, trust in the flow of your authenticity and be vulnerable rather than forceful. There's nothing wrong with the advice presented to you, the formulas for a good plot, the fundamentals of character design, or understanding the intrigue of a memoir or travel piece. Just don't let structure become the four walls you box yourself into. Paint those walls. Bash them open and make a new doorway. You will exhaust your heart or soul with endless discipline. You'll discourage yourself with your stresses over what is perfectly right or wrong when your heart is neither. The success of your work is laced into your vulnerable, raw self asking you to listen and trust. The trust you place within yourself will reverberate through your audiences, who also need art to breathe freely, and you'll bring greater encouragement to embrace vulnerability rather than repress its power. How many times have we witnessed a power mutate into a force that is misplaced, unhealthy, and lost? How many times has the rigidity of an absolute set of rules been the precursor for that power's mutation? The foundation that anchors your artistic spirit should not be a cage. A foundation should hopefully be a platform of mutual respect towards your vulnerability and its function as an anchor.
Vulnerability is not to be feared, fellow writers. Please bleed on the pages of your life's work. It's more effortless than you think.
Thank you for reading
I did do an analysis on Bram Stoker's writing techniques in Dracula, but if you'd like to just connect with a fellow writer, you can find me on my website, Twitter, Facebook, Instagram, and Tumblr.