8 iOS Tricks & Tips That Will Change the Way You Access Your Apps
List of intuitive ways to maximize the user attention & optimize the user experience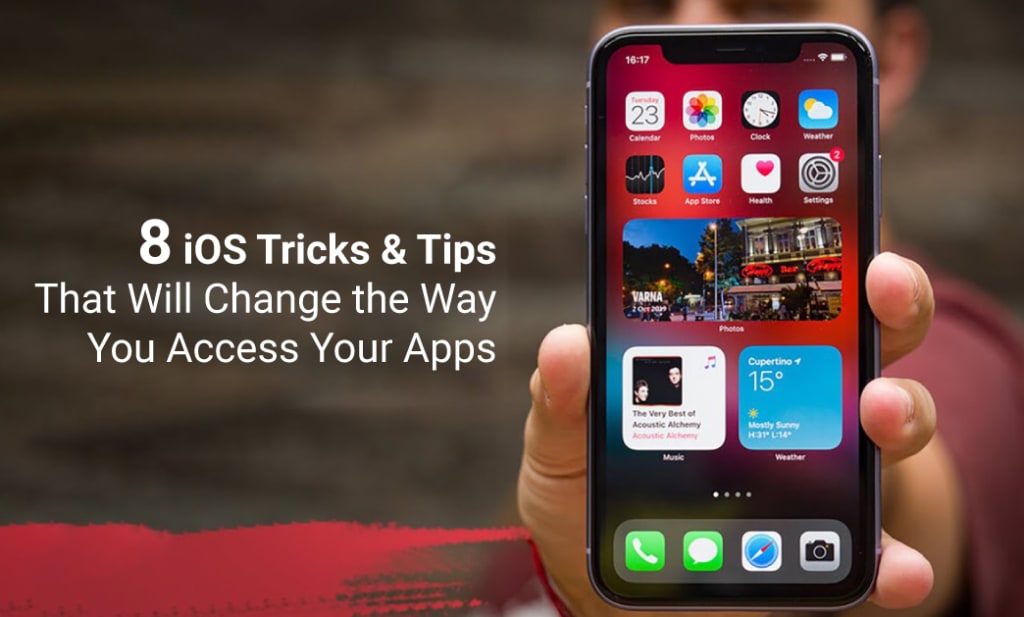 There is an intense race among businesses out there to grab your attention on your phone screen. People are ready to go to lengths to get a pie of cake that is human attention on a mobile device. Annoying notifications are a result of such relentless practices and we stand at a point where we need apps to optimize our experience with other apps.
However ironic it may sound, there are actual settings and dedicated apps that make your attention a bit more distributed. The features that enable users to simply mute all notifications are also gaining popularity much to the developers' annoyance. What could developers do to not intrude and yet be relevant? How can users optimize their user experience with iOS apps? Let us dive right into it.
Why iOS Apps?
There are some key reasons why businesses are targeting users with iOS devices. Despite the disparity in the numbers, iOS devices always generate higher revenues and in-app purchases than their Android counterparts. Here are some reasons why iOS apps outperform everyone.
Demographic
Users of the iOS devices represent a certain demographic. These people mostly belong to the millennial and believe very strongly in technology. Because of the prices and exclusivity of these devices, they represent that top section of the user base that generates all the revenue among apps.
User experience like no other
Apple believes in strengthening its core that consists of an unmatched user experience. The reason for the class leading speed and performance of all the Apple devices is because they have an integrated system in which they use most of the hardware and entire of the software built by their in-house teams. This dedicated synergy brings out the best user experience and using apps feels a lot lighter on iOS devices.
Class leading tech
Apple takes its own sweet time to come up with a piece of tech but once they do, they make sure they have the best tech around. Features like depth sensors, wireless accessibility, file sharing & cloud functions are very popular among iOS users. These features enable app developers to present some very intuitive functionalities in their apps. The rewards of leveraging Apple devices' features are significantly high.
Security
One thing iOS never compromises upon is security. In fact, with each rolled out update, it is becoming increasingly difficult for attackers to find a way to access user data from iOS devices. Apple has banned one of the biggest sources of spyware attack that is third party ads. iOS devices are widely considered as one of the safest devices around.
Developers have made the most of these class leading features of iOS devices for years. You don't have to go any further than looking out for hourly rates of custom ios app development versus that of any other platform to gauge the popularity and strength of apps on iOS.
Best iOS Tricks & Tips
Now that we know why both businesses and developers like to work on iOS app projects, we might as well take a look at how some apps can make the most of iOS's cutting edge technology, Apple's robust hardware and a user base that any rival can only dream of. So do your research right and deploy some cool tricks that can change the way your users access your apps.
Dark Mode
Dark Mode has gained quite a lot of popularity in the last couple of years. Due to its battery saving attribute, both Android & iOS launched dark modes for their systems. Following them, many major apps rolled out their dark modes. There was a time when color and flamboyance ruled but with data & content taking over as the focal point in any app, every other corner looks rather interesting and works efficiently in the dark mode.
Clear Cache
A classic way to free up a stack of memory is to clear caches. To make the user experience better, most apps tend to save a lot of the user input for better machine learning. While this works efficiently within the app, it piles up unnecessary memory blocks in the temporary memory. Clearing cache makes a clear path for the app to launch and run at a rapid pace.
Optimized Notifications
Notifications are literally the first point of contact between the app user and the app itself. Throwing unnecessary notifications at the user may result in quicker traffic building but you will soon lose the authenticity. It is very important to prioritize and optimize your notifications in a way that it stays away from intrusion and brings organic attention.
Regular Updates
Things are changing at a very quick pace in the world of technology these days. We see regular updates in the operating system and in hardware technologies as well. With every new OS version and a new device launch, we see a plethora of new features rolling out. This trend might flourish even more in the future of the iOS. To stay up to date and to offer the optimum user experience to your users, you must comply with technological advancements and offer regular updates.
Drag & Drop
Apple is strengthening its AI and with its recent update, you can now long press on an object and the software will identify the object by removing the background. You can then drag and drop that object as a sticker in a chat or as an image somewhere else. The text detection from an image and long press to copy and paste or drag and drop text was enabled by iOS many updates back. To offer the best user experience, enable your app to support these drag and drop features.
Use Apple Pay
There are dozens of wallet options to choose from today but to make the most of the payment experience, iOS should use the Apple Pay & Wallet features. This payment method is the safest and the easiest for iOS users. Apple has category leading security features for payment APIs and it makes your in-app purchase a tad bit more secure and quick if Apple Pay is used by users.
Widgets
Widgets are a great way to maximize a user's attention. Not only do they aesthetically enhance a user's home screen but they also offer vital app information without having to actually open the app. Design your app widgets smartly to make the most of iOS 16's new home screen features. We are not too far from having a peak interest for widgets on iOS.
Web Application
You should not miss out on user attention from any corner. Having a strong web application is a very popular way of offering the same app like user experience but on a browser. The experience should be so much similar that it should become difficult for users to identify which app and which one is the browser activity. This also works great as a safety option in case the user chooses not to install an app and still use the app.
Conclusion
Merely launching an app on the App Store serves no purpose if you really want to optimize your user base. With a demographic served on a platter, you must use all of iOS's amazing features and leverage on Apple's high performing hardware to offer a fabulous user experience. Making your app compatible with all the latest advancements by iOS keeps your app fresh and keeps your user engagement intact.
business
About the author
Pinal is a React Native Developer working with Gtech Web Infotech Pvt. Ltd., mobile app development company. Being capable of building cross-platform applications that are highly proficient and offer intuitive user experience is her forte.
Reader insights
Be the first to share your insights about this piece.
Add your insights