8 Cloud Computing Services to Help Boost Employee Productivity
Cloud computing services provide a variety of infrastructure and application needs such as database, CRM, and data storage.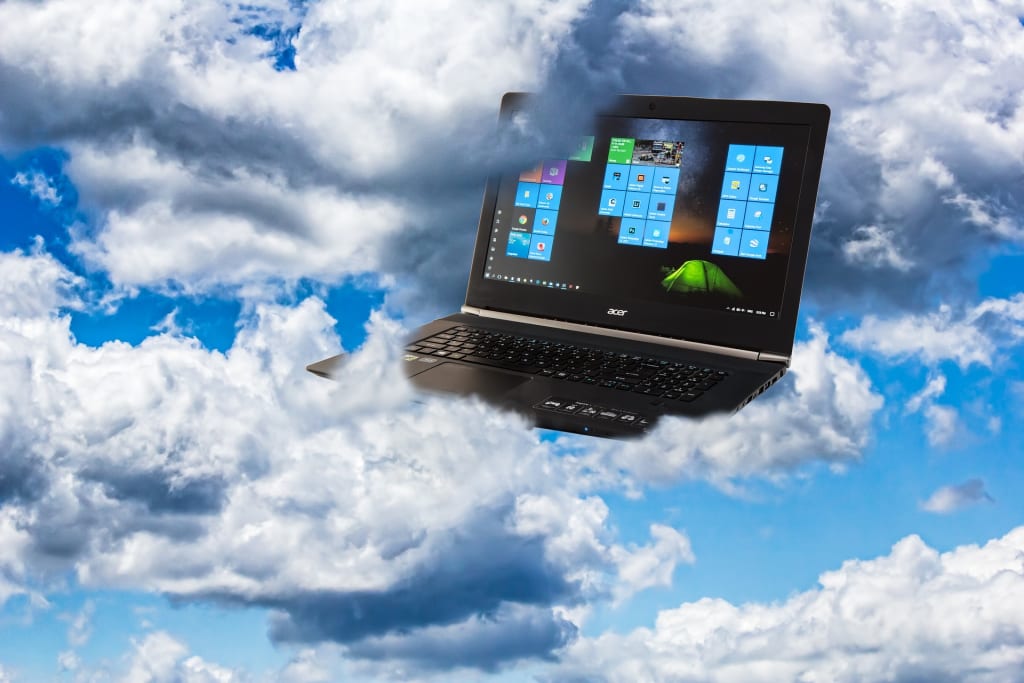 Image Source: Pixabay.com
Cloud computing services have revolutionized technology by enabling businesses to deliver programs through the cloud and develop virtualized IT infrastructures.
They deliver IT resources to companies quickly where costs are aligned with usage. Businesses that utilize the cloud have more flexibility and can manage expenses more efficiently.
Businesses that have working from home policies rely heavily on cloud computing technologies. There are several different types of cloud services used by various organizations around the world.
This is accomplished through PaaS (platform as a service), IaaS (infrastructure as a service), and most prominently through SaaS (software as a service) regardless of a user's operating system.
Companies can mix and match cloud computing services from various providers to create cost-effective solutions.
A huge benefit of cloud computing services is that they are scalable. Start with only what you need to run your business. Access and add additional resources when necessary.
Cloud services offer huge potential for improving a company's performance and increasing profits. Below are some common types.
Business Intelligence (BI) Tools
Cloud-based BI tools are hosted on a virtual network and make data more accessible. They collect, transform, and present data to a company's management team to help them make informed decisions that drive growth.
BI cloud software programs provide businesses with data such as key performance indicators (KPIs), dashboards, and other business analytics.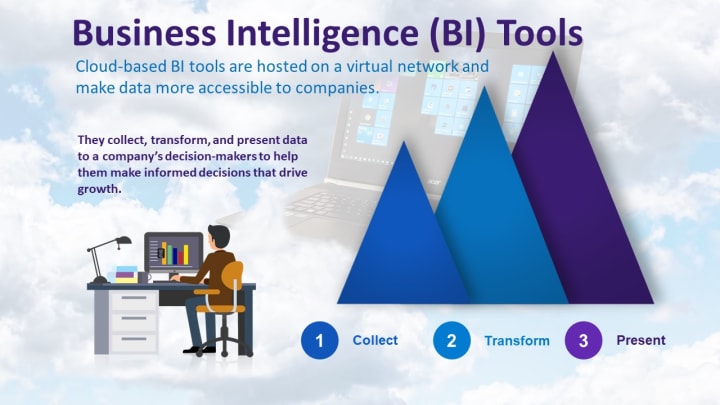 By processing large amounts of data from documents, images, files, journals, emails, and other sources, these tools enable businesses to gain actionable insights, identify new business opportunities, and discover meaningful trends.
Some of the business intelligence tools on the market include:
Grow
Clear Analytics
Datapine
ClicData
Halo
BI applications reduce IT involvement and costs by making it easier for end-users to set up and operate. This gives employees more time to spend on other tasks and projects.
Business Analytics Tools
Cloud-based business analytics tools revolutionized business intelligence and big data. They enable companies to collect and analyze data from a wide range of digital applications including employee performance and systems operations.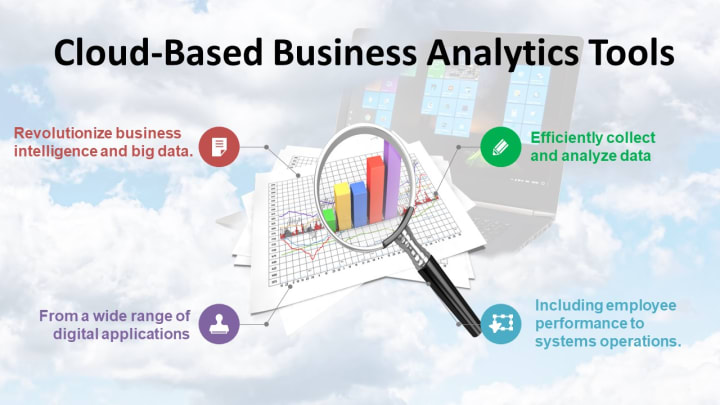 Sometimes businesses will need to export data from spreadsheets to use with business intelligence tools or combine data sets from different resources.
There are numerous analytics programs on the market, such as:
Zoho Analytics
Domo
Azure Analytics
IBM Cognos
AWS Analytics
Cloud-based analytics represent numbers and figures from various sources as clear visualizations. Data stored in the cloud can be shared and synchronized with employees and managers who need the information.
Cloud Storage
Individuals and businesses choose to store data to an offsite storage system that is maintained by a third-party.
The cloud is a viable and safe storage option where files and documents can be accessed from anywhere with an Internet connection.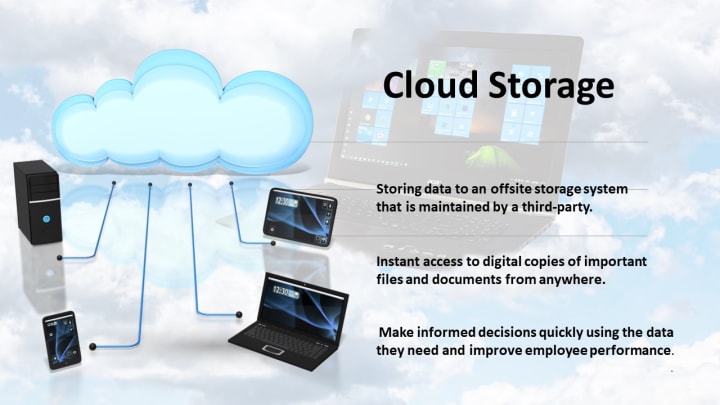 Employees have access to relevant data, no matter where they are physically located. This enables them to be more productive and complete tasks and projects.
Being able to share innovative approaches and problem-solving ideas easily from the cloud helps teams to complete essential projects on time.
Today, there are several companies which offer cloud storage services. Here are a few of the major players:
Dropbox
SugarSunc
IDrive
Microsoft OneDrive
Google Drive
Companies that use cloud storage services have instant access to digital copies of important files and documents from anywhere. They can make informed decisions quickly using the data they need and improve employee performance.
Cloud Computing
Cloud computing services deliver integrated computer resources from various data, applications, servers, and other resources over the Internet.
Employee productivity improves from streamlined communications, facilitated collaboration, and reduced downtime when using cloud computing.
Other ways cloud computing boosts employee productivity include:
Optimizing in-house IT resources
Improving the ability to share and manage data
Integrating with existing systems
Complementing mobile workforces
Adapting to market conditions by scaling up or down as needed
Facilitating outsourcing and attracting top talent
Reducing downtime from IT issues and security breaches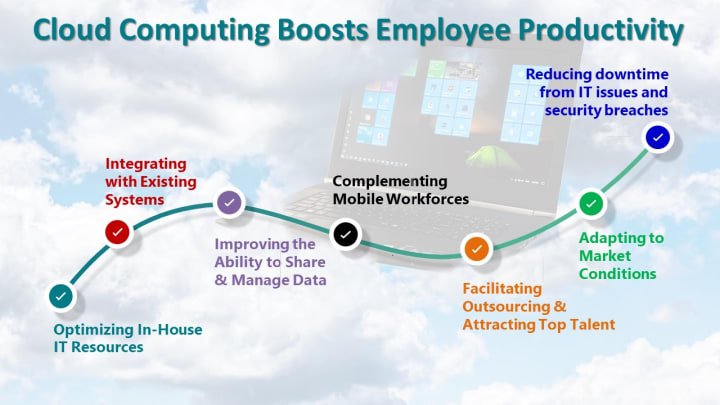 Numerous companies offer cloud computing services such as:
Adobe
Salesforce
Amazon Web Services
Verizon Cloud
Cloudways
Cloud computing helps businesses by enabling employees to organize and analyze big data quickly, share it in real-time, and minimize errors.
Cloud Middleware
Middleware connects devices and computer to other applications. It is software that acts as a middleman to seamlessly transfer data between applications, databases, and software.
It enables data management and communication for distributed cloud-based applications and accessing the data from one database through another database. Examples of cloud middleware are:
Content management systems
Web servers
Application servers
Users can submit forms on a web browser and the webserver returns dynamic web pages based on a user's profile.
Each middleware program provides messaging services for different applications using frameworks such as SOAP (simple object access protocol), JSON (JavaScript object notation), and REST (representational state transfer).
Businesses choose the type of middleware based on the kinds of service they use and what types of information they want to communicate.
Middleware serves a variety of functions including:
Taking user requests, performing logic, and then customizing results
Managing connectivity to back-end resources
Scaling horizontally and vertically to help distribute incoming user requests over virtual machines, multiple servers, and available zones of the cloud
Dealing with problems that might arise when more than one user tries to access or update a back-end resource at the same time
Securing access to back-end resources by requiring a secure connection and authentication
Some of the vendors that offer middleware are:
SAP with SAP NetWeaver Mobile
IBM with IBM Worklight
Microsoft with Microsoft BizTalk
Apache with Apache Camel
Red Hat
Businesses should consider what their needs are for Middleware, be it data management or application services. Find the software that fulfills performance needs.
SaaS (Software as a Service)
Companies can access data on a web browser from any device with SaaS software delivery systems. It is a cloud solution application hosted by a service provider.
For example, Gmail is one of the best known and popular cloud-based email systems. Google is the service provider.
According to Statista, almost 77% of organizations worldwide deploy SaaS cloud-based services. There is no need to install and run applications on individual computers with SaaS solutions.
Vendors host and maintain the servers, databases, and the code that makes up an application. SaaS improves employee productivity by:
Improving collaboration
Automating many routines and repetitive tasks such as accounting, manufacturing, social media management, and website analytics
Reducing costs; pay only for what you use and scale up or down when needed
Boosting customer satisfaction and conversions by reducing the time it takes to gather and organize customer data
A few vendors who offer SaaS services include:
Cobweb
MuleSoft
Salesforce
SAP
CA Technologies
Companies benefit from SaaS systems by streamlining business operations, reducing costs, enhancing overall workplace productivity, and ensuring business growth.
Cloud Bursting
Cloud Bursting is a dynamic deployment of applications set up between public and private clouds. If the private cloud storage is full, the overflow traffic redirects to the public cloud.
It expands the capacity requirements of private cloud resources to handle peak demands. Cloud bursting makes private clouds cost-efficient by eliminating the need to overbuild the physical private cloud infrastructure.
The public cloud with cloud bursting handles peaks in usage needs. Companies save money by being able to benefit from a pay-per-use model.
A few of the companies that offer Cloud Bursting services are:
Abiquo
Aspen Systems
CloudBees Accelerator
Serverless Computing
Instead of developing applications and deploying them on servers, code is executed and fully managed by a cloud provider with serverless computing.
There is no need for developers to worry about server provisions, maintenance, and management when deploying code. Employee time and energy is redirected towards scalable and reliable product development.
When using traditional methods, the developer must define database capacity and how much storage is needed before deployment, slowing down the process.
Serverless computing speeds up operational processes and increases innovation and agility. It enables companies to build and run services and applications without having to worry about servers.
Below are several serverless computing providers:
StackPath
IBM Cloud Computing
AWS Lambda
Google Cloud Platform
Microsoft Azure
Some of the many benefits of serverless architecture include:
Improved utilization
Increased developer productivity
Improved security
Reducing the number of steps involved in developing, testing, and deploying code
Serverless architecture allows product developers to focus on innovation while the business benefits from faster time-to-market.
Why Use Cloud Computing Services?
Cloud computing services are changing how companies use information technology. There are cloud services available on the market today to meet almost any IT need.
Although cloud computing encompasses a wide variety of services, they all have basic features and benefits in common.
Cloud computing services reduce IT maintenance costs, offer scalability, and help increase employee productivity.