7 Modern Web Design Trends for 2022
Web Design Trends for 2022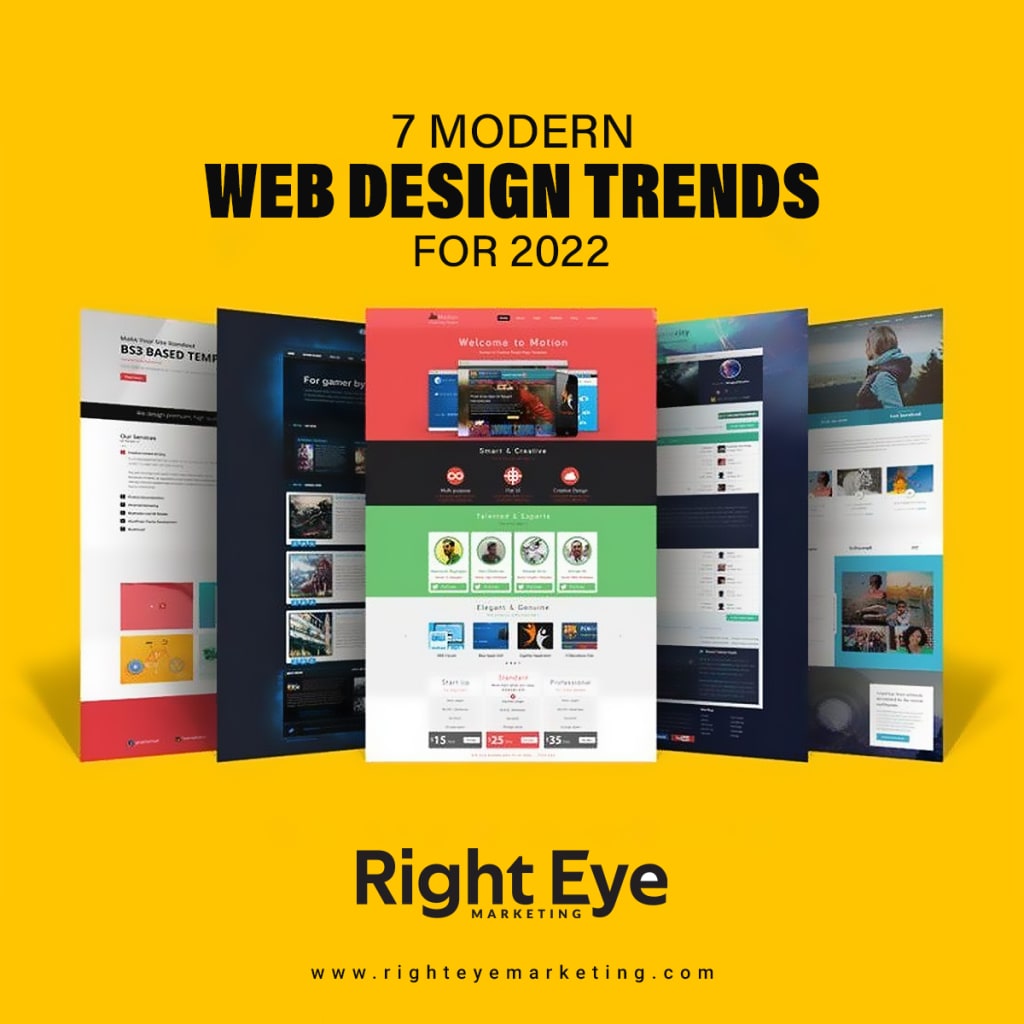 Web Design Trends
It's 2020, if you are planning to change the website design or want to add new elements to your existing website, this blog is for you. You can also acquire website design and development services in the USA for your business to stay under the budget limit that you have for this task as well. Let's read the amazing and modern web design trends for 2022.
1. Page Speed:
Website pages speed should be fast as per the Google page indexing site. You can analyze the speed of your website pages using Page Speed Insights. Your website speed should be 80-100 for both desktop versions and mobile versions.
2. Minimalist Design:
If your website is too complex or difficult to scroll through, you will be losing customers at once. The website design should be smooth and simple for the users. It should be customized accordi9ng to the business and user's needs. Minimal web designs attract more people and decrease bounce rate as users are intended to stay for a longer period. Web design agencies in the USA can surely help you get a unique and minimalist design for your website.
3. Mobile Responsiveness:
When it comes to website modern website design for 2022, the mobile responsiveness of website design is one of the vital factors. Your website should be responsive to mobiles, iPad, and notebooks as well.
The mobile responsive website design trend is very popular since Google released the first mobile index in July last year. While checking the website, Google crawler checks the mobile version of the website by default.
Integrate your website with a mobile version as well, for this purpose, the best way is to connect with a responsive website design agency in the USA.
4. Easily Accessible:
Availability of the website for every user is vital whoever wants to explore your website. You need to create a website that is easily accessible for everyone.
If you are running any retail business in America, there are standards for accessible design and you should meet the multiple requirements for disabled people as well.
If your CMS is WordPress, there are several plugins that you might want to use for your website to make it more accessible and easy.
5. Gif/Video Animations:
If you want to engage your readers and want to give them an amazing experience of visiting your website, you should include optimized gifs and videos on your website pages. This will help you explain more conveniently what your company does and what services or products you provide.
6. Voice optimization:
Voice search and optimization have become popular nowadays. Every cell phone has a special voice search function that makes the life of a user convenient.
Companies are optimizing their website for voice searches and this could be one of the most adopted web design trends of 2022.
Search engines rank websites according to the quality of the relevant content and direct more qualified traffic based on KPI matrices. Make sure your website is complying to accept the natural language processes to attract maximum potential users.
Don't know how to integrate my website with voice optimization?
Connecting with one of the best website development and design agency can help.
7. Color Schemes:
Use a color scheme according to the theme of your brand and overall business. Make sure you are also taking care of a few of the people that are color blind and cannot interact with the multiple colors easily.
Hope you have learned some important points that would help you make your website more appealing and Google-friendly. If you want to optimize your website or want to upgrade your existing website into a modern one, a digital marketing agency can aid in the whole web design and development process. These modern web design trends for 2022 are very critical if you want to compete with several other competitors in the related market online.