7 Best Accounting CRM Software Options for Your Firm
This post will highlight the main understanding of CRM software and the best options for your firm.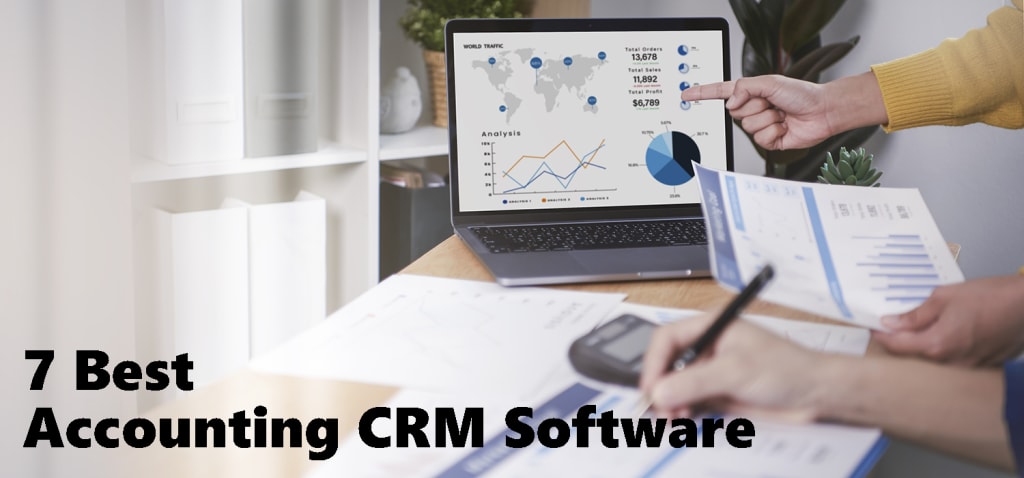 The best firms understand that they have to maintain effective communication with their clients. To create new relationships and retain existing ones, they must offer excellent services. In accounting, it is quite challenging to do so but not impossible either.
To savor the taste of success, a business must nurture its client relationships. For this purpose, they have to streamline their business practices with the accounting CRM software. This software prioritizes not only the work processes but also works around billable hours!
Perhaps, the reason behind why companies are looking to choose from the best CRM for accountants to achieve their business goals.
This blog post will highlight the main understanding of CRM software and the best options for your firm.
What is an Accounting CRM?
Also known as accounting customer relationship management (CRM) software, it helps the professionals like accountants, tax professionals, bookkeepers, and CPAs, etc. to manage their tasks, client data and to maintain effective communication.
Now, more than 62% of accounting firms are dedicated to using CRM for accountants. But only 5% use them on a daily basis. The latter ones are the companies looking to tie a happy knot with their clients.
You cannot possibly imagine working without a CPA or a Bookkeeper. Likewise, these professionals cannot work productively without online CRM software. It is important to choose a CRM because it provides the leverage to maintain the information in a secure horizon.
7 Best Choices for Accounting CRMs for your Firm
A software that helps boost productivity and amplify profitability is available named Accelo. Best suited for small and medium-sized firms this CRM for accountants offer intriguing tools to manage the clients easily.
The platform is cloud-based, manages sales, quotes, tickets, projects, timesheets, and scheduling, etc. Accelo acts as the easy-to-use customer management database for accounting firms so that you can streamline the process altogether.
The major features of Acceleo are divided into four categories;
Projects - Real-time projects, manage team schedules and edit client projects
Sales - Gather more sales, track of notes and appointments, emails with attachments
Retainers - Organized workflow for clients tasks like billing
Services - Ticket system, track activity, centralized team inbox with automated notifications.
Main benefits for firms;
Use cloud-based portal
Streamline work processes
More than 1000 integrations to make business management easier
An easy-to-use dashboard interface built for accountants, bookkeepers, CPAs, and other financial experts, My CPA Dashboard makes life easier. It is a cloud storage-based CRM for accountants that helps them to integrate the work process faster too.
Using My CPA Dashboard eliminates the need for paper work (or at least 90% of it) and allows easy accountants to manage, upload and maintain the financial information in customized folders. You can buy a package with affordable pricing plans so that small businesses do not have to compromise their wallets.
The file-sharing system and online document storage are some of the top features that accountants can benefit from. The secure online portal makes uploading and downloading files safe and secure.
Some of the other major features include;
Billing and plans
Client portals
Secure file sharing
Easily assign tasks
Bank account integration
E-signature etc.
Accountants can heavily benefit from;
Unique customized URLs
Limited access control
Sending encrypted emails etc.
Another easy to integrate CRM for accountants is being offered to companies worldwide across various industries like media and advertising, professional services, and consulting, etc.
If you use Insightly, you can aim for better sales and the ability to connect with the customers to the point. The team can work on streamlined integrations too. So that you can focus on CRM processes, the software helps to update, delegate, and send automated emails informing all team members of their very next step.
On the plus side you can also focus on lead routing, workflow automation, track tasks and manage processes, design custom dashboards, etc.
Some of the other features also include;
Building and deploying custom apps
Manage the dataset
Track metrics
Email automation etc.
Keeping the features in mind, accountants can enjoy perks like;
Mobile app usage
More than 250 integrations
Easy to choose price plan options etc.
Keap seems to be one of the ideal CRMs when it comes to sales and marketing automation. Companies looking to collaborate their marketing and sales automation can use Keap for better outcomes.
Formerly known as Infusionsoft, it focused on providing businesses a safe and secure platform for CRM, marketing, and sales all infused under the same umbrella.
Capturing new leads that can be organized in the same dashboard turned out to be an effective means of segmenting the contacts, and aligning with the targeted campaigns. Accountants can use pre-made templates without any delay in automation. Plus, you can always store your customer information with easy features.
The best features of Keap includes;
Sales and marketing automation
CRM
Sales pipeline
Payments
Reporting and analytics
Email marketing, etc.
With the help of these features, you get the benefit of;
Easily set up reminders for appointments
Automate marketing tasks
Configure campaigns
Easy to collect data etc.
Hubspot is a renowned name in the world of the IT industry. So it's not a surprise to see them contributing to CRM services either. A team can serve its customers in a better way with less work to worry about.
Hubspot CRM makes it possible to increase leads, improve sales and also streamline customer services.
Using this CRM tool means you can kiss goodbye to manual preparation and update of reports whereas tracking is just another great wonder. Also, users have an up-to-the-minute view of the sales pipeline that allows them to track the leads better.
Some of the compelling features of Hubspot CRM are;
Reporting dashboard
Deal tracking
Pipeline management
Meeting scheduling
Live chat etc.
Some of the highlighted benefits include;
Free cost!
Transparency for your sales pipeline
Excellent customer service etc.
Looking for a smart CRM for accountants? Zoho fulfills the destiny of accountants and bookkeepers who not only want to enjoy working for their industry but also grow. With the help of the CRM platform, accounting firms can particularly grow with high converting leads and help negotiate strong relationships with their customers.
Not only do you get to handle the accounts, but also care to organize the webinars.
That may very well be your opportunity to convert attendees as leads right? Moreover, you can easily collaborate with your team with an internal portal and much more.
So, some of the quality features are;
Real-time notifications
Streamlined processes
Instant workflows
Track performance
Organized webinars etc.
Highlight benefits users can enjoy include;
Sales meetings and presentations
Remote work easy to handle
Hundreds of choices for integrations etc.
CRM software must allow growth for the business and for the users as well. Able is a platform offering pretty much a straightforward interface that is easy to use. Accounting teams that prefer to have human interaction more than an AI intelligence can count on Able.
Able CRM allows the accounting firms to close their final deals quickly, manage top priority clients and relationships with them, create an aura of positive brand image, and much more.
The dashboard allows the user to handle 12 clients at a time without any fuss. That means you can also expect to practice some of the best marketing tactics.
You can achieve all of this the features like;
Sales pipeline
Client surveys
Practice collaboratively
Personalized emails
Sales insight
Live support etc.
And the highlighted benefits are;
Build stronger brand image
Act as a trusted advisor
Promote team for accountability etc.
Conclusion
Think twice before choosing a CRM platform for your business. If you end up choosing the wrong kind of software, you can always switch to the other one. To avoid any wastage of time or effort on your part first try the free trials 'cause every professional CRM software will offer them. Shortlist the software on the basis of the required features and pricing plans.
Also, the choice of CRM will help you maintain your customer relationships. It's not easy to tell which of these CRMs are the perfect choice. But try the free version as it's a chance worth taking.