6 Things To Think About While Job Hunting
Tips to make looking for a job easier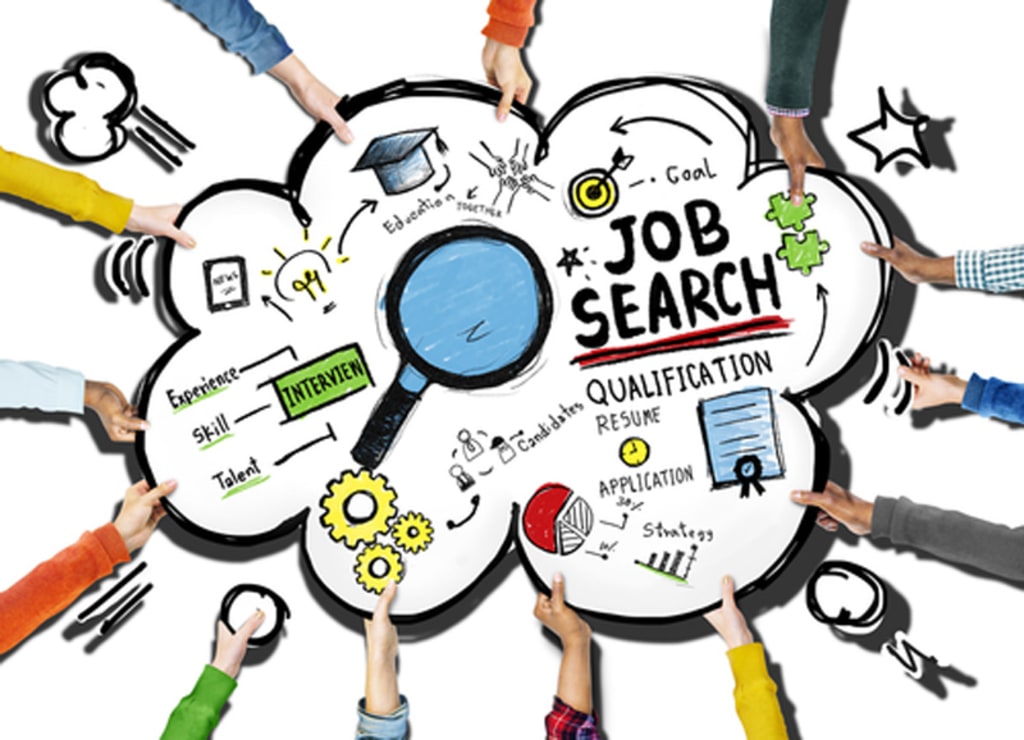 (North-West Jobs, 2018)
Everyone has had to look for a job at some point in their lives and most people change jobs many times throughout their lives. Job hunting can be a time consuming and stressful experience but, if you keep certain things in mind while looking, it can be a little easier. Here are some of my tips for job hunting and things to keep in mind while on the hunt.
1. Figure out exactly what job you are looking for
Now this one might seem like a no brainer. But, a lot of people don't have a clear vision of what job they want or know exactly what they are qualified for. It's important to figure out what skills you have and come up with a list of jobs you are qualified for. Think about your past jobs and experiences, degrees and any additional skills you have picked up along the way but you'll also want to think about your future aspirations. Most people aren't going to want to search for a job again in a couple of years so you're going to want to find a company or career path that you can see yourself growing with. Taking into account your dream job is important so you can figure out where to start and the best path to take to reach your goals. For example, if you know that one day you want to be the director of nursing of a nursing home, you would want to start working in nursing homes rather than hospitals. While hospitals can provide you with a valuable learning experience and relationships, you won't learn what it takes to run a nursing home without working in one. Figuring out the type of setting you want to work in is important. Once you make a list of your qualifications and jobs that would best suit your current situation as well as help your future aspirations, you can start job hunting.
2. Create a LinkedIn if you don't have one
Having a LinkedIn profile is a great resource to have while job hunting. If you already have a LinkedIn, feel free to skip this tip. LinkedIn is a networking site that allows you to list your past jobs, your skills and qualifications and then connects you with recruiters or other individuals who can help you along the way. It's a great resource to meet new people and make professional connections that can be beneficial in the future. LinkedIn also lets you search directly for jobs that you may be qualified for. Overall, it's a great resource to use even when you're not job hunting.
3. Location
The next thing you're going to want to think about while job hunting is location. Where do you want to find a job? Are you looking to stay in your current location or are you willing to move? Are you able to move if you find a great job? These are all important questions to think about and possibly discuss with your family. The availability of jobs greatly varies depending on location. Cities tend to have more job opportunities but not everyone lives near a city or lives nearby and is able to commute. Having to move to find a good job is always a possibility so you need to think about it. Once you figure out a location, you can then look for jobs in that specific area and set limits on how far you are willing to travel.
4. Salary & Benefits
Another stressful part of looking for a job is finding one that pays you what you want and deserve. The best thing to do is figure out what the going rate is for the job you want and figure out if that amount works for you and your lifestyle. Everyone has different needs when it comes to money so you need to look into your expenses and figure out the minimum salary you need to provide for your lifestyle. Then, look for jobs that offer at least that amount but preferably more. Remember that you can always negotiate for a larger salary once you are offered a job so don't automatically dismiss a job because they aren't offering enough. If you think you are worth more than what the company if offering then tell them but not until after they have offered you a position. Negotiating salary during an interview is not always the best idea. Try to avoid telling the company how much you want during the interview and instead ask what they have budgeted for that position. You can always negotiate later before you commit to the job. Benefits are another thing to think about. Maybe the job doesn't offer you as much in pay as you were hoping for but they might offer really great benefits that another company doesn't offer. This is also something to think about. Figure out what benefits you need the job to offer and look for a job that has them. Usually, benefits are non-negotiable so if a company doesn't offer good benefits, then you'll want to look elsewhere.
5. Growth
As I talked about in the first tip, thinking about your future aspirations is extremely important while job hunting. You'll want to look for a company that has plenty of opportunities for you to move up the ladder. You can ask about the potential for future growth within the company during the interview and talk about what job you want to reach eventually. Figure out if reaching your goal is a possibility at that company. If it's not, it might be best to look elsewhere. However, I understand that it can be difficult to find a job in general so if you are presented with a good opportunity and you need the job then take it even if there isn't the possibility of future growth. You can always switch jobs in the future once you're in a more stable place financially.
6. Interview Prep
This last tip is probably the most important one. Prepare for interviews in advance. I suggest doing mock interviews with recruiters if possible or with family members or friends. If you're in college or graduate school and looking for a job after school, try going to the career center on campus. The career center usually will have plenty of interview tips as well as mock interviewers who are available to help you prepare. It's also a good resource to use to have your resume critiqued. If you're not on a college campus don't worry. You can still find plenty of interview tips online on YouTube or Linkedln. You can even find someone on Linkedln to do a mock interview with. The important thing is to find a list of commonly asked questions and come up with answers to them. Here are some commonly asked questions:
Where do you see yourself in five years?
What skills or qualifications do you have that make you a good fit for this job/company?
What is your greatest weakness?
Tell me about a time when you had to deal with a stressful situation and how did you deal with it?
Why should we hire you?
Why do you want to work here?
Why did you leave your previous job?
What are your strengths?
These may be difficult questions to answer but the good news is that there are tons of videos online that tell you the best ways to answer these questions and what not to do in an interview. Viewing these videos can be very helpful.
In the end try to relax and not stress to much about the process. You will find a job that is the best fit for you even if it takes a little time. Best of luck to all on your job hunts!