6 Myths About Outsourcing PPC Requirements Totally Debunked
Myths About PPC Outsourcing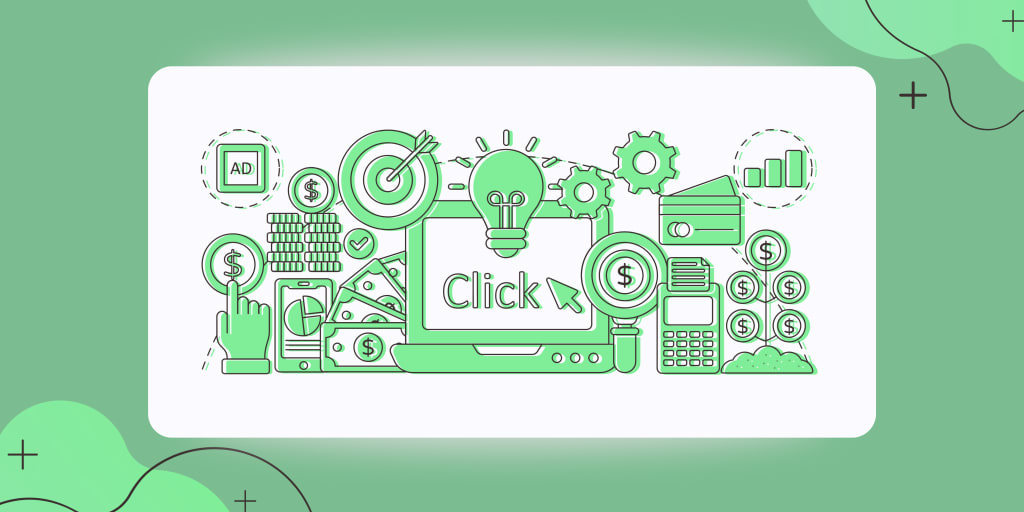 Myths About Outsourcing PPC Requirements
In order to efficiently manage a PPC campaign for a client, you need a solid strategic plan as an agency. A big part of the planning includes mapping customer journey, advanced keyword research, and content writing for creating compelling advert copy.
If you think that you are already swamped with work or don't have the required resources to offer PPC services to your clients, you can always think about hiring white label PPC services. To choose these services, you need to partner with a reliable agency.
Now, we know that you may have your doubts about partnering with such an agency, given that there are many myths about outsourcing PPC requirements. In this post, we will debunk all these myths. This will clear all your doubts about partnering with a white label PPC agency.
Let's dive right in:
Myth 1: The agency will not understand your client's business
We agree that sometimes this can be the case, but if you partner with a passionate, professional, and hard-working agency, you won't have to face any such issue. The panel of expert professionals at the agency will first dedicate time to understand your client's business and then create a suitable campaign accordingly.
A good recommendation for a white label PPC agency to partner with is DashClicks. The agency knows what works for an industry and gets your clients the desired outcomes.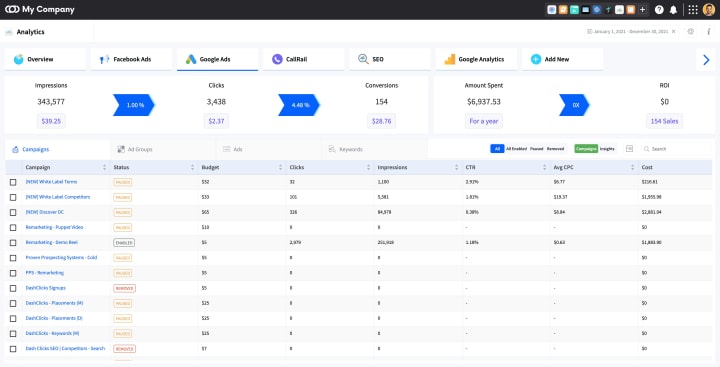 Myth 2: The agency will just copy competitors' adverts
Copying competitors' adverts is a bad practice. If you hire services from a trustable, highly-experienced agency, then you can rest assured that no such thing will happen. Such an agency will plan as well as implement optimized advert copy. The copy will be such that it aligns with the USP, services, and business objectives of your clients.
Myth 3: All agencies are equal
This is yet another myth that needs to be busted. All agencies aren't equal because the service you receive depends on the agency you outsource it to. It's important to understand that all white label agencies that provide PPC are different as they plan and work differently.
To choose the best agency for outsourcing the work of your clients, ensure you check the agency's track record. Check if the experts at the agency are officially trained and certified to create and manage Google Ads campaigns.
Myth 4: The agency will charge to create a campaign and then leave it
If an agency turns on a PPC campaign and simply forgets about it, then they shouldn't be offering the service in the first place. A professional agency will check the performance of their campaigns weekly (at least). This strategy helps in continuous development and optimization.
Myth 5: A white label agency is not a "real" agency
White label agencies are genuine and help digital marketing agencies to grow and scale. They function with a framework of value, speed, and efficiency. The USP of these agencies is that they provide a wide range of services, which includes content development, social media marketing, PPC, SEO, etc.
Myth 6: White label agencies don't have the best teams on board
This is yet another myth that needs to be debunked. If you deep-dive into the teams of the top white label agencies, you will see that the professionals are at the top of their game and well-experienced in their respective fields. These professionals not only have a stellar work record but are also capable of producing large volumes of output while maintaining quality.
All in all, you can rest assured that the experts at a reputed agency will responsibly handle the work of your client and deliver only the best outcomes in the end.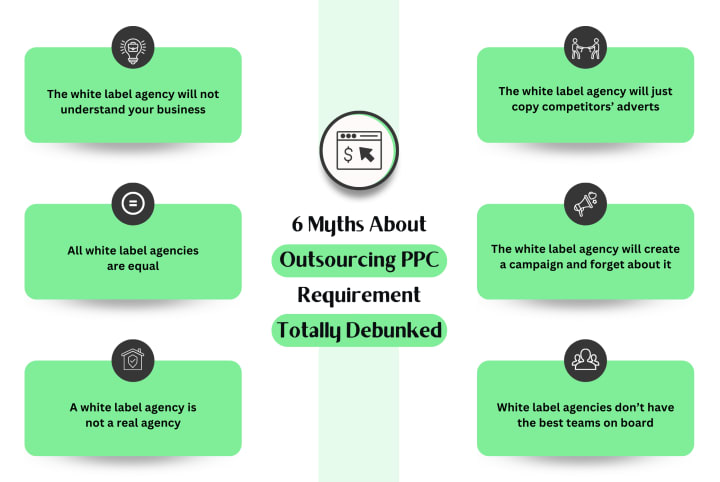 Wrapping It Up
White label marketing services are not something new to the world; many digital marketing agencies rely on them for smooth operation. So it's time we get rid of any misconceptions and break the myths about outsourcing PPC requirements to a agency. Partnering with such an agency helps eliminate the need to hire and train specialists in-house and leaves you with ample time to focus on other aspects of your business.
Now that we have busted the myths about outsourcing PPC requirement, you can ‌hire reliable white label PPC for agencies. Good luck!
business
About the author
Sean Davis is a content developer and marketing strategist at DashClicks. With his experience in content development and marketing, he wants to help small businesses and marketers by explaining the complex aspects of digital marketing.
Reader insights
Be the first to share your insights about this piece.
Add your insights