$50 000+ per year
Goal of working from home full-time achieved
How do I work from home? How do you earn an income online? All questions that I've been searching for the past 5+ years. I went back and got my high school GED. Knew I didn't want to do the laid out path. I can work while I listen to music and take breaks when I feel I need to or want to.
My guide is this, improve your punctuation, and typing skill.
For punctuation and work equipment see this link: https://www.davidshomebusiness.com/post/tools-for-work-on-this-site
For typing, use the links found in this one: https://www.davidshomebusiness.com/post/earning-a-full-time-income-online
As for the work sites, poke around on the website developed over the past two years. Their are many micro tasking sites that earn quite a substantial amount throughout the course of the month if worked on everyday. There isn't time right now for leisure, and partying with your friends. If i need to be drunk or high to be friends, that is something I do not need.
There will be time for leisure in the future, and you can listen to your favorite music while working. Take breaks often and create as much passive income with the dollars you earn now to be able to wake up in your dream and be a 1% income earner in the world.
Appen can earning you $45 000 every year, which you anyone can do as long as you have the punctuation, English, and typing skill required.
For an easy $200 every month to get started, I recommend surveys. You can find my list of top survey sites by visiting my website @ davidshomebusiness.com. Go to earning methods tab, and find the post at the bottom titled top survey sites that pay cash (PayPal).
For passive income that requires a laptop, unlimited internet connection, and pays $360 annually + additional income for anyone you refer. I recommend the following.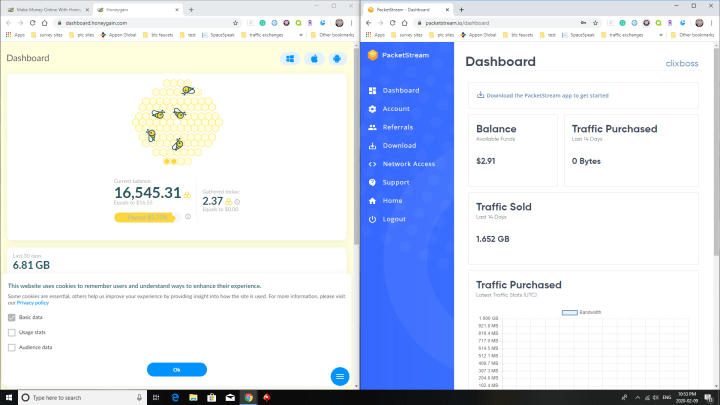 All are free to get started and earn at least $30 every month without referrals.
All of these methods can contribute to a full-time income for yourself. Maybe you can find ways to lower your expenses as well. The great part about this is you can use these methods in addition to what you're doing now. Make the switch once you know it will pay enough to sustain your living expenses. For some of you it will be a temporary decrease in income for others it will add much more.
The important part is if you are honest with the surveys, pay attention on Appen and mturk.com, you will never risk losing your job. For most it is a better work-life balance that is rewarding far beyond the amount of income we earn.
The method for earning passive income, I've recently started has been Defi Staking, and staking cryptocurrencies on Binance. With a $1000 worth of Staking you will be earning over $20 every month, interest paid daily. While the coin you choose to stake stays locked-in.
There are also stable coin staking opportunities. Where the coin hovers right around the $1.00 coin price, yet offers 5% annualized interest. It really is quite amazing. If you're goal is to earn $30-$200 every month passively, having between $1000 and $8000 will get you there so long as you stake BNB (Binance Coin).
You can also earn quite a few coins playing games for crypto, rolling the faucet on their site will also earn you an income everyday.
With all this progress, I would like to get my passive income to the amount to pay a mortgage, property taxes, and all that stuff. It will give me security in feeling I earn enough to sustain myself if I were to run out of work, or if something were to happen.
Don't forget about Binance staking. It will be very useful for many people who only earn $200 per month from surveys. After just a while you can earn upwards of $1000 each month with low supervision, and a much more enjoyable work space.
Thank you for your time in reading this income generating post, hopefully you will go on to make a living in a job area you enjoy. Thanks, have a great journey.

Marcus Azaria
Constantly searching for additional income sources.Millennial, 3 time provincial sports champion(basketball,baseball). Theoretically the youngest billionaire in the history of the world and the richest for my age (Satoshi Nakamoto).
See all posts by Marcus Azaria →