5 Interesting Types of Warehouse Robotics
Automated Material Handling Equipment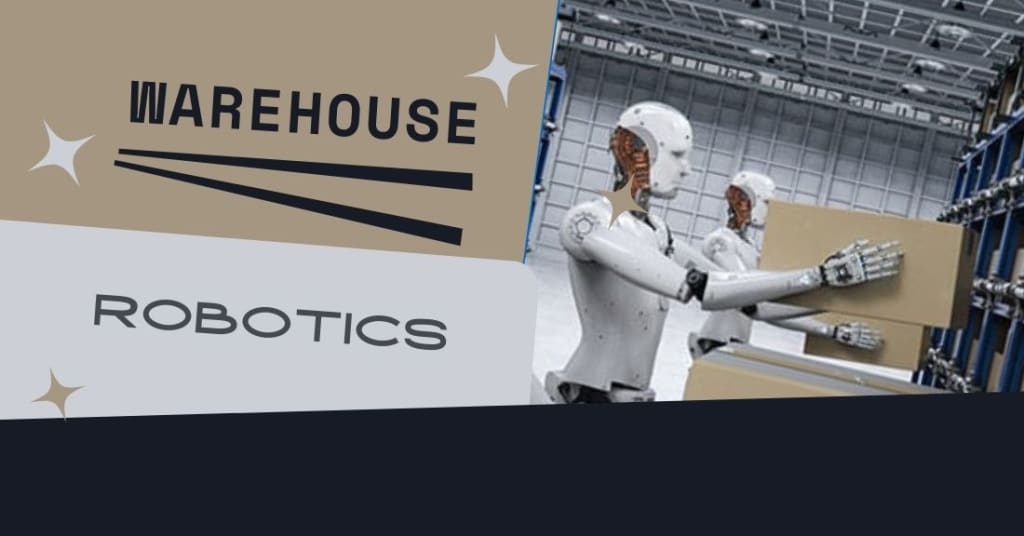 Types of Warehouse Robotics
Technological innovations and advancements are dominating several businesses across the globe regardless of their size and type. Several factors are driving the widespread and increased utilization of automated material handling equipment.
Demand for robots is progressing by leaps and bounds in warehouses. Customer demand is one of the most dominating factors that is accelerating the utilization of warehouse robotics. Let's take an example here. Amazon's two-day or often same-day order fulfillment commitments lead to warehouses having to make significant upgrades in their warehouse infrastructure to maximize output and enhance productivity.
Today, an average worker uses hardware and automated material handling solutions, and a far greater share of the industry can deploy autonomous warehouse robots. Some of the innovations that are driving widespread warehouse robot acquisition are as follow:
Machine learning and artificial intelligence
Better sensors and response capability
Warehouse automation software or order automation software
Warehouse robots play a promising role in accelerating the business's productivity, sustainability, accuracy, efficiency, and effectiveness. Here's a jaw-dropping fact. Some companies claim that a single industrial robot saves approximately 18 miles of employees walking within the warehouse premises every day! Not only this. International Federation of Robotics estimates that the growth of warehouse robotics is expected to evolve at a CAGR of 12% from 2020 to 2022. Hence, the significance of warehouse robots is non-negligible.
This article discusses five interesting types of warehouse robots. So without further ado, let's glide right into each one of these.
Collaborative Robots (cobots)
The semi-autonomous mobile robots, collaborative robots (cobots), get human workers back to perform diverse tasks in the warehouse environment. Few f the collaborative robots follow human picks within the warehouse premises and act as a mobile storage bin for picked orders. Other collaborative robots direct workflows through the warehouse transporting loads and leading associates. Collaborative robots possess robust sensors that effectively distinguish between boxes and obstacles. Such sensors ensure accurate and efficient navigation through the facility. Moreover, collaborative robots enhance order management automation. They prove to help deliver picked orders to workers in other locations in the warehouse, such as packing or sorting systems.
Autonomous Mobile Robots (AMRs)
An autonomous mobile robot (AMR) is a robot that understands and moves within the warehouse premises without depending on the operator or fixed, predetermined path. AMRs possess robust sensors that enable them to interpret and understand their environment. These sensors help AMRs to carry out their tasks in the most efficient manner.
Following are the three major categories of autonomous mobile robots (AMRs)
AMRs that are flexible sortation solutions.
AMRs that assist in the packing process.
AMRs that move inventory within the warehouse premises.
Automated Storage and Retrieval system (AS/RS)
Automated storage and retrieval system (AS/RS) refers to a group of computer-controlled systems that helps in automating inventory management. It is a promising technology that brings inventory in and out of storage. ASRS also helps to store and retrieve goods on demand. The purpose of automated storage and retrieval systems is to facilitate swift retrieval and placement of products. Warehouse workers usually pair AS/RS with warehouse automation software. They either operate as shuttles or cranes on fixed tracks. These systems can easily traverse vertical heights and product aisles to remove or deposit warehouse products. Thus, the warehouse ecosystem utilizes an automated storage and retrieval system (AS/RS) to enhance material handling and order fulfillment operations.
Automated Guided Vehicles (AGVs)
Automated guided vehicles (AGVs) are a robust technology that helps transport materials, goods, and inventories within the warehouse premises. Warehouse workers use automated guided vehicles for WMS automation and to substitute manually driven pick carts or forklifts. Automated guided vehicles (AGVs) that navigate warehouse facilities autonomously by following the physical guides or established routes. Those routes are embedded wires, tracks, sensors, and magnetic strips on the warehouse floor. There also exist some AGVs that utilize lidar, cameras, infrared, and other computational advancements to avoid collisions, identify obstacles and navigate workspaces.
Pick and Place Robot
Modern manufacturing environments often utilize pick and place robots. This warehouse management system automation accelerates picking up products or parts and placing them in some other location. Automating the pick and place process also helps to increase the production rate of the warehouse. Also, pick and place robots effectively handle repetitive tasks while allowing warehouse employees to focus on high-priority tasks that require their attention and skills. Pick and place robots include cartesian robots, delta robots, fast pick robots, and collaborative robots.
Moreover, articulated robotic arms are also the type of pick and place robots. These are multi-jointed limbs that warehouse workers utilize to manipulate products within the warehouse or distribution centers. Articulated robotic arms can turn, lift and move maneuver items. Warehouse workers can use articulated robotic arms in the following warehouse operations:
Palletizing
Storage and receiving
Packing and picking
Conclusion :
The advent of warehouse robotics is unpredictable. However, this technology is here to stay and is not going anywhere anytime soon. Robotics technology has come a long way, from massive gadgets with limited capabilities to highly sophisticated pieces of machinery that are robots enough to perform highly complex tasks. According to the Hexa research report, the global warehouse robotics market will reach approximately $6 billion by 2025. Warehouse automation proves to be impactful across several industries. The future of completely automated warehouses has yet to be seen. However, robots are increasingly playing a prominent role in warehouses, shifting humans to the supporting role.
Consider McCombs-Wall Inc. (MWI) Solutions to be your partner if you are searching for a company that provides robust material handling equipment and warehouse control systems. The partner companies to which MWI resells and installs include Knapp, Kindred, Lightning Pack, SI Systems A-Frames, Modsort(Regal Beloit), ID technologies, Hannibal, Hanel, Intralox, Effimat, OPEX, Gray Orange, TGW, Interroll, Intelligrated Honeywell, and Hytrol. Moreover, technology companies they often integrate with but don't resell include SICK, Cognex, FANUC, Beckhoff, BestPack, and Rockwell Automation.
So head over to MWI Solutions and get your hands on the world's best automated material handling equipment today!
business
How ERP (Enterprise Resource Planning) software system helpful in organizations and industries. Looking for best ERP solutions for your business and industry?