4 Technologies Businesses Need to Stay Afloat amidst Covid-19
Businesses that are impacted by the unfortunate pandemic and how they are accepting new normal.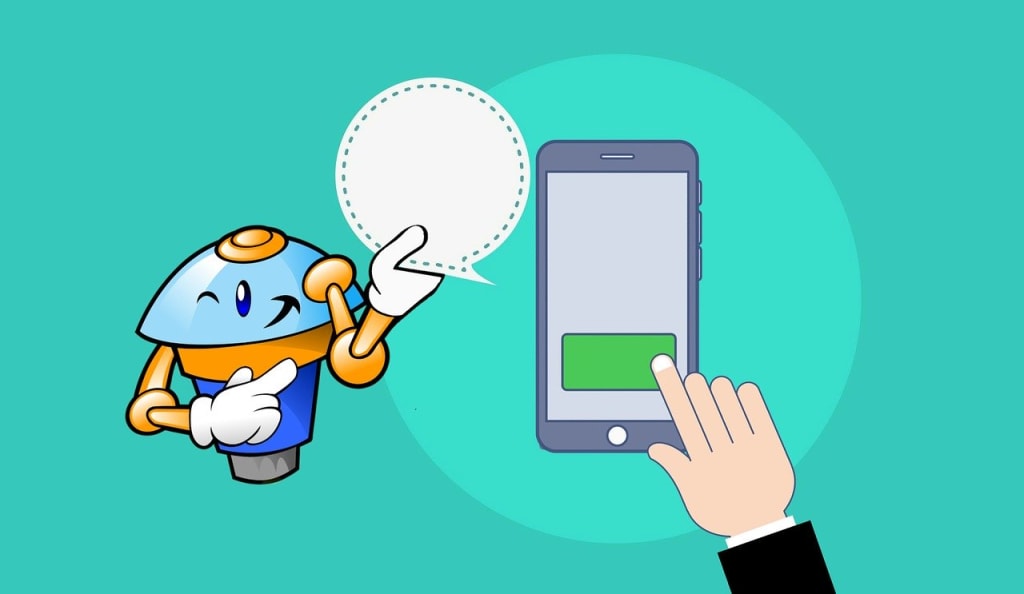 With COVID-19 cases surging worldwide, business leaders are forced to deal with a myriad range of problems like slouching sales, shocked supply chains, employees' safety, and ensuring new ways to keep the business running.
All businesses regardless of their size and type have been impacted by this pandemic and are forced to adapt to new ways of operation. In order to survive businesses are venturing into the digital space for the first time or optimizing their positions.
McKinsey surveyed 46 cities in China to understand the behavioral changes in customers and saw that the online penetration of shoppers has increased by 20 %. Another report by McKinsey stated that in Italy, e-commerce sales increased by a staggering 81 percent in a single week, creating significant supply-chain disruption.
Considering this heavy influx into the digital space, here's how online collaborative tools can help businesses to retain business as close to usual as possible.
1. Enhanced customer support in desperate times
Customer experience has always been an important KPI to predict the growth of any business. The majority of the businesses understand that communication tools can help businesses deliver a customer experience just as good as offline interactions, if not better.
Research by IDC suggested that 2/3rds of the CEO's of Global 2,000 companies aimed to shift their focus from traditional, offline strategies to digital customer experience strategies to enhance the customer experience before the start of 2020.
Additionally, 34% of companies fully want to adopt digital transformation within the next year.
The current Coronavirus storm has brought about the need for digital communication technology-- no more than ever. Below mentioned are the technologies that you can use to enhance the overall digital customer experience during this pandemic.
Which technologies can help?
Using the latest technology like video calling, and co-browsing can be very helpful in helping customer support executives as well as the customers. Here's how
Globally, IP video traffic will be 82 percent of all IP traffic (both business and consumer) by 2022, up from 75 percent in 2017. -Cisco
People need extra guidance, information, and support to navigate through online shopping stores to buy the essentials as stock lasts. Amidst this pandemonium, an organization has the opportunity to live by the virtues of people-centricity.
Guiding a customer through video calls or co-browse can help a customer in distress make informed and calm decisions. Face to face interaction through video calls can help new visitors easily trust your brand and help customers move through the funnel faster.
Furthermore, during times of isolation and social distancing video calling makes people feel connected.
Through co-browsing, agents can take customer service a bit further. Agents can shop, fill forms, or create orders for the customers through two-way collaborative screen sharing. This is especially helpful with the elderly or specially-abled customers.
Tools you can use :
Acquire Live Chat with HD video call and voice call software, Microsoft Teams, etc.
2. Sufficing the lack of manpower
Government-enforced lock downs and social distancing have forced many brick-and-mortar sites to completely shut down and they are now looking to move their business online in order to survive.
Even though retail has been slowly shifting from offline stores to e-commerce for years, many enterprises still find the need to increase their digital customer experience to thrive in the competition.
The supply chain is seeing a drastic shift in supply and demand. Essential goods retailers are now overwhelmed by the increasing demand and the queries that follow. To tackle this challenge, smart online technologies can come in handy.
Which technology can help?
Chatbots are regarded as an online effective tool to improve the digital customer experience of customers in many ways.
80% of businesses are projected to integrate some form of chatbot system by 2020. (Outgrow, 2018)
At times when people are lacking the feeling of connection and intimacy with others due to social distancing -- Conversational Chatbots can help businesses interact with their customers in a more humane manner. One can see the example below: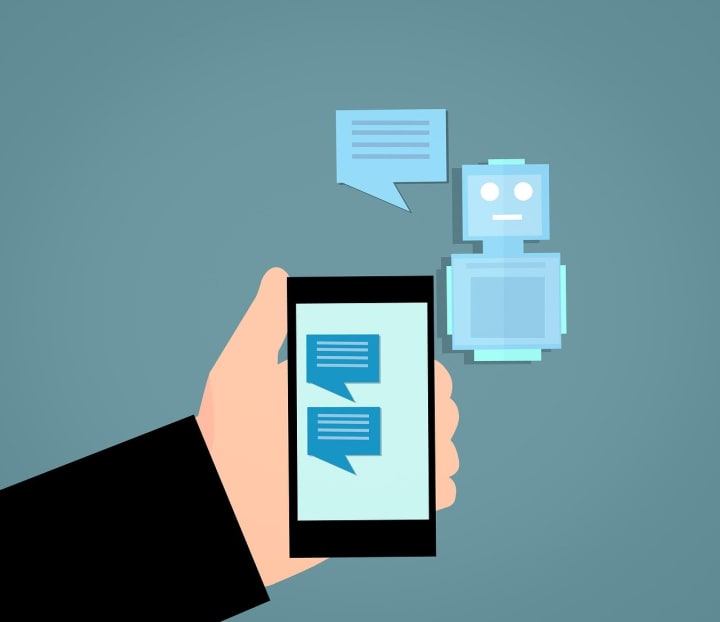 Well, who doesn't like to be addressed by their name? Having said that, Chatbots can do more than making a customer feel nice. They can also help customers with the required knowledge and guidance to make a purchase.
Furthermore, they can also patiently answer the frequently answered questions by people, and offer them guidance round the clock -- tirelessly, obviously.
Tools you can use :
Acquire Chatbot, Watson Assistant, Bold360, LivePerson, etc.
3. Effective internal collaboration
According to the McKinsey US Consumer Pulse survey done on 1,073 adult US citizens, between March 20 and 22, 2020, just days after the first case was reported in the US, stated that 60% percent of Americans are very or extremely concerned about their safety and the safety of their families.
Now as the U.S. sees the highest number of positive cases, the fear amongst the employees regarding their safety is obviously much more.
During such times businesses can deploy technology that helps them and their employees to stay in constant touch with every other remotely located employee without compromising the health safety of anyone.
Which technology can help?
These technologies ensure the safety of the employees by allowing them to stay as productive and efficient in their homes as they would be in offices. Furthermore, a fundamental need for every business to work well and proper is the quality of internal communication.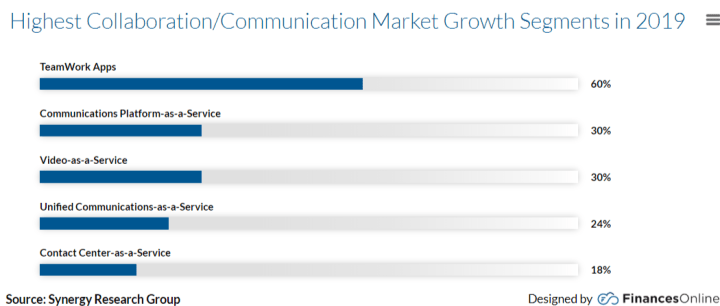 Online communication is made possible by collaborative technologies where virtual meeting spaces can be created at any time, anywhere.
Good communication within an organization makes sure that everyone is in the loop and on the same page.
Online collaboration technologies like Teamwork apps, Document sharing apps, collaborative word processors, communication platform-as-a-service, unified-communications-as-a-service, etc were always important but now are even more.
Tools to use
You can use Viewup for online meetings, DocuSign, Google Docs, Google Meet, Slack, etc.
4. Creatively engage people online
Businesses have to also recognize that most consumers are now craving entertainment whilst being locked up in their homes.
This is the right opportunity for you to engage with your customers, enhance your brand, and also give them some moments of joy.
You can go live and interact with your customers, for any new product launch, or even Coronavirus safety product availability. Plan birthdays and anniversaries online.
You can also give out special discount codes to the first certain number of people who stream your live event.
Which technologies can help?
The point here is to get creative in making your customers still feel engaged in your brand and interested in your content from a distance.
This is where social media platforms and their live streaming features can come in handy.
50% of consumers say that seeing user-generated content would increase their chances of buying products through a brand's social media. (sproutsocial)
For instance, HSBC has started to tie-up with artists to teach people skills like Origami, storytelling, cooking which they can hone during their quarantine time. They send YouTube links to their videos through newsletters to the customers. Indeed a very interesting and simple way to use online communication tools to engage users.
Tools you can use :
Facebook Livestream, Instagram Livestream, Youtube, etc.
The Post COVID era
This coronavirus outbreak is most certainly a generation-defining pandemic. History will have pre-Corona and post-Corona eras signifying how things changed. Out of all the things, it will change, it will also change the way we use technology, and our perception towards it.
Rather than luxury digital tools will become a day to day essential need -- for instance, people might completely move to video calling from normal phone calls.
Business-related travels and boardroom meetings might now just extinguish considering the fact that video conferences are working so well.
Digital customer experiences will continue to grow in popularity, more than ever before even after the virus is stomped out.
This novel corona virus has created a world with a lot of uncertainties. However, there are two things that we can say for certain are -- one, that this virus will end and, second, the use of online collaboration tools with businesses going online will see a constant sharp increase.
Businesses should pay attention to this fact and have a vision of where other businesses, customers are heading. Arming oneself with a good online presence and great digital tools is a sure-shot way to iron-clan businesses for the future.