Enjoy reading the four shocking true crime stories below!
Group Set Activist Afire After She Reports Threats From Neighbor to the Police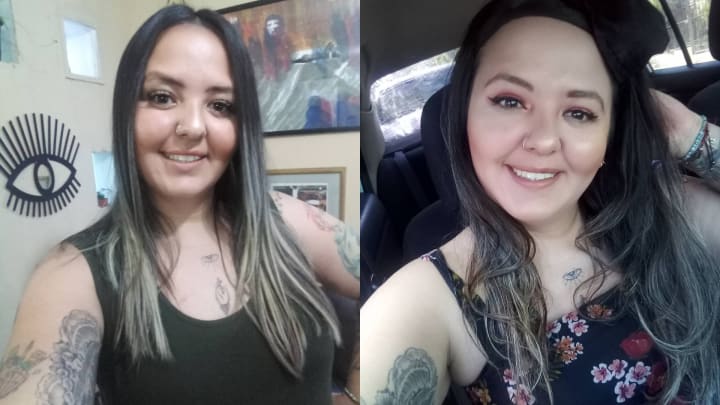 In 2013, a group of men attacked Luz Raquel Padilla Gutiérrez near her home in Arcos de Zapopan, Jalisco state, after she contacted Mexican authorities regarding threats her neighbor made against her in the weeks prior. The group sprayed her with alcohol and set her on fire.
She suffered third-degree burns on more than 80% of her body.
The neighbor who threatened Luz had also attacked her with industrial-strength chlorine bleach. Luz posted photos on her Twitter account after she alleged the same neighbor spray- painted hateful messages on the wall of the apartment building where she lived.
"I'm going to burn you alive," the spray-painted message read.
When Luz reported the incident to authorities, she requested they provide her with a panic button, a tool Mexican authorities provide residents who are part of their protection program due to violence. Officials denied the request for the panic button, claiming the number of threats she had received from third parties was "insufficient."
The neighbor who previously attacked Gutiérrez constantly complained about the noise made by her 11-year-old severely autistic son during his "episodes."
Gutiérrez became an advocate for women and children and numerous movements designed to protect those with disabilities. She worked alongside mothers with children affected by cerebral palsy, epilepsy, autism, and other disabilities. She was part of the "I Take Care of Mexico" collective on social media networks.
Authorities eventually arrested the neighbor for the attack. Forty days later, the Jalisco Prosecutor's Office presented an expert opinion concluding that Gutiérrez herself wrote the threatening messages on the wall of the building of her home. The man was later released from jail without charge.
Road Rage Attacks Led to Pregnant Woman's Miscarriage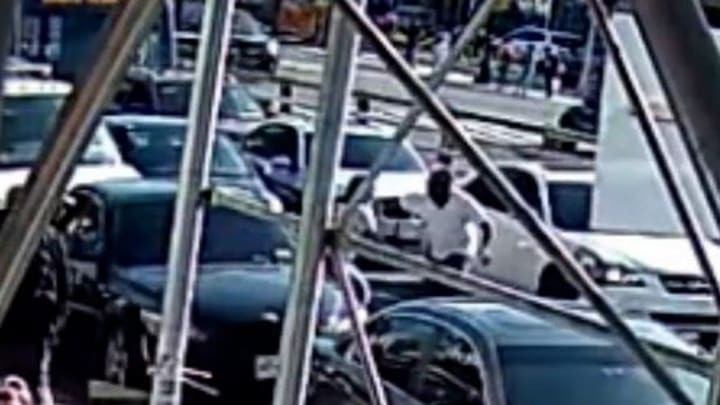 In July 2022, a pregnant woman miscarried her baby following a violent road rage incident in New York City. The incident was captured on video and NYPD is still searching for the woman's attacker.
Around 5:30 p.m. on June 6, 2022, Estella Guzman refused entry to a car attempting to cut in front of her. The driver of the vehicle began to follow her to a strip mall in the Bronx. He bumped into her vehicle several times. Guzman caught a glimpse of the man laughing in her rearview mirror.
She attempted to speed away from the man but he continued to pursue her, cornering her at Grand Concourse and Fordham Roads. Guzman got out of the car to find out what was going on. That is when the unidentified man stepped out of the car with a screwdriver in his hand and without saying a word, attacked the three-month-pregnant woman with the weapon, repeatedly striking her in the head.
Guzman fought back. She stuck her fingers into the man's eyes and poked as hard as she could. When Guzman grabbed the man's eyes, he began stabbing her with the screwdriver in the head before dragging her in the middle of the street.
The attacker drove off in a silver BMW.
Despite the attack occurring in the middle of broad daylight in a busy area of town, no one stepped in to help the woman. Someone did call 9-1-1. The woman was transported to a local hospital.
She immediately informed paramedics that she was pregnant. Two weeks later, Guzman, now suffering from PTSD, also lost her baby in a tragic miscarriage.
"I don't have my unborn child anymore and I just really need them to find [the attacker]. This could've been anybody's sister, anybody's mother," she said.
Police released surveillance of the attacker. Anyone with information about him is asked to call Crime Stoppers at 1-800-577-TIPS.
12-Year-Old Plans Revenge Attack for 12-Years; Kills Man he Witnessed Kill His Father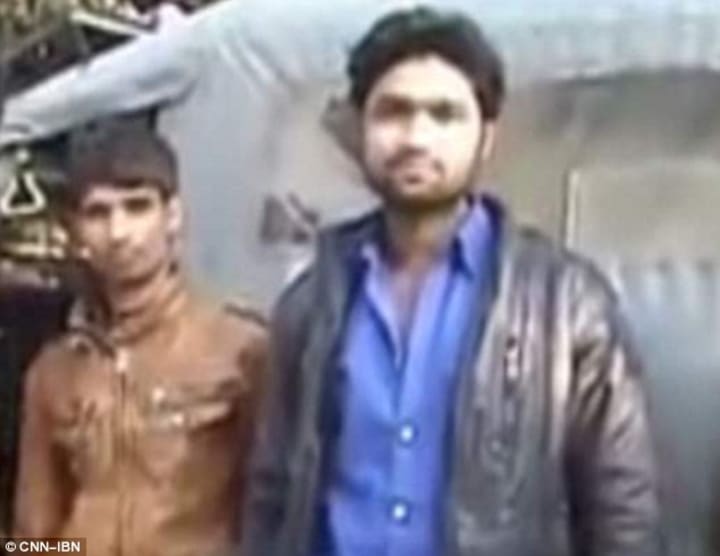 In 2003, 12-year-old Alam Khan of Uttar Pradesh, India, witnessed his father's murder by a family friend. He spent the next 12 years wanting nothing more than revenge, seething in anger, and waiting for the moment he could finally get justice for his father. He carefully planned every detail of the attack he would perpetrate against Mohammad Rais, the man who took his father away.
In 2015, now a 24-year-old man, Khan set out to take his revenge after Rais invited him over for a drink. Rais accepted the invite. Once inside Rais's home, he got the man drunk and stabbed him to death. Khan dismembered his body and with help from a friend, packed the parts into plastic bags. The men tossed the bags into the river.
The bags eventually washed ashore. Shocked locals found human body parts on the banks of the Ramganga on December 16. Police identified Rais from a surgery scar on his torso.
Witnesses told police Khan had visited Rais on the night of his disappearance. Upon questioning him, Khan made a full confession. He told the police that he never revealed the identity of the killer so he could take revenge on the man. Now, he said, he was happy it was done.
Police recovered a knife, hammer, saw, and a waist belt, all weapons Khan used in chipping up the man's body in 12 pieces -one for each year he waited for the moment.
Khan was charged under IPC section 302 (murder) and 201 *causing disappearance of evidence of an offense). Khan immediately confessed to the murder. "Afterwards, I played music on full volume as I killed him with a knife and then cut his body into 12 pieces," he told reporters.
Twisted Nipple Attack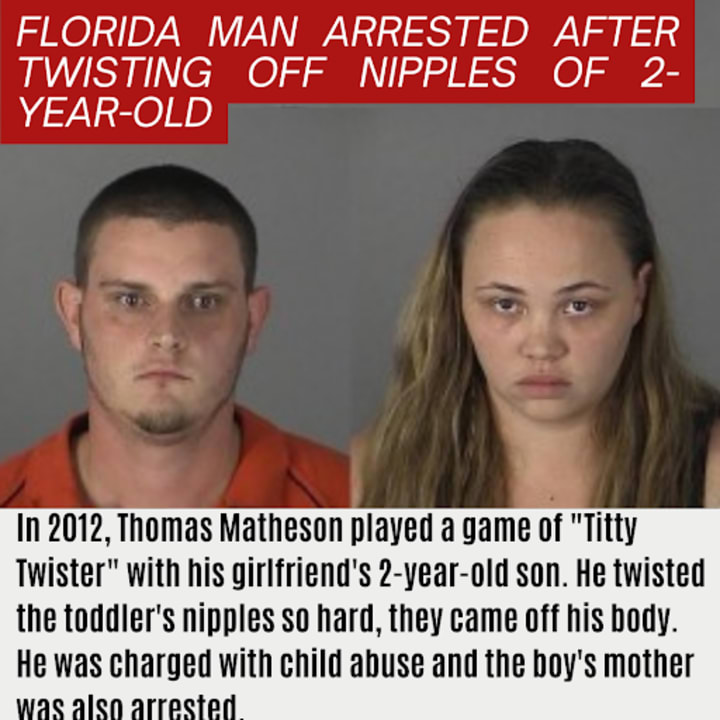 According to Bay News 9, 28-year-old Thomas Matheson of New Port Richey, Florida, twisted the nipples of a 2-year-old boy so hard that they came off his body. Police charged him with child abuse related to the November 29, 2012 incident.
The man apparently played a game of "Titty Twister" with the toddler. The 2-year-old sat in intense pain until his grandmother arrived home and called paramedics. The mother was at work at the time.
Matheson said he did not realize he twisted off the boy's nipple until the grandmother arrived. Medical staff said it is unlikely the toddler's nipples will ever grow back.
The toddler's mother, Teena Reenea Cline, was also charged in the incident when she failed to seek medical treatment for her son.
About the Creator
The most shocking & unbelievable collection of crime stories around. Prepare yourself for crimes that will piss you off. Graphic material! 18+ audience!
Reader insights
Be the first to share your insights about this piece.
Add your insights