3 Reasons Why do Companies Choose To Outsource Work?
Why do Companies Choose To Outsource Work is the hot question nowadays. Besides the rapid shift in business trends and models brought on by the surge of remote work in the past two years, you might be wondering why more companies now choose to outsource work. Well, you can't be the jack of all trades, as chances are you'll become the master of none. Running a business is hard work, and it can get pretty overwhelming fast when you realize you have to be the salesman, the accountant, the marketing staff, and the recruiter all at the same time. But how else could you reduce the workload while staying productive and in control of your resources? After all, cutting costs and improving efficiency are two of the most critical elements of running a successful company — and that's exactly what outsourcing is all about. Outsourcing is a game changer, especially considering today's economic climate where minimizing costs and maximizing profits are a priority. Recent trends indicate that global spending on outsourcing could hit $731 billion in 2023, with business process outsourcing projected to grow by over 9% per year between now and 2030. 92% of G2000 companies use IT outsourcing and 37% of small businesses outsource at least one business process. With such a steady rise, it's no doubt that more and more companies are now seeing the value in outsourcing specific business operations to outside firms. Why do companies choose to outsource work? Because it just doesn't change the game, it changes lives. Here's how and Why do Companies Choose To Outsource Work: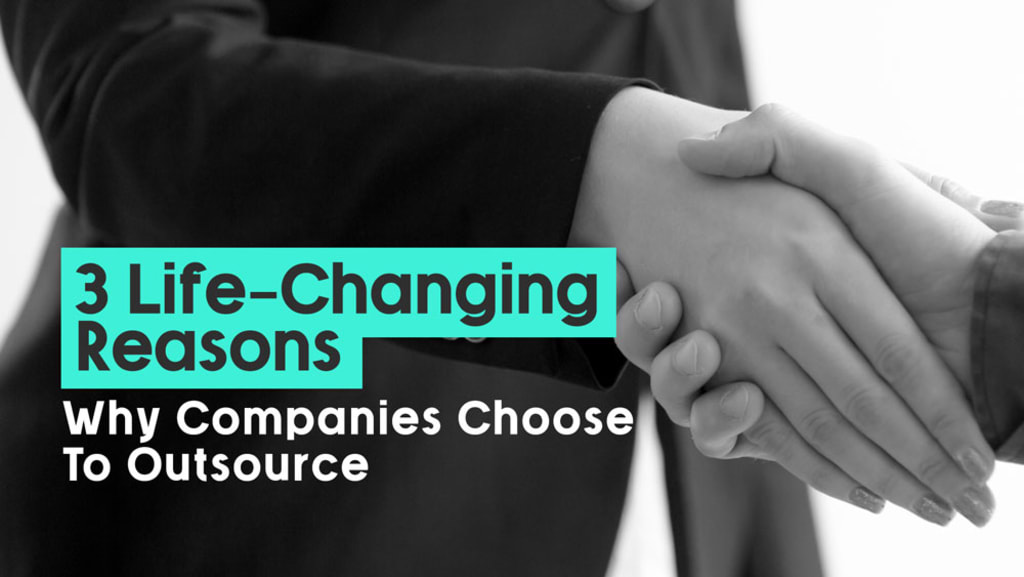 1. More time and more money – why do companies choose to outsource work?
An average worker will spend nearly half of their workweek handling repetitive tasks. But when these repetitive tasks are outsourced, you free up the hours consistently spent on those processes. Outsourcing allows you to allocate more time towards other more crucial things, which also creates a variety of responsibilities for your workers instead of monotony. After all, you should be utilizing your employee's knowledge, skills, and experience as much as possible.
Outsourcing virtual assistants can reduce operating costs by 78%. Companies that hire virtual assistants can eliminate all the expenses required to maintain a traditional employee – you don't ever have to worry about equipment, benefits, paid training, or long-term contract agreements. Outsourced virtual assistants can help you organize schedules, create details and presentations, and do basic invoicing, accounts, and reports (just like a typical office administrator) which allows you to focus on your business's core responsibilities. These benefits are prime examples of Why do Companies Choose To Outsource Work.
As long as the job can be done in front of a computer screen while connected to the internet, The Outsourcer can do it for you at 70% less cost. Here at The Outsourcer, we offer administrative, bookkeeping, accounting, and data entry services. We remove the smaller, time-consuming tasks and allow you to focus on more of the big-picture stuff.
2. Access to the best talent -why do Companies choose to Outsource work?
You no longer need to invest in recruiting and training expensive resources for your business when you switch to outsourcing. In developed countries, you'll find that either there is a shortage of skilled workers or they are available at a very high cost. And that's Why do Companies Choose To Outsource Work – in developing countries, you get access to a large pool of skilled people who are proficient in English and are available for work at a very low labor cost.
Why do Companies Choose To Outsource Work
As an entrepreneur or a small business owner, looking for specific experience levels shouldn't be the only method of sizing up talent, especially since you'll be hiring in a post-COVID world. Examining high-quality attributes like adaptability and resilience is also an essential quality when you look for a new employee. This privilege is a powerful driving force as to why companies choose to outsource work.
Finding talent that is reliable, engaged, and committed doesn't have to be complicated. The Outsourcer can be your trusted partner who can provide you with young, innovative, and vibrant workers. Who are skilled in all the right areas. We offer technical services with our team of cutting-edge app developers, programmers, engineers, architects, and writers. Our goal is to help you and your company deliver a great product.
3. To Grow their Business
Outsourcing automatically raises the standard of work. When you have access to more time and skilled talent, naturally these factors will build and strengthen your brand. You get better concepts and better content. Outsourced virtual assistants can enable the quick development and delivery of ideas and products into the competitive market. Especially in terms of making your brand accessible and attractive to the public. With great promise and a proven track record for success It's inevitable that companies choose to outsource work.
Why do Companies Choose To Outsource Work
The Outsourcer can lend you a hand with graphic design and UX/UI design services. From graphics to social media, The Outsourcer provides you with valuable team members. That can be a guaranteed asset and extension of your brand.
All sorts of businesses across a wide variety of industries outsource different processes. Whether they're young startups or major Fortune 500 companies. As an entrepreneur or a small business owner. It's your job to prioritize the tasks that contribute the most value to your business. That's why hiring a virtual assistant through The Outsourcer is more about tapping into a culture of young, innovative, and vibrant workers. Who are skilled in all the right areas and will help your business run on auto-pilot. So that you can focus on the higher-leverage things. Get to know and experience why do companies choose to outsource work yourself. If you're ready to turn your life and business around, give us a call.
Reader insights
Be the first to share your insights about this piece.
Add your insights