$13,000 a Month with One Blog Post.
You have two choices become a doctor and Make $11,000 a month and or become a Content creator and make $13,000 a Month with a single blog post.
Now Making thousands of dollars every single month through content is possible. Yes, $13,000 from a single post. I'm talking about adam enfroy. He is a successful content creator on two main search engine platforms Google and YouTube.
He said I started my blog adamenfroy dot com in 2019 almost 3 years ago under a $500 budget now his blog is making over $300,000 every month with multiple sources of income such as affiliate marketing, Google Adsense, and Sponsor post as well.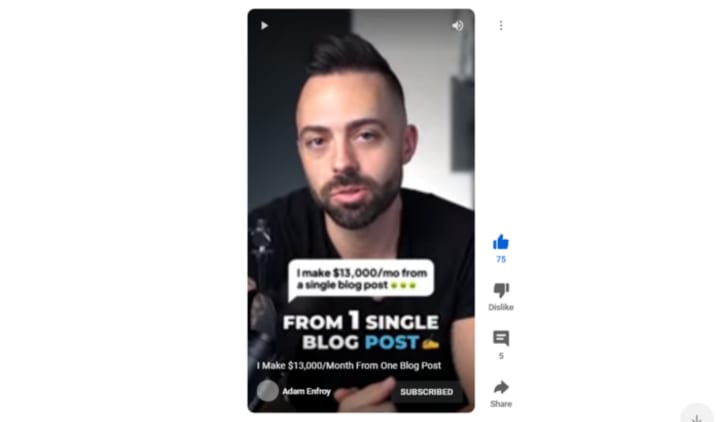 According to the adam, enfroy Becoming a blogger is better than becoming a doctor in the United state and making fix salary every month.
However, If you want to learn more about how to start blogging with no experience then go and watch free videos on adam enfroy YouTube Channel and start their journey as a content creator.
My highest Earning story on Vocal Media.
Vocal Media story earning proof and also what you need to do for making more money as a writer.
First of all, I want to clear your doubt, is it possible to repost your Medium story on Vocal Media? So the answer is Yes.
It is the best platform for new writers who just want to start their journey as a writer. And Personally like to work on vocal media due to Vocal Bonuses.
Here is the full details of Vocal Bonuses.
Welcome to the Vocal+ =$10
You have published your 5th stories= $5
You like 15 other creators' stories=$5
You have published your 10th stories=$10
You have completed 1000 reads=$5
You have published your 50th stories=$50
For making more money on Vocal you need to write content that solves other people's problems this is the only recommendation I want to give you in this guide.
Now let's go with my highest Vocal media earning story.

I have made $22.65 after getting 3836 reads so far.
3 Sign your Write Boring Content
If your content is unread and unshared then that means you write boring content.
In today's guide, I'm going to share with you the 3 Sign your Write Boring Content that's why there is no reads or shares on your content. According to the research, almost 70% of content out of 100% receive no engagement why here is the 3 reasons simply keep reading!
It could be a Medium story, a Vocal media story, and even a blog post you write for your own blog these are 3 reasons your content is not going to perform very well.
1. Lack of Knowledge of the topics that you're going to write for. It is a very famous quotes that if you don't have time to read something then you don't become a better content creators
2. Don't do proper research and start thinking that I'm not a good writer.
3. I can't become a better writer.
If You're Not Doing This on Medium, You're Losing Money
Yes, Anyone can do this.
Making $100 a month on Medium is very simple and easy But first, you need to write quality plus problem-solving content on Medium that is the only thing I learned as a content creator.
But If You're not doing this on Medium then definitely you're losing money which is Referral.
Yes, The other best and easiest method of making money online on Medium is by referral here is the live proof.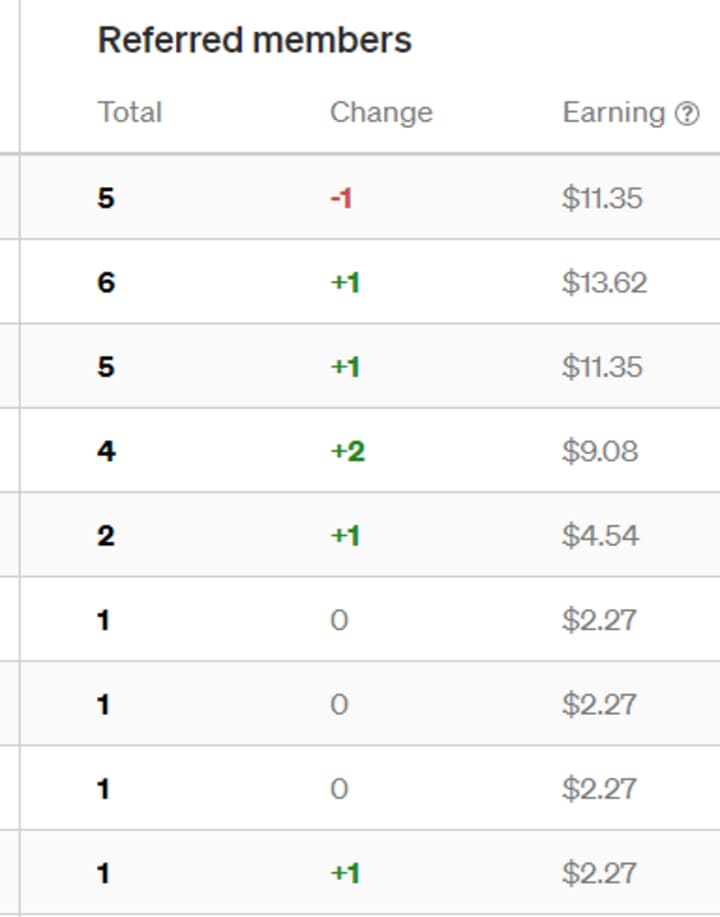 You can also consider this as a fixed salary or recurring income. Now the question is how to get a referral on Medium.
Here is the right and easiest ways to get more and more referral and anyone can do this.
Add your Referral promotional link in your Medium Bio.
Don't forget to add your referral link at the bottom of your Medium story.
How? Go to Settings and Find Option Promote Membership Copy the URL and paste it like this. Once again must press enter button from your computer or laptop.
3. Be consistent and add value to your content Why? This is very important if you want to convert your users and viewers into Customers.
About the Creator
Best Blogging, Affiliate Marketing, Online Business, and Writing Tips Official blog- asadeducate.com
Reader insights
Be the first to share your insights about this piece.
Add your insights