11 Flexible Jobs for Pregnant Women
There are plenty of opportunities out there for pregnant women who are willing to put in the effort.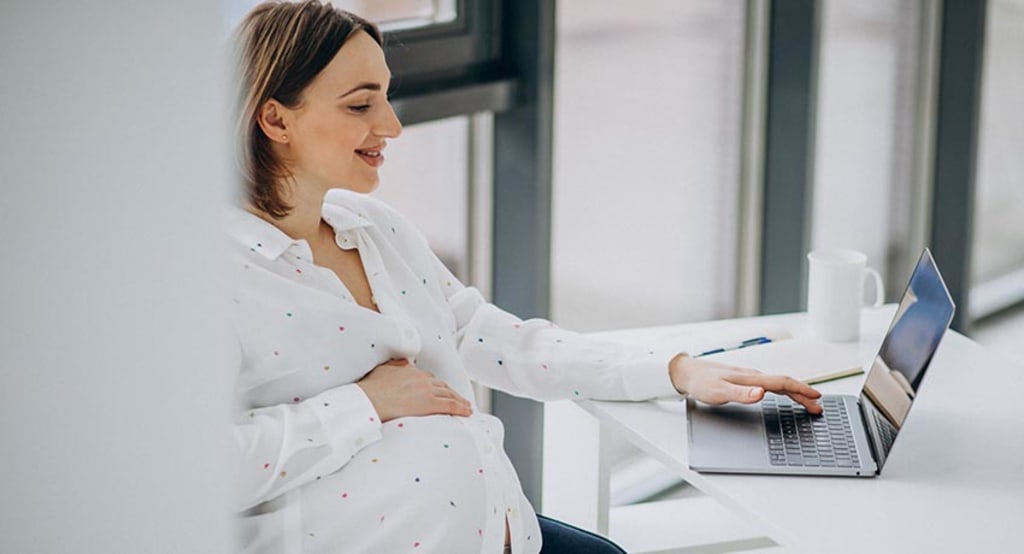 Pregnancy is a time of joyous celebration but also a time of uncertainty. You might wonder whether or not you'll be able to continue working after giving birth. And this could be the primary reason why you're looking for online jobs for pregnant women.
Here are 10 Flexible Jobs for Pregnant Women
1. Transcription jobs
It involves listening and then converting the audio file into written form. This allows pregnant women to work at home.
Basic Skills
Active listening-- You must listen to the audio file carefully and write down what you hear as accurately as possible.
Typing skills -- It is essential that you can type quickly and accurately.
A computer -- Access the internet through a computer (desktop or laptop).
Communication -- The fundamental aspect of transcription, which is to write, is communication.
Editing -- In the event that you make a mistake while transcribing, it is your responsibility to rectify it.
Multitasking -- It is necessary to be capable of doing more than one thing simultaneously.
Time Management: The ability to plan and manage your time effectively
Some transcription firms hire pregnant women
Rev
SyncScript
Focus Forward
Daily Transcription
NOTE - Different companies require different levels of experience. Make sure to review the requirements for each one before you apply.
Salary- According to ZipRecruiter the average yearly pay for Work From Home Transcriptionist Jobs in America is $58000
Helpful Resource
How to Become a Transcriptionist: Step By Step Guide To Get Your Transcription Career Started From Home
Bonus - If your goal is to master transcription and make a career out of it, Janet Shaughnessy offers the General Transcription course. It will teach you everything you need to know and you'll start making $20K to $40K per year.
2. Pregnant women need online tutoring
You can also tutor others. This allows you to share your knowledge with others in subjects such as history, science, math, and English.
Basic Skills
Good communication skills
Teaching experience
Computer literacy
Teaching skills
Self-motivation
Accessibility -- You must be available during the hours students log onto the website.
Time management -- As tutors often have multiple assignments to handle, it is important to be able to manage your time.
Find online tutoring jobs in these places
Cambly
Tutor.com
Vipkid
Payscale According to ZipRecruiter: The average yearly salary for an online tutor job is $42,000 annually
3. Writing jobs for pregnant women
For freelancers, writing jobs are always in demand. This is also true for pregnant women. You can take advantage of the freedom and flexibility that freelance work provides. You can also find writing jobs that pay good hourly rates.
Basic Skills
Ability to communicate clearly and concisely
Basic grammar knowledge
Knowledge of word processing Software
Staller editing skills
Creative Thinking
Good communication skills
Places to Find Writing jobs
Upwork
PeoplePerHour
Salary- According to ZipRecruiter, the average salary for a freelance writer in the US is $62,000 annually.
4. Proofreading
Proofreading is an important aspect of writing. This usually involves proofreading text and checking for spelling and grammar mistakes. You should know how to proofread a resume, article, or book. You, as a pregnant lady, can benefit greatly from this skill since you can do it at home without worrying about your family.
Basic Skills
- Good grammar and spelling skills
- The ability to quickly read and comprehend documents
- Good attention to detail
- Excellent organizational skills
- Good computer skills
- High levels of accuracy
There are many places to find proofreading jobs
FlexJobs
Scribendi
Proofreading Pal
Upwork
Proofreading Services
People per hour
Salary - According to ZipRecruiter, the average annual pay for Proofreader jobs in the US is approximately $43,000.
Bonus - To start an online proofreading company to make up to $40,000 per calendar year, this course is offered by Caitlin Pyle.
Helpful Resource -- Step by step guide for proofreading at home
5. Data entry jobs for pregnant women
People who love working from home are well-suited for data entry jobs. Pregnant women may also be able to apply. Data entry can be a side hustle opportunity if you are quick to type and follow instructions.
Basic Skills
Typing speed
Accuracy
Attention to details
Good keyboarding skills
Excellent typing skills
Organization skills
Places to Find Data Entry Jobs
Axion data entry services
Amazon Mechanical Turk
Capital Typing
Clickworker
Elance
People Per Hour
Upwork
Salary- According to ZipRecruiter, the average annual wage for data entry workers in America is approximately $35,000 per year.
6. Take online surveys
There are many companies out there that require feedback from customers. They want to know what customers think of their products and services. This feedback can be paid. It is simple and easy to sign up for surveys. You only need to register on one of the survey websites and take short surveys. You can then cash out via PayPal after you have reached the minimum payment threshold. Survey junkie is one of the most popular survey sites. Global Test Market and MyPoints are two other examples.
Payment scale-- You can get around $0.5-$5 per survey
Helpful Resource - 14 Online Survey Sites To Earn Money By Sharing Your Opinion
6. Freelance Bookkeeper
Freelancing as a bookkeeper is a great option if you like numbers and keeping track of money. A freelance bookkeeper will work on your own schedule and won't be required to answer any questions. You can also find a job as a full-time employee at a business if you prefer to organize your work and have someone to look over your shoulder.
Bookkeepers are vital to business operations. They manage cash flow and track expenses. While most employers prefer applicants with a bachelor's degree, many companies will consider candidates with less formal education, such as those who have experience with accounting.
Basic Skills
Accounting knowledge
Computer skills
Math skills
Time management skills
You can find freelance bookkeeping jobs at these places
ClickAccounts
Belay
Bookminders
Payscale According to ZipRecruiter.com the median salary of a bookkeeper was $58,358,
7. Graphic Designer at No Charge
Graphic designers create visual elements, such as logos. Because graphic design can be flexible and has many opportunities for advancement, it's a highly sought-after career.
Graphic designers often start with logos and designs for small businesses. As they gain experience, they are able to design marketing materials and logos for larger businesses. Many graphic designers are also consultants and help clients to develop new branding strategies.
This is a wonderful job for women who are pregnant. This allows you to stay at home with your child, and also gives you a steady source of supplemental income.
Basic Skills
Creative Thinking
Attention to detail
Multitasking skills
Strong communication skills
Understanding the theory of color
Adobe Photoshop, Canva, & More Knowledge
Freelance graphic design jobs are available on Upwork and Fiverr, PeoplePerHour. Guru, 99Designs, Guru, Guru, etc.
Payscale -- The average hourly wage for graphic designers is $25. Hourly Rates for Graphic Designers are typically between $15 and $35.
8. Social Media Manager
Social media managers are responsible for managing social media accounts such as Facebook, Twitter, and Instagram. They also manage Pinterest, YouTube, and LinkedIn profiles.
Social media managers are often employed by advertising agencies, public relations firms, or marketing departments. However, they are also available to work as independent contractors.
Social media managers manage multiple accounts and monitor comments. They respond to queries, post content, and monitor questions.
Payscale - The average hourly wage for a Social Media Management Job is $20.53 per hour in the US.
9. Virtual Assistant
A virtual assistant manages administrative tasks for companies. This includes scheduling meetings and booking travel arrangements.
Virtual assistants can work remotely. This makes it a great side business for stay-at-home moms looking to supplement their income. Virtual assistants may offer personal services like editing documents, proofreading articles, and taking photographs of people or events.
Virtual assistants make between $10 and $100 an hour, depending on how long they work.
The best thing about working from home is that you can choose which projects and set your own hours.
The hourly average pay for a job as a Virtual Assistant in the US, is $19.22 per hour.
10. Online Customer Service
A customer service representative is available online to answer any questions, chats, or texts.
While large companies tend to employ customer service reps, many individuals are also offering these services.
Glassdoor reports that customer service representatives earn an average salary of $33,648 per year.
11. Data Entry
Data entry is when you manually enter data into other programs or databases. You don't need any training or skills to do data entry. It is also very easy to get started when you have the time.
You have many options to work remotely in data entry. They can be found on Amazon Mechanical Turk and many small businesses are searching for them.
Payscale Data entry is paid around $30,000/yr. According to PayScale.
Conclusion
Although it can be hard to find jobs for pregnant women, there are ways you can make it easier.
Even better, you could start a blog about pregnancy and maternity clothes. You can even create an ebook about pregnancy and sell it on sites such as Amazon.
If you are passionate about photography, why not create your own website with only photos of pregnant women? You can also charge for access.
If you are a skilled graphic designer, you might create a logo to promote a local pregnancy center or create a poster.
No matter which career path you choose to follow, keep learning new skills.
I hope you found this post helpful. You can share this article with any friends or family members that might be interested.
_______
Please Subscribe to me on Vocal-Media to read similar kinds of stories related to blogging, money, marketing, and more.
Have you enjoyed this story? if so then please leave a heart for me. It inspires me to produce more stories like this.
list
About the author
Professional Blogger | Pinterest Influencer | Affiliate Marketer | Love To Write About Blogging, Money, Personal Growth, and More At https://beginnersblog.org/
Reader insights
Be the first to share your insights about this piece.
Add your insights