100% is not necessary
originally published on www.careercafeslc.com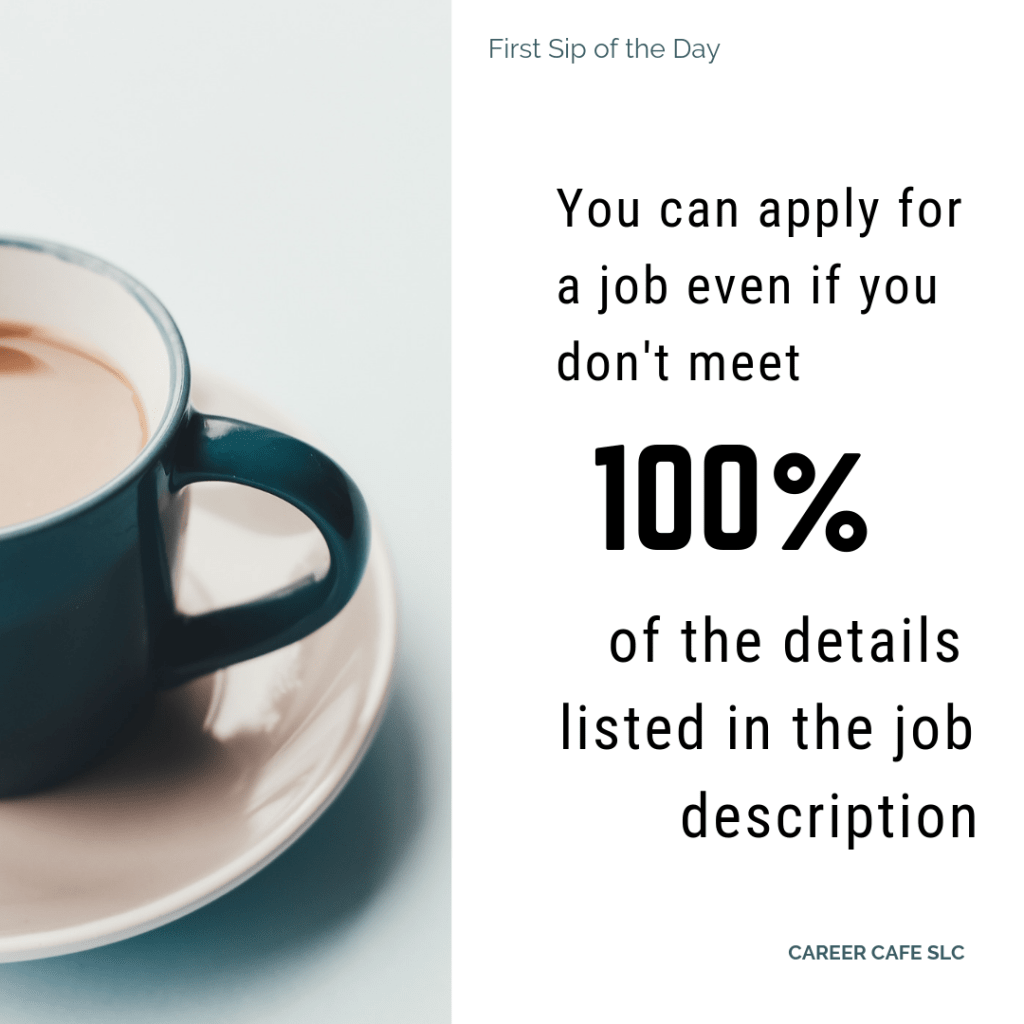 I have worked with many people over the years who have avoided applying for a job because they didn't feel they met 100% of the details in the job description. The problem was they knew they could do the job well and really wanted to do it, so the employer missed out on their application. Today's post is going to be in a "Quick Tip" fashion so I can break a few things down. My goals is to help you feel better about the application process and applying for a job even if you don't match 100% of the qualifications.
One thing to keep in mind. The job description is a hiring manager's ideal person. That person probably doesn't exist. Searching for qualified candidates is not only important to them, but it's hard, so they include everything they could ever want in a candidate. So, if you are excited about a company and a position, and you are confident you can do the job and do it well, apply. However, it will be even more important that you point out, very specifically, the majority of qualifications you do have. Below are some tips that will help you get a better return on your time investment (the application process takes a while). Plus, you want to respect the hiring manager's time. Especially if you are interested in the organization. They might have jobs open in the future that are a better fit, so if you truly aren't qualified, keep an eye out and apply when the right job becomes available.
Quick Tips:
Read the language carefully: Do they say a requirement is preferred or required? If something is required, you do need to have it. For example, if you are going for an accounting position and they say a Bachelor's degree in Accounting is required, they will not consider your application if you don't have that. However, if they say a Bachelor's degree in Accounting is preferred and you meet the majority of other qualifications, the lack of degree won't be the deal breaker.
Tailor your resume very clearly to this position and write a cover letter providing more explanation of your qualifications. If you want this job, explain to them why you could do it successfully. Why are you applying for this job? Answer that question for them. They won't be able to guess your qualifications just by looking at your resume. Tell them how you meet the qualifications using examples of previous success. (This is true for any application, even those where you meet 100% of the qualifications).
It is not necessary to highlight/focus on things you consider to be lacking. Avoid saying, "While I don't have experience with _____________, I am a fast learner and can catch on quickly." Focus on what you DO have, instead of what you don't have. A hiring manager might look at your application and be excited about your skills and qualifications. They might not think you aren't experienced with _________. If you point it out, then you help them to focus on what you don't have which might make it easier to put your resume in the "No" pile. A better statement would be to say, "My experience with __________ will help me to be successful in this role." Focus on the positive and what you DO bring to the table.
My assumption is that we avoid job descriptions that don't feel like a sure thing because rejection is hard. Every time I apply for a job, even when I feel 100% qualified, the fear of rejection pops up. It's normal, we all feel it. Take a chance on yourself. Craft a very tailored application for the job and do some networking if possible. You never know what could happen. I can't promise a lot when it comes to careers, but I can promise you won't get an interview if you don't apply, so go for it!