Top 5 reasons enterprises are adopting codeless test automation tools in 2022
Read blog to get to know the top 5 reasons enterprises are adopting codeless test automation tools in 2022 to boost their productivity with customer satisfaction and increased ROI.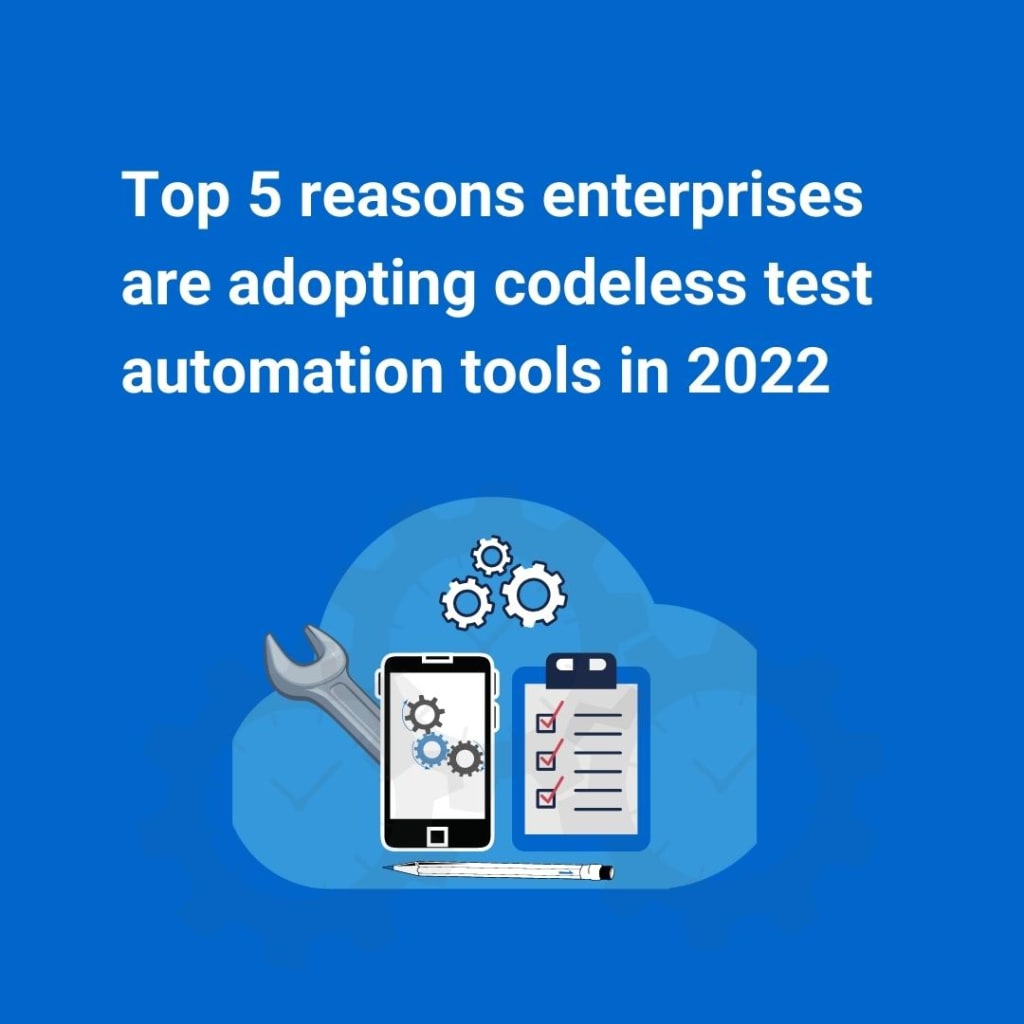 Codeless Test Automation Tools
The testing phase of the application is always a challenging time for any organization during the product lifecycle. Although a single software bug can cause a huge financial loss for the organizations, the testing process of the application is a crucial phase for any software product to maintain the quality.
The traditional manual testing process, where the experts write the whole set of test scripts takes huge amount of time that causes delay in product delivery.
Although, manual testing has proven its results in many cases, it does not support emerging technologies like Artificial Intelligence (AI), Machine Learning (ML) and external integrations. Moreover, as a lot of manual work is involved, this process is quite lengthy and time-consuming. This becomes challenging for enterprises in deploying a large number of skilled resources to deliver projects on time and maintaining the customer satisfaction.
Enterprises are working towards faster software delivery to meet the market demands. This has created the need to automate the testing process of the application. Scriptless test automation is one such way to minimize the work of experts in writing the scripts, validate software application much faster, and record the test results in a short time.
Below are the top five reasons for the adoption of codeless test automation tools in 2022.
1. Increased test coverage that improves application efficiency
Test Coverage is one of the most crucial steps in the application testing process for detecting most of the issues in the project, whereas high-quality applications require 90% to 100% test coverage. Codeless test automation tools allow testing experts to run more test scripts in a short time and provide an increased level of test coverage at the end of the testing process.
Codeless test automation tools allow a user to run tests automatically without any human intervention. This allows experts to spend more time on other complicated tasks where actual human intelligence is required. This benefits organization in improving the efficiency of the software application. Leverage IntelliSWAUT to achieve 100% test coverage. The amazing AI capabilities of this tool takes your test automation to the next level.
2. Accelerated time-to-market with auto-generated test scripts
Organizations face challenges in involving more resources for testing the application to write test scripts manually, perform test cases, record the test results, and optimize the script for another test cycle. This decreases the time-to-market of the application, which is a huge loss for organizations in retaining customer satisfaction.
Codeless test automation tools can auto-generate multiple test scripts, perform test cases, document the results, and also further optimize code for another testing cycle. This decreases the repetitive task of the organizations testing experts and accelerates the applications time-to-market.
3. External CI/CD tools integration
Organizations that are testing their applications with manual testing cannot integrate external CI/CD tools into their process. This limits business leaders with a lack of team collaborations. Codeless test automation tools such as IntelliSWAUT are the new-age solutions with the capabilities of integrating external CI/CD tools.
Read our blog about "Top business benefits enterprises can achieve by implementing CI/CD pipeline" to learn more.
4. Enhanced documentation with auto record and playback
Codeless test automation tools have built-in features to record every instruction that is executed in the automated test cycle. This recorded document can be playback anytime by the business leader that helps them to study the application behaviors in various test conditions. The recorded document can also be used for all further audit trails.
Organizations by adopting codeless test automation tools, can automate their document within a single tool. This helps in time spent by the business leaders in the audit process, the study of the application, and project knowledge transfer to new resources.
5. Scale automation according to future business requirements
As per the constant change in market requirements, there will be a need for more innovative solutions with trending technologies. Organizations should be able to optimize and deliver their applications with modern technologies to keep up their customer satisfaction. In the manual testing process, it is challenging for organizations expects to shift from one technology to another in a short span of time, and this increases the cost involved in resource allocation and time to market of the application.
Codeless test automating tools can automate the application's testing process with changing business requirements to scale and maintain the application test automation cost according to future business requirements.
Takeaway
In 2022 organizations will adopt codeless automation tools to boost their productivity. This will increase the jobs rather than replacing and also provides the opportunity for non-technical resources. Business leaders can now focus more time on other operational areas of the organization than investing more time on repetitive tasks and monitoring the application test results.
Sun Technologies' homegrown scriptless test automation tool IntelliSWAUT with AI capabilities is a lightweight solution supporting functional, mobile, database, and API testing.
Read our white paper on Scriptless test automation with AI to discover more about IntelliSWAUT.
Contact us today to get to know how our automation experts can help your enterprise achieve faster automation and rapid time to market by increasing customer satisfaction.