Mansplaining The Game: Interview with Game Designers Fertessa Allyse and Mondo Davis
A New Game Is Inspired By An Annoying Phenomenon
"Mansplaining" is a word that describes the practice of a man explaining something, typically to a woman, in a manner regarded as condescending or patronizing. Mansplaining The Game is a party game that turns this annoying practice into a hilarious good time by giving players the opportunity to "mansplain" a random topic to a captive audience. The mansplainer for the round draws a topic card and four detail cards with random words. They then have 60 seconds to explain their topic — starting with the words, "Well, actually..." — while slipping in as many detailed words as they can. They cannot use the words on their topic card during this explanation!
For ages 14+ and retailing for $25, the game will be available for consumer purchase at the end of February on BreakingGames.com and Amazon. Produced by Breaking Games, "Mansplaining" is the creation of game designers Fertessa Allyse and Mondo Davis who recently discussed their work via an exclusive interview.
Meagan Meehan (MM): How did you discover your talent for game design and how did you come to work together?
Mondo: I started designing games with the hope of recreating video games I loved as a kid. Over the years, I've found it to be an incredibly satisfying medium that stimulates my creativity, problem solving, and analytical skill sets. The talent came as a result of developing several bad games, then progressing to making mediocre games, and eventually creating games that players enjoyed and publishers wanted to produce. It was a lot of trying and failing, and leaning heavily on a community of board game designers that I was able to surround myself with.
Fertessa: I've always enjoyed creating things whether they were drawings, stories, or videos. So when the concept of designing a boardgame came to my attention in 2017, it felt natural to try my hand at creating one. Instead of being a one and done sort of deal, I fell in love with board game design and really leaned into it. Pursuing it pushed me out of my comfort zone and helped me achieve a growth and mental stimulation I hadn't quite ben able to grasp until then. Mondo and I met while I was playtesting my second game, Wicked & Wise. We both lived in the same city and so attended similar board game conventions and meetups. After getting familiar with each other, once Mondo had the idea to create a party game around Mansplaining, he reached out to me to see if I'd be interested in co-designing, something I'd never done before. I was both intrigued about co-designing and making a party game, so I agreed and we got started on the game!
MM: What gave you the idea for "Mansplaining" and how long did it take you to develop?
Mondo: I had the idea to make a game about mansplaining, as it was a social phenomenon that was ripe for satire. I knew that mansplaining as a subject wasn't a story I should tell myself, so I reached out to my friend and favorite female designer, Fertessa, to see if she wanted to work together on it. Once we had the concept in place, the game came together surprisingly quickly. It was less than a year between when I first approached Fertessa and when Breaking Games signed it.
Fertessa: Mondo introduced the idea of making Mansplaining a game. With that as a baseline, I had to think hard on how to make a typically unpleasant experience be fun and funny. It was important to me not to recreate the experience of being mansplained to, because it would run the risk of making players feel angry or just being unpleasant. Instead, I concentrated on the mansplainer, and what they're doing, which is where I found the humor. It took us about one month to create the core of the game and about three more months to smooth the details. We signed it with our publisher about four months after conception, which is atypical for a game design journey. We're very fortunate things came together so quickly.
MM: How different is the final project from the prototype?
Mondo: This game never strayed too far from our original idea, and the earliest prototypes were relatively similar to the final product. That doesn't happen often, but once we zeroed in on a gameplay system that was thematic and engaging, it was just a matter of tweaking the finer points to get it ready to pitch to a publisher.
Fertessa: Visually it's vastly different, but the core of the gameplay is nearly identical to how it was when we were prototyping.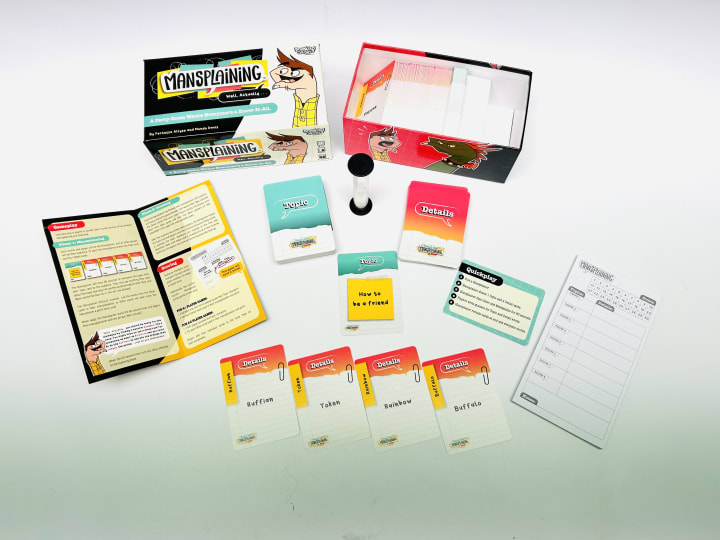 MM: How did you get Breaking Games to pick up this game?
Mondo: We submitted Mansplaining into a Shark Tank-style event at an online game designers convention called Unpub. The judges were very positive and excited for the game when we showed it to them, so we knew we had something worth pitching to publishers. A few participants of that event connected us with Shari at Breaking Games, and we pitched it to them shortly after. They loved it and signed it pretty quickly.
Fertessa: After three months of playtesting, we agreed, based on overwhelming feedback, that we were ready to start pitching to publishers. We decided to participate in an online pitching event, a simulation of a board game Shark Tank, in order to get our game in front of more eyes. Thankfully, one of the participants of that event thought we would be a great fit with Breaking Games and introduced us to their contact there. We were able to make a good impression, and after playing Mansplaining via Zoom, they offered to sign our game.
MM: What's your favorite thing about this game and why?
Mondo: I like that it pokes fun at mansplaining without belittling anyone. It can be enjoyed by people of all gender identities and offers players a chance to reflect on mansplaining as a topic, without preaching any particular message.
Fertessa: I love its accessibility. This game is able to be taught in two minutes and that it has the flexibility of being played in person or through digital platforms like Zoom, which was a big plus during the pandemic. All these small things make it a game that's easy to learn and teach. It let's us reach an audience that we may not normally reach because of its accessibility.
MM: What has been some cool feedback that you've gotten about "Mansplaining"?
Mondo: It's been interesting to see a very vocal minority of gamers react to the game negatively based solely on the theme (without having played it). Every time we post about the game, there's an angry person in the comments sharing their opinions about it. I think my favorite feedback has come from older non-gamers, and particularly women, who have encountered mansplaining in their lives but perhaps haven't had a forum to call it what it is or laugh about it with others until they played the game. That's happened on several occasions.
Fertessa: The most memorable feedback we got while playtesting, to me, was at the end of a game and the players all said they forgot they were playtesting the game. It just felt like they were playing a game and they didn't remember until the end that they were supposed to be thinking of critical feedback to give. And other than a tweak on scoring, they had none. That was when we knew it was about ready to pitch.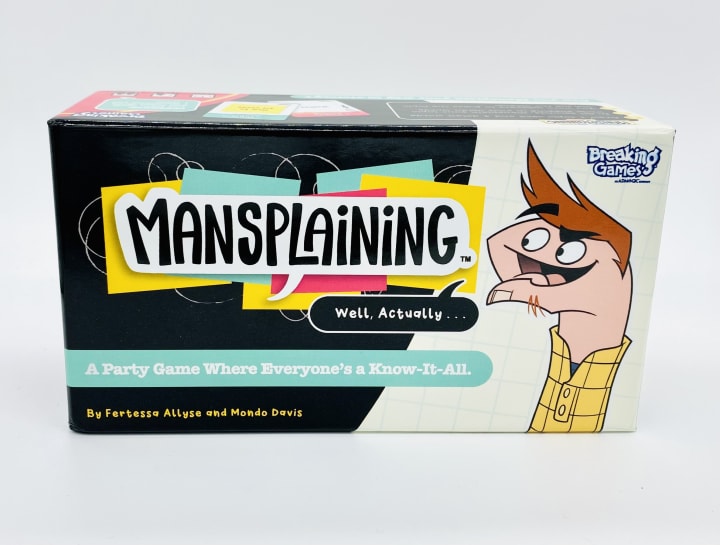 MM: What has been the highlight of your careers as game designers so far?
Mondo: I think getting my first game signed (Color Field, by 25th Century Games) was a major milestone. I've also loved being able to meet many of my game design heroes over the years as well.
Fertessa: Mine was being hired at Funko Games and being able to do game design professionally. It was not a moment I was every sure I would have or see in my near future, and two years later it still feels surreal to earn my living designing board games.
MM: What is the best part of working in the toy industry?
Mondo: Board Games are a unique market because there is so much passion behind game creators up and down the process. I don't think it's as lucrative of an industry as film or video games or other media, so the people that work in the industry are typically really great people who love board games and enjoy spending time with one another. This community is wonderful.
Fertessa: Seeing people interact with what I created and possibly creating big moments that go past the physical game. My memory of games I played when I was younger is tied to the banter and trash talk at the table I had with my family and friends. It didn't matter who won or lost, we created moments around the games without having the games in front of us. That's what I want for the games I design. I love seeing my designs come to life and recreate that for others.
MM: What is coming up next for you and is there anything else that you would like to mention?
Mondo: I have a game coming to Kickstarter on February 21; Color Field by 25th Century Games. I've got several other titles under contract and I'm looking forward to announcing those. You can follow those projects on my TikTok account, @GamesbyMondo.
Fertessa: I'm churning out games with Funko Games, the latest of which was the Goofy Movie Game. I have two more coming down the pipeline this summer and I'm so excited for them to get announced so I can talk about them more. I hope people will keep an eye out for the next batch of games coming out from us in 2023!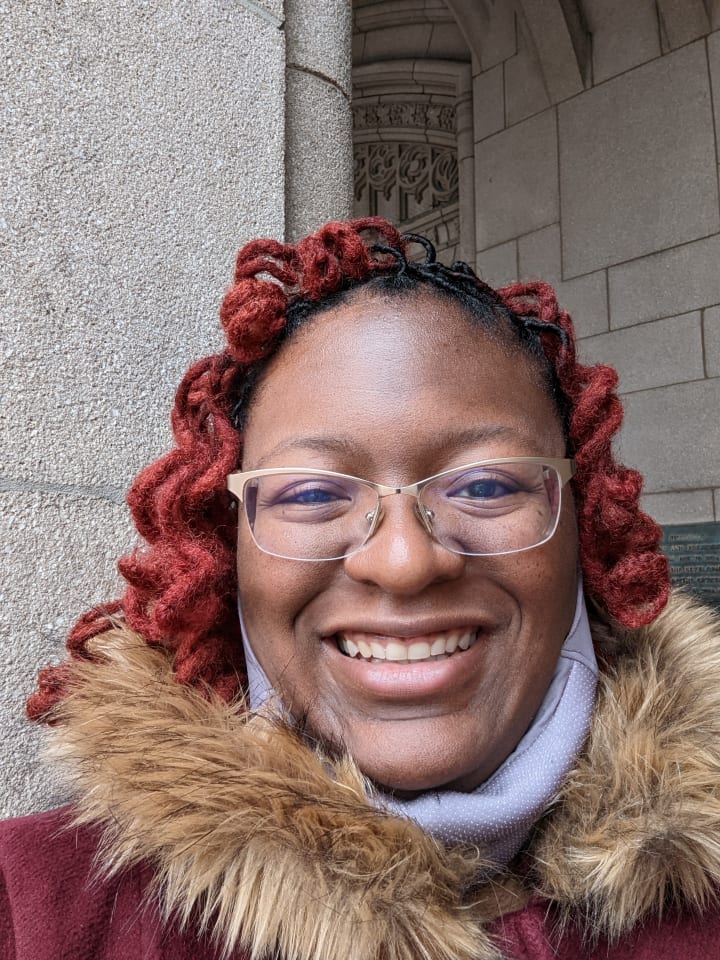 About the Creator
Meagan J. Meehan is an artist, curator, author, poet, cartoonist, and produced playwright. She is the founder of the "Conscious Perceptionalism" art movement. Meagan holds a B.A., an M.A., and is currently pursuing a Ph.D.
Reader insights
Be the first to share your insights about this piece.
Add your insights