L. R. Eckley and the Cosmic Cafe
An Interview With The Author of God's Country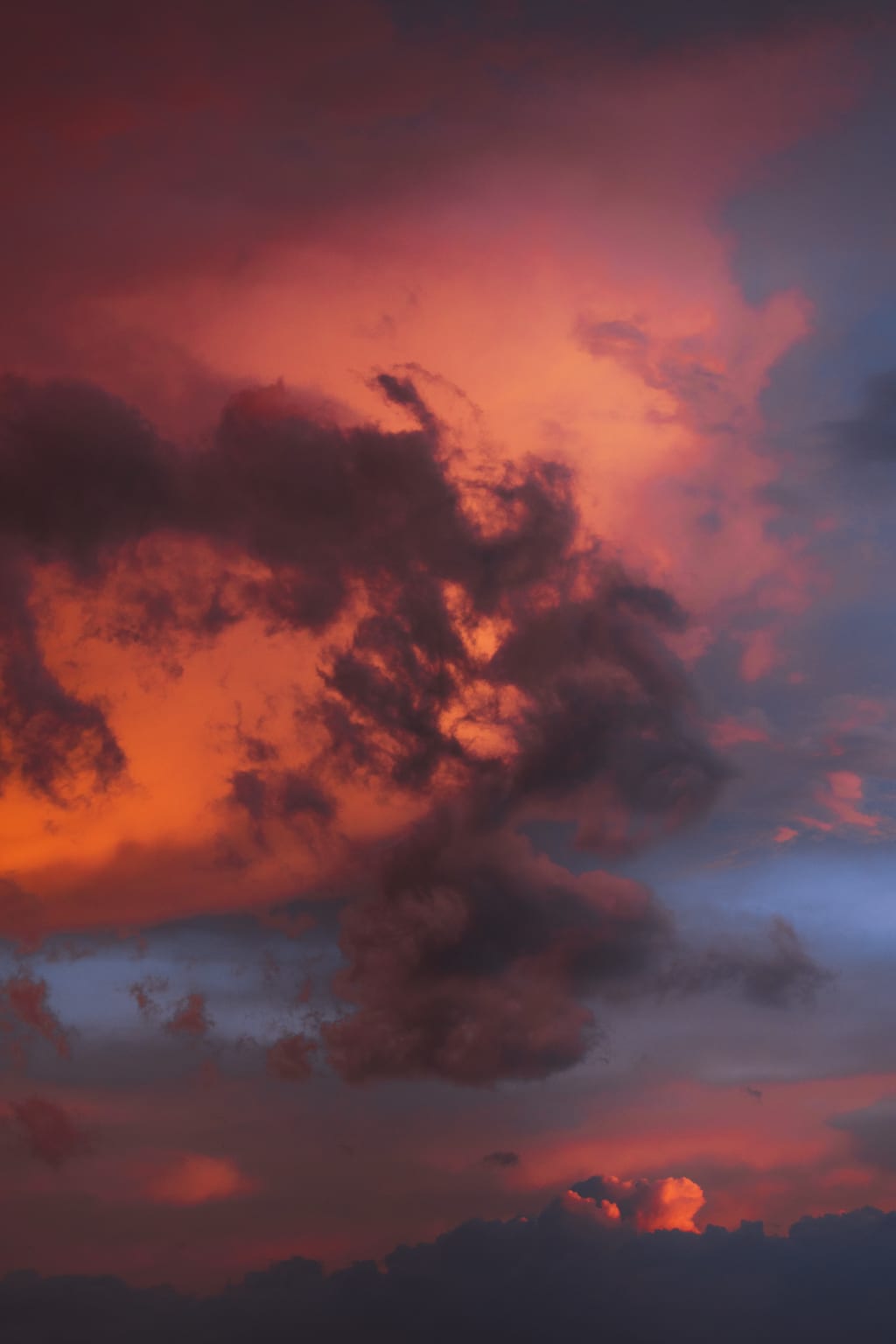 Amir Esrafili- Unsplash
Have you ever heard of the #bookstagram community? It takes on different forms depending on what social media platform you're using. Be it #booktok, #bookstagram, or beyond, it is the not-so-secret hangout of bibliophiles everywhere. It is also where I've met some of the coolest people alive, and I consider myself lucky to have been accepted into their circle. We are the #authorsofinstagram.
Recently, through an IG post, I became acquainted with author L. R. Eckley, the bright mind behind the book, "God's Country," so it should come as no surprise that, having read his powerful debut, he became my focus for this article.
The only problem?
We live about 16 hours away from each other. But with the tech world being what it is, and with the added bonus of having just a little bit more imagination than most, I was certain, this was something we would easily overcome.
Prior to our phone conversation, I warned Eckley that this interview would be a bit unconventional. "Actually, it will be more like an acid trip," I admitted.
Eckley's voice came through my iPhone 12. "Sounds interesting," he said, amusement in his tone. "Let's do it."
The Cosmic Cafe
"Okay, imagine this with me:" I said, gesturing to no one.
"A cosmic coffee shop where the brews are always fresh, the weather outside is always rainy, and the wifi signal never fails. I need you to meet me there."
"I'm loving the earth tones," he said, not skipping a beat. "Is that the initials of my name I saw on the door?"
"Does the door have your logo?" I asked.
"Yeah," he said. "I thought you did that on purpose."
I chuckled behind my laptop screen as I typed everything up, pleased that he was going along with my game.
"How do you take your coffee?" I asked.
"Well, you know me," he said. "I'm a simple hot coffee kind of guy with room for cream and sugar, but since I have you making my cup," he said, playing to my social media barista angle, "I'll have whatever you're known for."
"Caramel or Mocha?"
"Caramel."
"Regular or Salted?"
"I'll go with salted."
As I described my process to him, I imagined mixing the espresso and salted caramel syrup from behind a bar, Eckley's attention on my caffeinated concoction. I only knew him through photos, but I tried to remember the exact shade of blue in his eyes.
"There's something I haven't told you about this coffee shop," I said, handing him his Iced Salted Caramel Macchiato, "It also doubles as a time machine."
"Really…"
"Yes. It can travel through time, space, and even realities. For example, we can go straight to a reality you created," I paused.
"I want you to take me to God's Country."
God's Country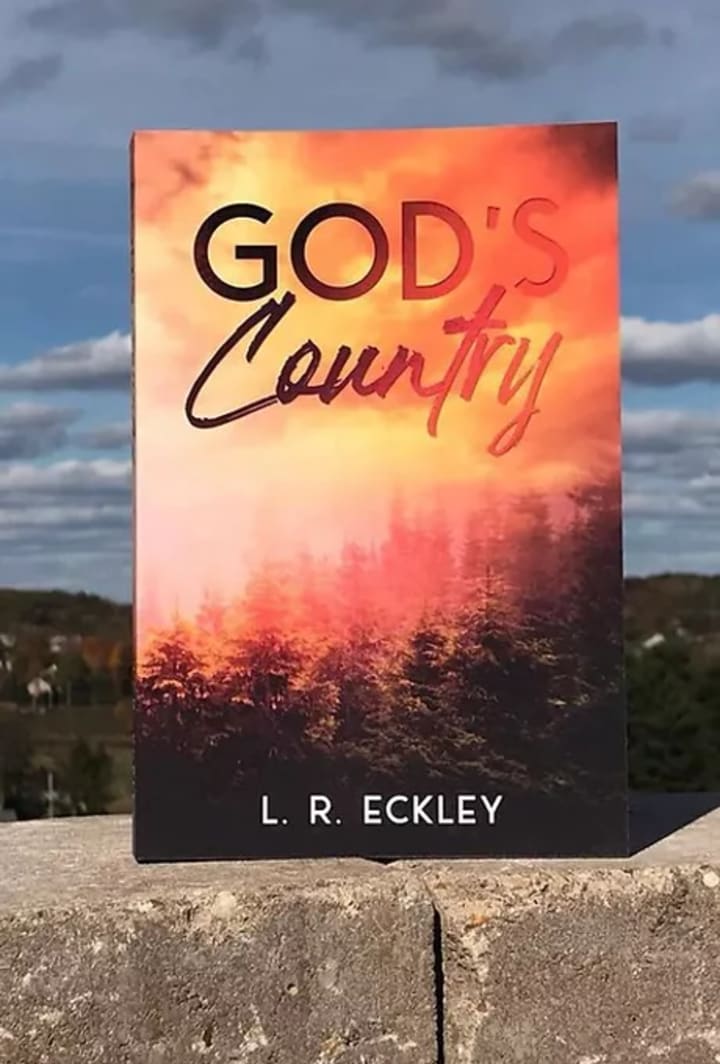 "Okay, then," he said, slurping up what was left of his drink. "That was delicious, by the way. Thank you."
In the eye of my mind, I walked around the bar and met him at the door. We stepped outside.
"Where are we?" I asked, feeling I was on a blank canvas, waiting for the painter to paint my surroundings.
"We're on the ridge," he said.
And just like that, I was transported to the pages of his book.
"The sun is setting in the distance, reflected on the water, and all around us for almost 360 degrees is a mountain range. The beautiful rocky mountains of Colorado. Below us, a creek, and just out of sight, the campground."
"Describe the color," I said, watching in awe as his vision materialized.
"Of the sun?"
"Of the sun," I agreed, "and the way it reflects off the water."
I didn't really have to ask. Eckley's story, while only his first published work, was full of so much detail and breathtaking imagery that I felt I knew the place well.
"The golden reflection of the setting sun was visible on one tiny section of the creek where it seemed to pause before entering the mountain gap… Every other section was peppered with rapids; the rushing water promising adventure in its wild beauty." -God's Country
"What's the weather like?" I asked.
"Probably low 60 degrees."
I shivered in my fur-lined jacket, my Costa Rican and Floridian upbringing painfully obvious. Eckley chuckled when I said as much.
"It's okay, we have some nice wool gloves for you here. And a hat," he said.
"I prefer pink," I said.
"You've got it."
L. R.
As we meandered through the rocky terrain, I asked him to tell me about his upbringing.
"I was in a lot of fights as a kid. My parents split up when I was eight, right before I went into a new school."
He helped me up onto a boulder.
"I was still innocent but I was able to process a lot."
He picked up a smooth stone and turned it over in his hand.
"I was on defensive mode all the way up into my late teens." He paused. "I thought 'I should get into boxing,' but my mom was my voice of reason. She told me "no way," I was too smart to get my head beat on a daily basis."
He threw the stone into the water, a considerable distance away.
"I'm glad I listened to her. I never would have made it as a pro boxer."
"Did you like reading growing up?" I asked, my feet dangling over the water.
"I did, but my comprehension wasn't great and it hurt me in English. Math and Science made sense. I really didn't discover my love for writing until college."
I made a face. "Oh, so, what you're saying is that you ended up being good at everything."
He chuckled. "Far from it."
Eckley is a dedicated husband and father to three children.
"My roles as a husband and father are priorities 1-10 as I approach each new day."
When asked about it, L. R. admitted that his wife, Valerie, was the inspiration behind Molly, the wife of his main character, Cole.
"Selfishly, it makes it easier to write about those emotions of love when I relate them to her," he said.
As we prepared to head back to the Cosmic Cafe/time machine, I asked him one last question.
"What do you want me and your readers to feel every time we reach this point in the book?"
"I want you to feel like you're part of nature, and outside of your comfort zone. Here you will have sensations and visuals most people likely are not going to have in life." He stopped for a moment. "It's a peaceful feeling," he said, "mixed with anxiety."
In his foreword, L. R. Eckley reveals that if there is one message he hopes to communicate through his book, it is the message of "tolerance." When I asked him what he meant by that, he said:
"We should be able to have different belief systems and still understand that to be different is okay. We don't have to agree, but we do need to respect each other."
Inspiration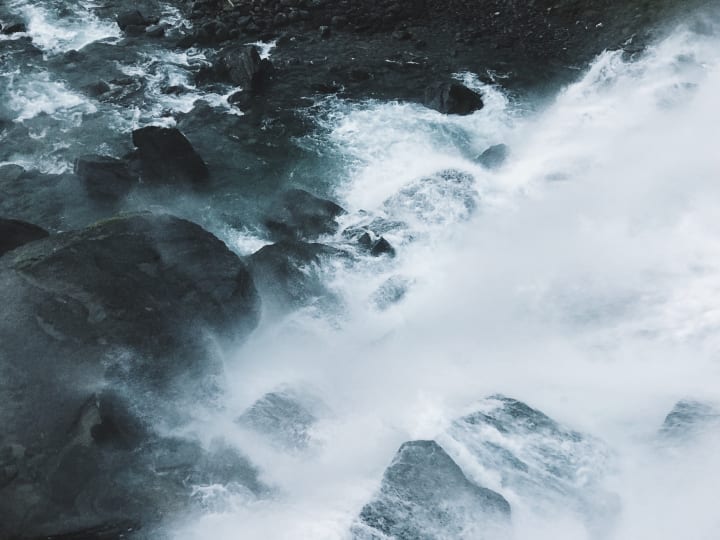 At first glance, "God's Country" is the story of an ordinary man's fight for control, from that of his physical fitness to that of the philosophy that he chooses to hang around, and so forth. I looked forward to seeing how a character in so much need of control would fare in unpredictable circumstances, but nothing could have prepared me for the fight he would soon take on.

Over and over again we see how Cole Vandergrift musters up his strength, his courage, his anger, his everything, to stand up to the unseen force he most definitely does not believe in. Or so he says. And yet, more than once, he is seen shouting obscenities at the sky: Here is a man brought to the end of himself, a man with every intention to win the fight against his surroundings, against his companions, against the elements, and even against his own mind, and yet, ironically, through it all he is stripped of everything else except the awareness of himself and the fact that he is not alone.
I loved the care that went into the characters of Eckley's story, even the less desirable traits of some created the illusion of a stained-glass window through which to view the colorful and imperfect mess that we know to be humanity.
As Eckley and I prepared to make our voyage home, I took one last look at my surroundings. The grandeur of the mountains, the trees, and the rushing rapids, were all awe-inspiring. I inhaled deeply, grateful for the world my author friend created for his readers to enjoy.
"My end game," Eckley said, "is to provide a little bit of enjoyment to somebody. Inspiration is a bonus. Even if it's only for one or two people, it's worth the journey for me to write."
Night fell around us, and I turned my head to the sound of a low growl, my heart stopping cold as I caught a glimpse of gleaming yellow eyes peering through the brush.
"You coming?" asked L. R. as he held the Cafe door open.
I stepped inside and made my way back behind the coffee bar, this time, to make us something hot.
Piping hot.
The Cosmic Cafe was nothing more than a figure of my imagination, but I was happy to share the daydream with my new friend.
As I put fresh coffee beans through the grinder, I thought about L. R. Eckley, a husband, a father, an author, one who started out his life journey one way but went on to create something he never anticipated might touch so many.
"Inspiration is a bonus," he'd said.
Well, Eckley, God's Country is the book I didn't know I needed, but it's also one I won't soon forget...
So I think it's safe to say:
As far as inspiration goes,
You've done it, my friend.
_______________________________________
To learn more about author L. R. Eckley and his book, be sure to visit his website: bit.ly/lreckley or follow him on Instagram @author.lreckley.
You can find "God's Country" on Amazon.
Authors
About the author
Author of the YA fiction novel, "Dreamer," and member of the St. Petersburg Arts Alliance, D.S. Fisichella writes articles about literature, faith, dating, and relationships. Follow her on Insta @dsfwrites or visit her website dsfwriter.com