Interview With a Hallmark Star: Jeff Reyes
In this interview, we'll be talking to a new face in the Hallmark family: Christmas by Starlight's Jeff Reyes!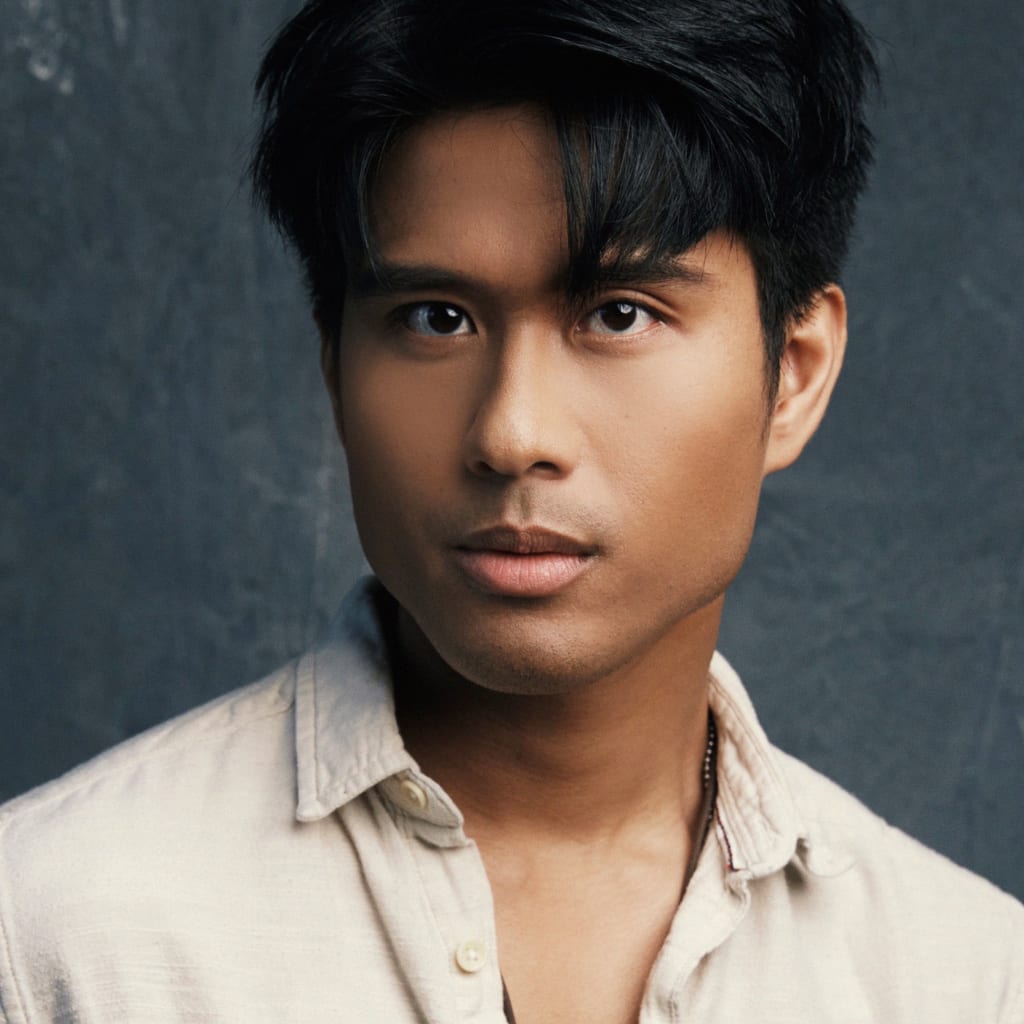 Trevor Wells: Hi Jeff! I'm so happy to get the chance to talk with a new member of the Hallmark family. But before we get into Christmas by Starlight, let's start at the beginning. According to IMDB, your acting career started in high school when you landed back-to-back lead musical roles. What about acting captured your interest?
Jeff Reyes: I started dancing very young and I've always loved performing. I honestly became interested in acting because of the fact that, though making a career in acting isn't a walk in the park, it's even harder to be just a dancer. So I knew I needed to branch out if I wanted to keep performing for a living. While being in acting classes, I came to love the vulnerability in acting. It allows us actors to convey emotions that aren't always easy to convey in real life. It gives us the permission to be vulnerable, strong, mysterious, self-deprecatingly funny, etc. I also just love watching people on-screen. Whenever I see a performance on screen that is just so effective, I always say THAT is why I want to become an actor. I want to do THAT.
Trevor Wells: After a few years doing this blog, I can agree about the thrill of watching actors give strong performances. I also saw that you booked your first major theatre role in Hope McIntyre's Empty. How did your first taste of full-on professional acting feel?
Jeff Reyes: It felt amazing! I had to defer finishing my degree because I booked that role and the tour clashed with my class schedule. But I was studying theatre and film at the time and I knew that I would learn best being in an actual show. We can be in many classes, but what you learn on stage or on set is invaluable. It felt amazing working with professional actors and directors and crew and be part of a team. I think that many people may see being in a show as getting a job, but it's actually very collaborative. I'm just lucky that I felt that way on my first gig.
Trevor Wells: It definitely sounds like any aspiring actor's dream! And I'm glad to hear you were able to make it work alongside college. But as you know, I was introduced to you through your work in TV. While I may have been formally introduced to you through Hallmark, the first film of yours I saw was Lifetime's 2014 film A Warden's Ransom--your first IMDB credited role. What was that experience like?
Jeff Reyes: I didn't have lines on that movie, but I was there for several scenes. It was honestly the best way to be jumping in on my first film job. There was no pressure of getting the lines right and at the same time, I got to observe what happens on set. There are many things that they don't teach you in acting classes about being on an actual set -- like what's a greenroom, what's crafty, what are terms like reset, A-team, travelling, circus mean, how to read a call sheet, etc. So being on that set gave me all of this information without the pressure of the lines I needed to deliver because that is a whole other mindset. There are definitely some exceptions out there, but I'm thankful that I was able to study the things around me without the pressure of it being my first film job.
Trevor Wells: As a Lifetime fanboy, I definitely love hearing that a Lifetime movie was able to do so much for you. A year after that, I see you made your behind-the-camera debut as the director, writer, and producer of a film titled The Fallen Angel. What's the story behind that big leap, and how was it?
Jeff Reyes: When I moved to Vancouver to pursue acting full time, the acting community always encouraged self-creation. Not waiting by the phone for your agent to call. I created that project because I wanted to act in a role that I wasn't going to get the opportunity to do yet. It was ambitious, but I learned a lot about the process. I learned the business side of the industry, which is truly invaluable knowledge to have when you're an actor. Putting your feet in the shoes of a director, writer or producer gives you the idea of what it's like to make decisions in this industry. You start to see that your role as an actor is a small part of a big purpose. It's not just about the roles or how good you are in your craft. It's about the vision. And sometimes, from a director's point of view, what you're offering as an actor doesn't fit the vision and it's not personal when you're not cast. So I definitely learned a lot doing that project.
Trevor Wells: From what I've heard from other directors, I can definitely see the value in giving behind-the-scenes work a try. Lastly (in terms of your non-Hallmark career), I see you're also something of a growing YouTube personality, with your content heavily focused on music. What can you tell me about that venture?
Jeff Reyes: As I mentioned earlier, I started as a dancer. My love for it never disappeared, even though for the last six years, I have abandoned that boat and focused solely on acting (couldn't afford both acting and dancing classes!). I stumbled upon K-Pop and I was amazed by the competition-level type of choreography they had while singing and dancing - something we don't normally see in American pop culture. I became immersed in that culture until I had the idea to open up my own channel where I would dissect performance aspects such as dancing. Offer analysis and insight on the art of performing. As dancing is a huge part of that genre, K-Pop fans continue to discover my channel. I'm very happy that what I have to say resonated with this many people.
Trevor Wells: As a fellow content creator, I can definitely relate to that feeling of resonating with an audience. Looking over your acting career as a whole, however, what would you say was your favorite project/experience? Any favorite co-stars you'd like to give a shout-out?
Jeff Reyes: My favorite experience is definitely working on JT Leroy with the likes of Kristen Stewart, Diane Kruger and Laura Dern. I think every actor dreams of working with A-list celebrities and seeing what that's like. And what's amazing about it is that it somewhat validated my abilities as an actor. That my training and talent is effective enough to be working with such respected talents in the industry. As cheesy as it may sound, I felt powerful working with them!
Trevor Wells: No worries, I can assure you it's not cheesy. But now, it's time for the big guns: what led you to become a part of Christmas by Starlight? And how was your first taste of Hallmark?
Jeff Reyes: I was living in Toronto pre-Covid and because of the situation, I had to move back to Winnipeg - my hometown and where we shot Christmas by Starlight. The casting directors in Winnipeg know my work, so I often audition for a lot of the projects that they cast. Fun fact is I actually first auditioned for the role of Lyle (played by Darren Martens), but working with him, I see why the role went to him. The nuances in the way he approached the role were things that were unique to him and his talent that greatly complimented that role. I'm thankful that they saw enough talent in me to give me the opportunity to audition for the role of Michael, and eventually land the part.
Trevor Wells: Wow, never would've thought! But yeah, you're absolutely right about Darren Martens. He was great as Lyle and you two made a good "Yin-Yang Couple" as Lyle and Michael. Speaking of, as you might've been aware, Christmas by Starlight is part of a recent string of Hallmark movies to feature LGBT+ characters. How does it feel being a part of Hallmark's goal of bringing more diversity and representation to their film catalogue?
Jeff Reyes: It's incredible! It's great to see diversity on-screen because, as we know, representation is much needed in the industry. Our movies and shows should reflect the world we live in. I applaud Hallmark for taking the direction they're in now with this initiative. It says a lot about their willingness to promote change by embracing the diversity we have in our day-to-day lives.
Trevor Wells: Couldn't have said it better myself. After the controversy they incurred last year, I've been happy to see Hallmark taking their new initiative seriously and not giving in to the hateful bigots who are against it. Looking ahead, could you see yourself being involved in future Hallmark projects?
Jeff Reyes: I hope so! There are a ton of Hallmark projects that shoot in Canada where I currently am, so I hope there's a lot of opportunity for me to be able to be a part of them. And as they continue to promote diversity in their slate of projects, I hope to be able to bring life in some of those characters.
Trevor Wells: Awesome! I'd love to see you become a frequent Hallmark flyer. So to wrap up this interview, tell me: what advice do you have for other aspiring entertainers out there?
Jeff Reyes: This is a fast-paced industry that can be very enjoyable and rewarding, but it is also a lot of work. Develop other hobbies and outlets of happiness, because although we need to treat this like a full-time job and it can be quite fun, it shouldn't be your only source of activity. A lot of it is out of our control, and that lack of control can sometimes be frustrating. So if you have other hobbies and things you can focus on while auditioning and being on set, it's ideal. The rejection won't have that big of an impact on you if, in other aspects of your life, you're winning.
Trevor Wells: Excellent advice, Jeff. Thank you again for talking with me, and I look forward to seeing you grace the screens of Hallmark again soon. But until then, I wish you nothing but the best!
Actors
Aspiring writer and film blogger: Lifetime, Hallmark, indie, and anything else that strikes my interest. He/him.
Twitter: @TrevorWells98
Instagram: @trevorwells_16
Email: [email protected]