$4000 Through Vocal Media Challenges By Kathryn Milewski - An Interview
Sharing the secrets of getting top-ranked on Vocal Challenges.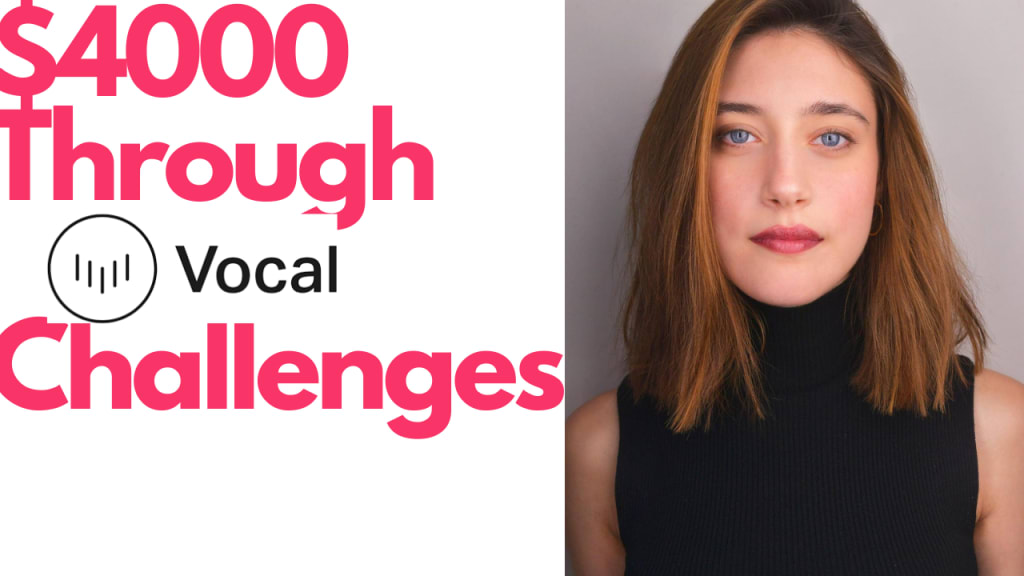 $4000 Through Vocal Challenges
I run a YouTube Channel where we interviewed writers who got fame on different writing platforms. Recently, we Invited Kathryn Milewski we take inspiration from her story from the Vocal Media resource page; How I've Earned Over $4,000 from Vocal Challenges, we especially invite her for talking about her secrets of winning Vocal challenges.
Instead of reading the article, you can watch the interview we have embedded below;
$4000 Through Vocal Media Challenges By Kathryn Milewski | How To Make Money Writing On Vocal Media?
Here are some of the questions we asked Kathryn about Vocal Media.
Question: How did you find about Vocal Media?
Kathryn Milewski: I am on Vocal for about a year and a half. I found Vocal Media because Game of Thrones just ended. I find a Vocal Ad on Instagram, it was about a challenge about Game of Thrones. It was the first challenge that sort of advertised. I submitted two stories, and one of them got first place and I thought, wow, this is so cool.
And, I didn't get back until March of this year because of the pandemic hit. I lost my Internship and I moved to my parent's house. I was really bored. And, I find out that Vocal is doing challenges. I thought this is a possible way to make money and make myself entertain while not doing anything.
Question: Is Vocal+ subscription worth it? Do you are a Vocal+ subscriber?
Kathryn Milewski: Yes, I am a Vocal+ subscriber. I have subscribed since March 2020. I was debating about it to spend $99/year. But, I think it is worth it as it gives you a high rate for reads.
Question: How did you make $4000 through Vocal Challenges?
Kathryn Milewski: When you think about Challenges, think of it as writing an essay for school. You have to answer those questions. You must have an idea that nobody has and tell an effective story. Use rich media like using pictures, videos, and Gifs in stories for Vocal challenges.
In order to get good grades, you have to answer the prompt in order to get a good response. I love Vocal challenges because they are very unpredictable, sometimes I write a story that I am confident that this story will win the challenge but completely different stories get the first spots.
Question: How to write stories that are Vocal staff picked?
The little background: Kathryn Milewski had over 26 stories on Vocal Media and most of her articles are staff picked. So, this question is asked because she has more experience with staff picked stories than anyone else.
Kathrine Milewski: I would say, you have to write about things that you find no one else wants to talk about. I also found that, writing like article niche format, making use of the titles, making use of the links, and making use of the rich media. Writing for challenges makes me a better writer. At the beginning of the year, my article was super long. Being on Vocal for a year makes me a better digital content creator.
Questions: What tips do you have for absolute Vocal creators for winning Vocal challenges?
Kathryne Milewski: My number one answer is to be yourself. I think judges are looking for new voices that they saw before.
Previously, we interviewed Jonathan Sims who is making over $2,000 writing on Vocal Media, you can read this article here on Vocal:
We created a Facebook group for Vocal creators, you can join this Facebook group and can get guides and case studies about Vocal Media to increase your reads as well as ask your questions, Join the Vocal Media Creator Hub Facebook group.