Yancs
War time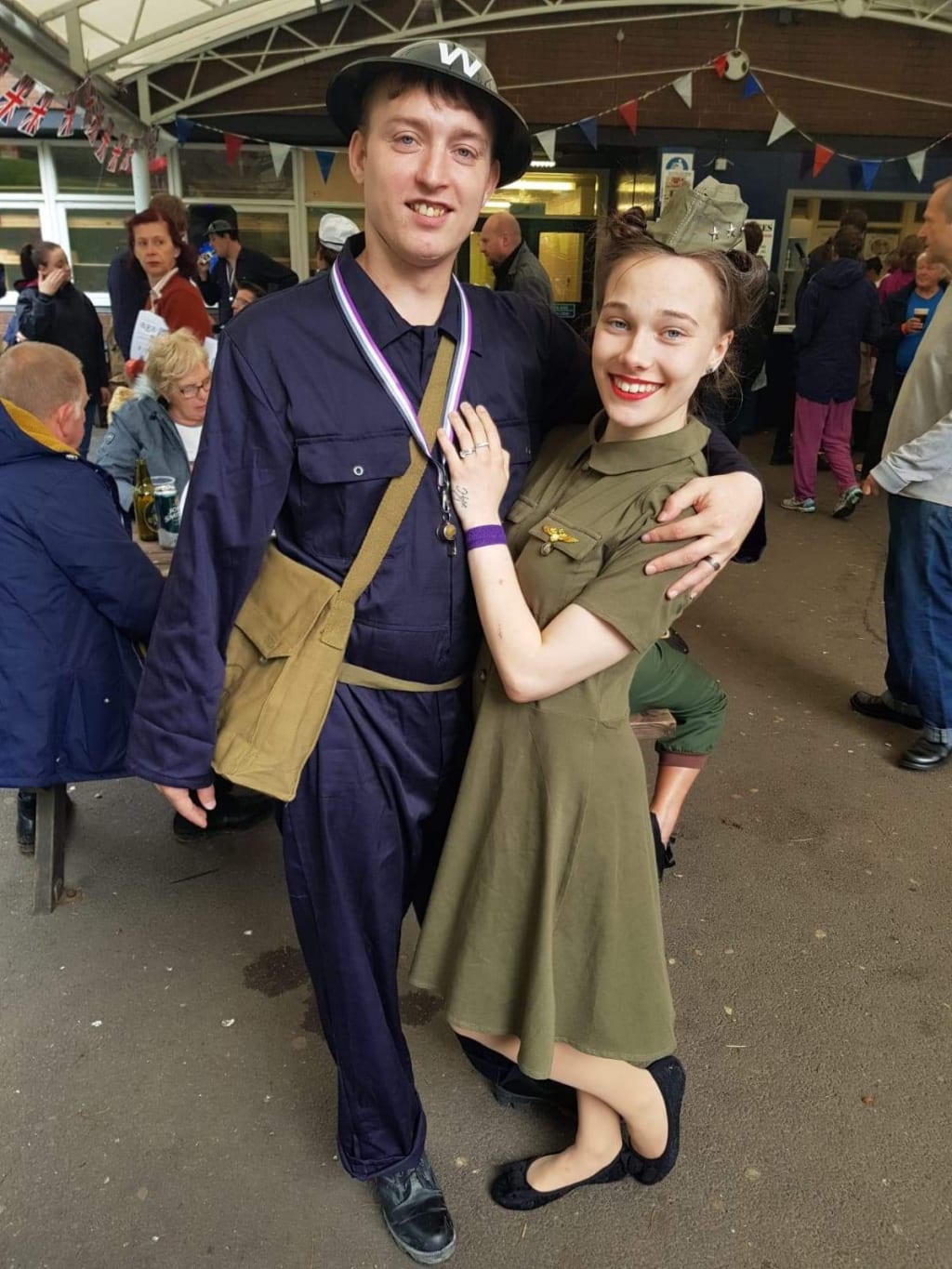 To start with, the Yancs festival was amazing! Lots of costumes, music, and dancing from both world wars. It was a great experience, and can't wait to do it again next year.
Helping out at the disabled centre is always a great way to start your career choice. My partner in the picture is 31 and he has epilepsy, myself who is also in the picture is 20, and I suffer with different medical issues. Before I began I never knew that disabled people any age can partake in any activity.
Many of the people at the centre suffer with a variety of disabilities and mental health problems. We have our good days and our bad. In the centre, we all have different ways of coping with things, and one is when we have energetic moments, like me, I must take five minutes and they must never happen during performances, as we are supposed to look professional. Another reason why we deal with things that way is so we can function as normal as everyone else, even though there isn't a normal.
We do a lot of drama, where we learn basics and advanced. In our first drama session we cover the basics of sign language, as some of our service users are Deaf or suffer with speech. Second session is more advanced where emotion and action must be included the best we can. Choir, doesn't matter if you can sing or not. It gives people the chance to join in with others and enjoy every part of it. Cooking helps others to learn new recipes and cook healthier meals. It also helps with keeping an eye on the time and hygiene and last but not least, reading. A lot of service users struggle to read and this is a great way to get them started. We have people who just listen and follow the words and we have people who like to give it a try. Some who read out loud really struggle but we are always there to help and we never judge.
Anyway let's get back to Yancs. finding out we were chosen to do Yancs was the greatest feeling in the world, especially for those who have been stuck in doors before they joined as a result of their disabilities or mental health problems. We started learning songs from the war time and how to focus when stood performing. Myself with low attention span couldn't stay quiet for long, nor stand still. After three hard months of rehearsals, learning the lyrics and the timing, we finally finished learning the songs.
On the day we made our way to the centre to sort our costumes and ladies needed their hair sorting. When it was time, we set off on our way, most feeling nervous, and we arrived with smiles. At first it was quiet, most were eating their lunch. When we began our songs people wasn't really interested but after every song we got a small round of applause. For break there were many stalls for us to visit, such as the transport and machinery that was used during that time, jewellery which was handmade to look like world war jewels, fashionable clothes which were worn and lots of food stalls. Of course me being me, went straight to the waffle stand for food.
Our second performance came quickly and this time it was more lively and lots of people seemed to enjoy it and some local folk even danced. A huge cheer was done after most of our songs, some still needed work. Unfortunately not all of the songs we performed were practiced at a reasonable time length. But by the end of the day it was time to go, the day was amazing And couldn't of been any better. When we got onto the mini bus home there was lots of smiles and laughter which could last a life time, also many congratulations were spoken before we got to our destination.
Our next performance is a drama piece, Roald Dahl themed, maybe I'll tell you about that too.