Why Philanthropy Is Important
By: Darien George | Fort Worth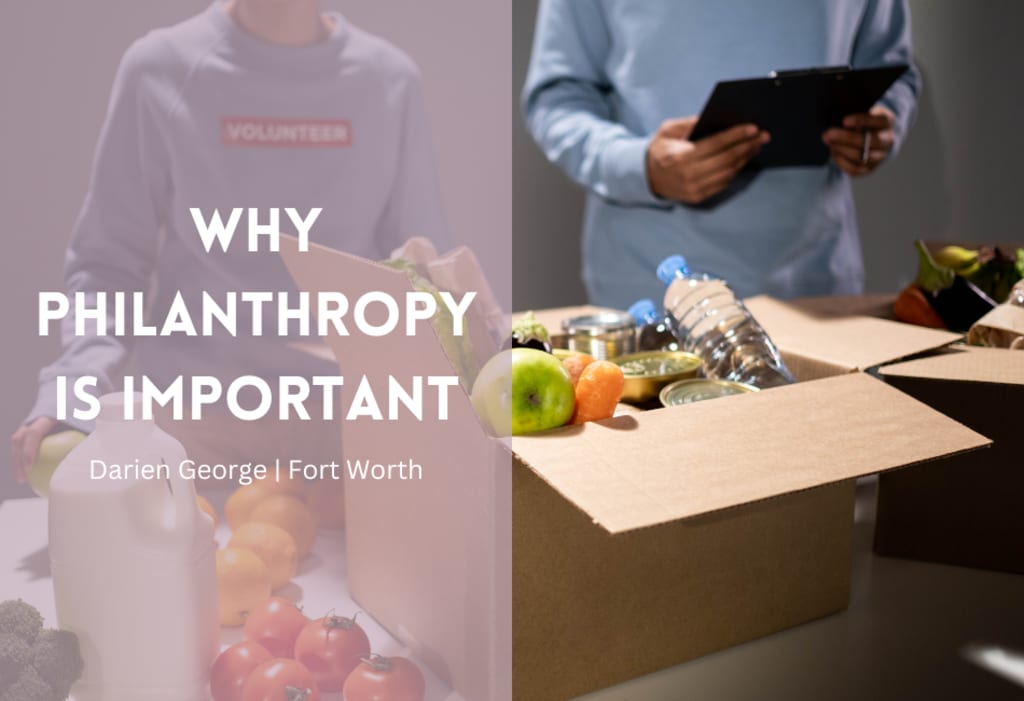 The term philanthropy refers to goodwill toward other people. It can refer to various humanitarian acts, such as monetary donations and volunteering. Organizations or individuals can also be philanthropic. Most people associate philanthropy with wealthy individuals and corporations, but it does not only apply to these individuals. Here are reasons why philanthropy matters and is important.
1. Strengthens The Community
Despite the technological advancements over the past few years, many people still feel disconnected from their communities. Philanthropy is one of the most critical factors that can help strengthen a community. It allows people to connect and help build a stronger sense of belonging.
2. It Is Contagious
The success of philanthropy can be attributed to its snowball effect. When an organization or individual contributes to a cause, other people around them take notice. This is because philanthropists can significantly impact the community by using their influence to improve it. Everyone is searching for meaning, and when they see that philanthropy can help them find it, they'll try it themselves.
3. Makes Networking Easier
Society is built on networks, regardless of one's work or personal interests. Having strong and diverse networks is very important for happiness and success. A strong network is also beneficial for people looking to grow together.
4. Helps With Mental Health
For most people, philanthropy is about looking into the world and helping those in need. This can help them feel fulfilled and achieve better emotional health. According to studies, giving back to the community can help decrease one's stress levels and symptoms of depression.
5. Helps With Physical Health
Aside from improving one's mental health, philanthropy can also help physical health. Research conducted by the University of Tennessee and Johns Hopkins University revealed that charitable individuals have lower blood pressure.
6. Underfunded Causes Get Help
Due to the lack of government funding, various organizations and individuals have been struggling to address the needs of society. Without the support of philanthropy, many of the issues that humanity would face would not be addressed. This is why people must give back to the community. Through donations and sponsorships, individuals and businesses can help fill the gaps in funding various causes.
7. Helps With Business
Companies can benefit from philanthropy, as consumers are more likely to buy from businesses that support charitable causes and charities. This is because their values align with their customers', increasing their likelihood of paying for services and products. With the support of philanthropy, a company can build a loyal fan base and positively impact the community.
8. Learn More About The World
Part of being engaged in philanthropy involves learning more about the world and its people. Those passionate about giving back are committed to seeing the world from a different perspective. Through research and volunteering, they can broaden their empathy and improve their ability to see the world from different perspectives.
9. Psychology, or science, has shown that giving to others to help others increases your own happiness. While humans are inherently somewhat self-motivated, we also enjoy doing for others, and it has been shown to bring an added effect that helping others also helps ourselves.
Whether it's volunteering at the Salvation Army, giving blood, donating money to the food bank, or buying a toy for a child that has less this Holiday, find some time or a resource to give because, ultimately, it will help the community and you.

Believing that there is a need for a comprehensive solution to the healthcare industry's executive search needs, entrepreneur and philanthropist, Darien George, founded Mackenzie Eason & Associates in Fort Worth, Texas. He conceptualized the firm as a healthcare-focused executive search firm. Since its inception, the company has grown to include executive placements in various disciplines.
Reader insights
Be the first to share your insights about this piece.
Add your insights