Videos targeted at LGBTQ Community are trending on YouTube
I tell you, YouTube Pride Moment is just a business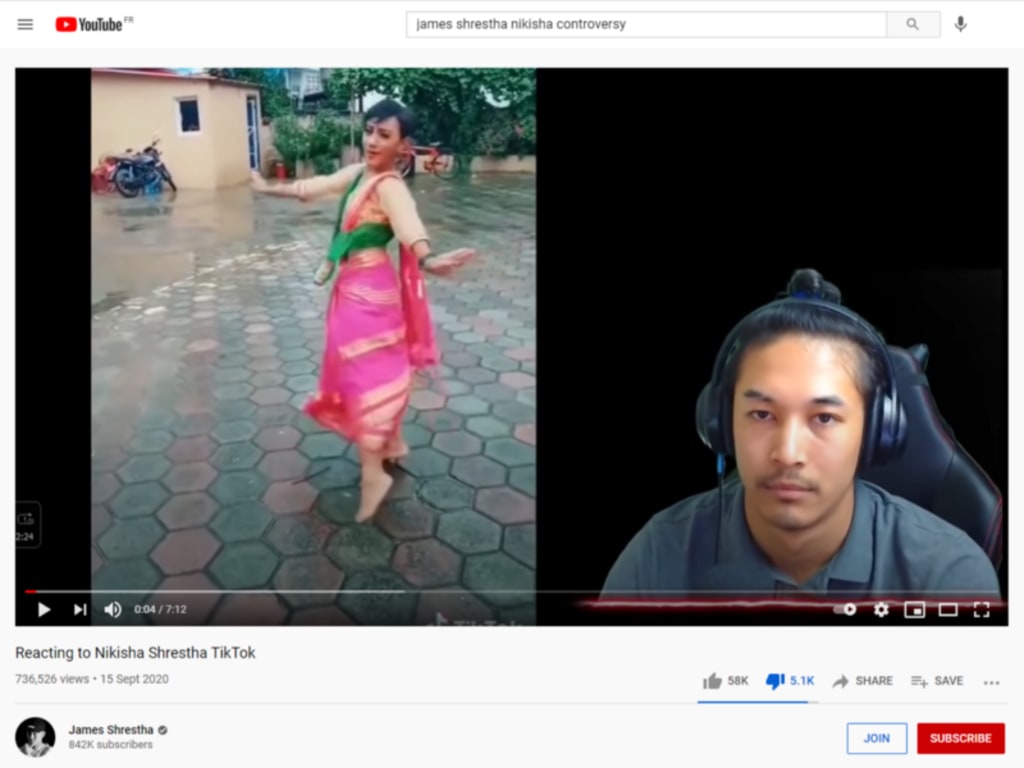 screenshot of raost videos
On my previous article, I wrote about Sachin Pariyar. Sachin is just an example. YouTubers have not spared the LGBTQ community either. James Shrestha, a YouTuber and a gamer, abused Nikisha Shrestha for her dance in transgender appearance.
Nikisha was born as a boy and named Nikesh. She changed her name to Nikisha and identified herself as a girl. Her transgender identity brought harassment leading to dropping from school. She used TikTok as a platform to show her dance talent. TikTok got her 400k+ followers, but ever since she started posting content, people have trolled and abused her.
James publicly questioned the gender of Nikisha. He roasted her TikTok dance videos and her tone of speaking. More than all, he and his mate "Narayan Solti" disc
ussed as if Nikisha is his personal toy. While some people thought it was a complete entertainer package, It was an intolerable video for many other viewers. Few objected to this content and took discussions to Twitter, but it was not enough to catch YouTube's attention.
The harassment against Nikisha didn't stop there. Since YouTube didn't bother to act against James or any of the bullying videos, many other channels created roast videos targeting Nikisha. Why shouldn't they? It was a simple way to generate views and money for all in the country vulnerable to such issues.
YouTubers continued to harass Nikisha for her appearance. Three teenagers crossed the limit so much that they physically abused her on the street, and they uploaded videos of street harassment on social media. The video went viral. Nepal police arrested those teenagers to investigate further, but it hasn't arrested any other online abuser.
Instead of serving as a platform to spread hate against the transgender community, Social media needed to protect Nikisha from such harassment. YouTube has earned by playing with her emotions. It doesn't seem to stop anywhere soon.
Your bride is my girlfriend prank
This happened a few years ago in Nepal when YouTube started its monetization. YouTubers went for a prank so much that they started digging into personal life. One such viral video was a teenager who randomly entered a wedding function and started saying, "Your bride is my girlfriend." While the girl said she doesn't know this guy, he continued, "She dated me for years, we spend wonderful moments, but now she is telling a lie." In Nepalese society, having a boyfriend before marriage comes as a matter of prestige; such a claim can easily disrupt a wedding or ruin a marriage. The girl cried and cried until the boy said, "It's a prank."
This original video got deleted from YouTube after being online for more than years and reaching hundreds of thousands of people. A copy of this video still exists on YouTube. It motivated many people to create such videos, but it was also an emotional attack for family members in the name of prank and YouTube monetization. We still find such prank videos on YouTube, the latest popular one uploaded in December 2020.
Nepal is just an example
Nepal is just an example. We never know how many South Asian and other African countries might have faced such types of problems. YouTubers attack marginalized, suppressed, and voiceless people through their videos. Such videos trend just because a major part of people think roast, prank videos are funny, realizing no one deserves such treatment. It's a straightforward way for creators to generate revenues because of their controversial nature, and YouTube continues to maintain its business, disregarding the purpose it stands for.
"We promote the rights and wellbeing of every child, in everything we do," - Motto of UNICEF
Can we spare such creators?
None of us want our videos to be misused. None of us want videos of our children to be roasted to entertain random people. Sachin is a kid who is yet to know what is right and what is wrong. Nikisha is a soul who is searching for an identity and a way of living. Why should their videos be misused for unethical use?
A justice to Sachin Pariyar, Nikisha Shrestha, and other harassed individuals can be just a tiny ray of hope. But even if YouTube can delete those bullying videos, it will send a powerful message to creators who think roasting an individual is a shortcut to success. If YouTube can suspend their account for at least a week, it will be a lesson for the whole country. But the question is, will YouTube even bother to take such steps? Will such creators ever be punished by YouTube?
There should be "The end" somewhere
Had it been a case in any European countries or The United States of America, YouTube would have been heavily fined for ignoring such issues, and YouTube would remove such videos or restrict such accounts overnight. Sadly, it doesn't happen when an individual from Nepal (or any developing country) needs social media justice. There should be an end. There should be an end to such harassment and roast where an individual's dignity comes second to business.
Photos and video stock portals need a creator to upload a model consent form for every recognized face; YouTube has not yet rolled out such a strategy despite being a leading tech company. If it couldn't roll out to all videos, it can ask for a consent form to protect children's online privacy.
YouTube is becoming a lucrative earning; there is a sporadic growth of content creators in South Asia. People can produce any level of content, even if they violate community guidelines. With no strong privacy law by the government in the region and our public's unawareness level, we need YouTube to protect and be attentive to our children and marginalized community more than any other people in the world. But this seems to come nowhere in the future. Even if it comes to Europe and America, God knows when they will be for children of Asia and Africa. There should be an end.
At this moment, if we say, "We promote the rights and wellbeing of every child (and women and LGBTQ), in everything we do," I want to ask a question to all of us, Do we really look at the right of every child?
---
The author has also published this post on Suraj Ghimire's Blog and on Medium