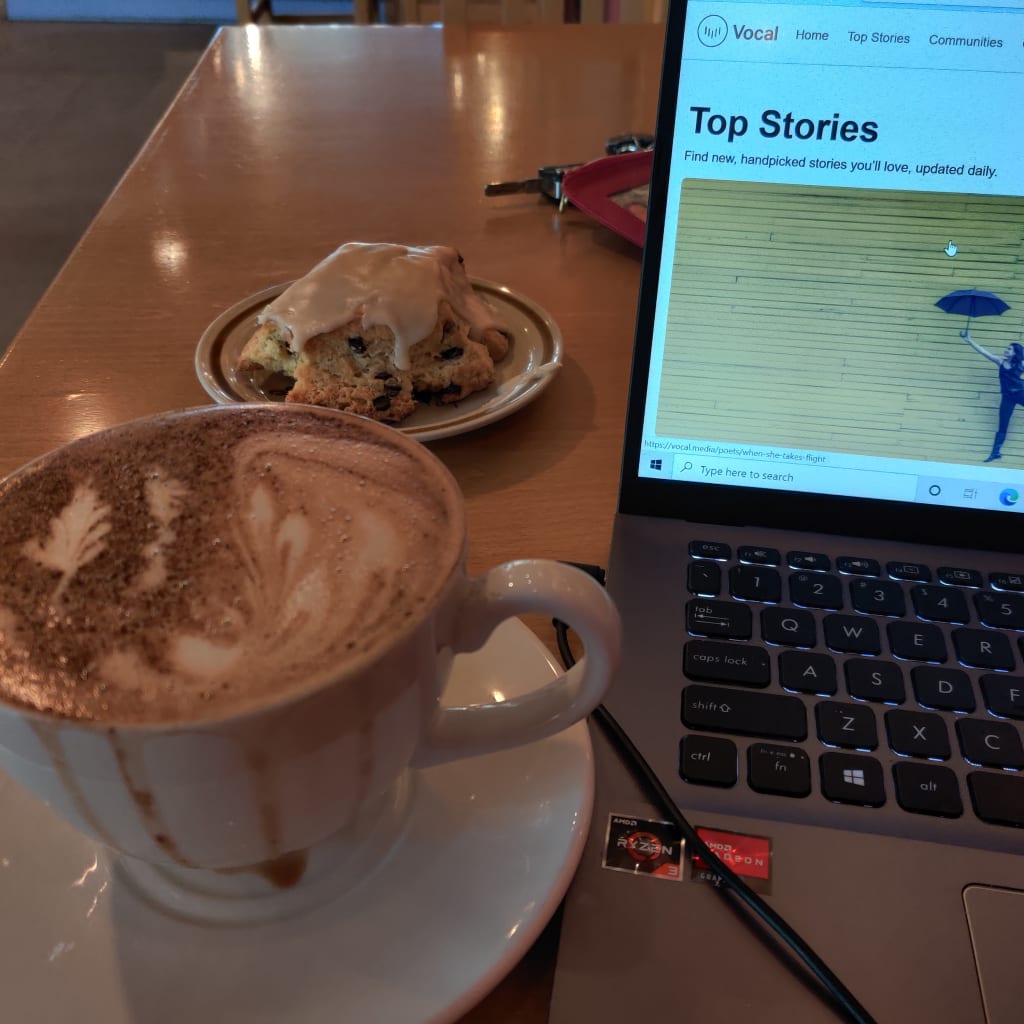 It's my day off and I was particularly excited about it. For the past I can't remember Mondays and Tuesdays I have committed to something or someone. This Monday, Right now, there's only me a coffee and my laptop.
I woke up later than usual 7:06am to be exact. I laid there contemplating getting up in that instant so I'd have enough time to get my daughter ready and out the door by 8:05 or I could lay there a little longer but pay the price by having to drive her. Well worth the comfort of my new bed and sheets, the school is 5 minutes down the road. I half successfully got the kid off to school, she forgot her mask, it was cold, had to drive back. Oh well, that is done.
Onward in my plan for the day. I did the loop by the school to come back to the café in town. A sense of calm is hovering around me like an aura. Hopefully people around me can sense this and are than victims of my contagious condition.
After scrolling on social media for far too long as usual, I walk in to an empty café. The car goes into neutral and the scrolling begins. Its become a habit that needs to be broken. The minutes added up at the end of the day wasted on post parking patrolling could be otherwise spent, dare I say productively.
Okay, empty café! I stare at the board of exotic lattes, peer at the menu of sandwiches named after local landmarks. My usual sarcastic comments come out, bugging them about not having what I so dreamed of eating last week.
I choose my bodies demise in form of chocolate chip scone glazed with peanut butter icing. I'm only half way down the page and my latte is nearly gone and my scone simply disappeared and I haven't even reached the point of why I decided to write today.
As I sit and wait for my latte to be finished, my scone sit on the table I declared mine. A corner table in the back where I won't be bothered, the table basically screams "sit here for hours and be creative!"
I had set up my laptop, even plugged it in! I ask what the wifi password is before checking, only to find out had I been preemptive, there is no password.
Wow, point of story? As I sat on the bench directly across from where they make their magic, in comes the man that walks aimlessly around town. I need to back up just a smidge so I don't look like a double a**hole. I am the General Manager for one of the shops here in town. I have endured this mans perpetual thirstiness of only unpurchased water for quite sometime, not to mention his relieving of that thirstiness in places that are not for that!. Even before he walked in today, I thought to myself, from a business standpoint, asking the manager if they even let him in. Turns out they do, and they are quite nice to him. Wait…I am nice too. Just relaying the reality of the situation.
He proceeds past me to the tables, of course all tables are adequately socially distant from one another so there wont be any crowding of sort. He does though, sit at the table closest to my sanctuary. The first feeling that takes over my body is ugh. "ugh". Second thought after first feeling. "Im an A**HOLE. It's a stigma. The person that walk around town, with a cardboard sign, or with a grocery cart the big one or the small one. I'm not the only person that puts them in a category.
Here come all the cliches. Don't judge a book by its cover, or walk a mile in their shoes! Yes! All of these and more. As far as I know he has not harmed anyone, Definitely has not hurt me or anyone I know so what's the problem? One question a day; "Can I get a glass of water?" This should not bother me.
Yes, this also bring up the subject of mental illness. It,s one man. He walks the streets year long. Why isn't there help for him? Is he not seeking help? This is the Aquarius in me, trying to look bigger, zooming out is my new favorite term, thanks to my therapist. Writing today about this, I hope is the next step I'm taking to further help those in need. "Ugh" is not the first feeling I want when I see this man, or any of the people on the streets. I want to know I helped. I will continue to give him a glass of water and reply to his small talk. I will get there, I will help the world in some way, some day. Babysteps.
Today, I got distracted by a man, who actually inspired me not only to write but to help. Putting my thoughts on paper for people to see is a step further than in my head. Next step action.