For the next few moments, I ask that you please do your best to leave your ideas or beliefs at the door. They will be there when this is over. For now…just listen.
Wants vs Needs
Life is fantastically weird, isn't it? Quite frankly, I am beginning to appreciate its ambiguous nature. Becoming more patient and less easily frustrated. Learning to let go of what I cannot control.
That does not mean I give up easily, that's not accurate at all. It simply has more to do with being aware that there is a time for everything. While continuing to plan based on what you want to accomplish. Dreaming about it is not enough, you have to seriously map it out. This can be difficult since it requires a solid idea of what one wants.
We do not always know what we want. More importantly, we do not always know or accept what we need.
How often do we go for what we want instead of what we need?
How often do our "wants" align with what is "necessary"?
Is there a way to tell?
I have a dear family member that has been like a father-figure. He's very life savvy — but mostly, he's very sharp and one constant phrase I hear him say is:
"It's the collection of past decisions".
I understood what he meant, but he drew it for me anyway. It looked something like this: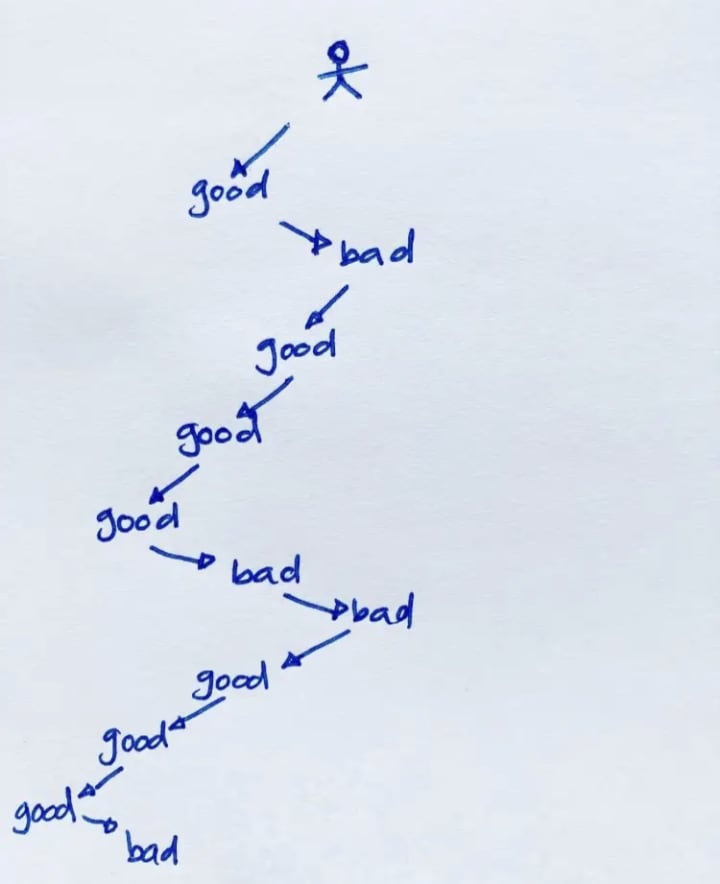 Now… Not all good or bad decisions have equal value — I thought. So, I created a new one to see what it would look like.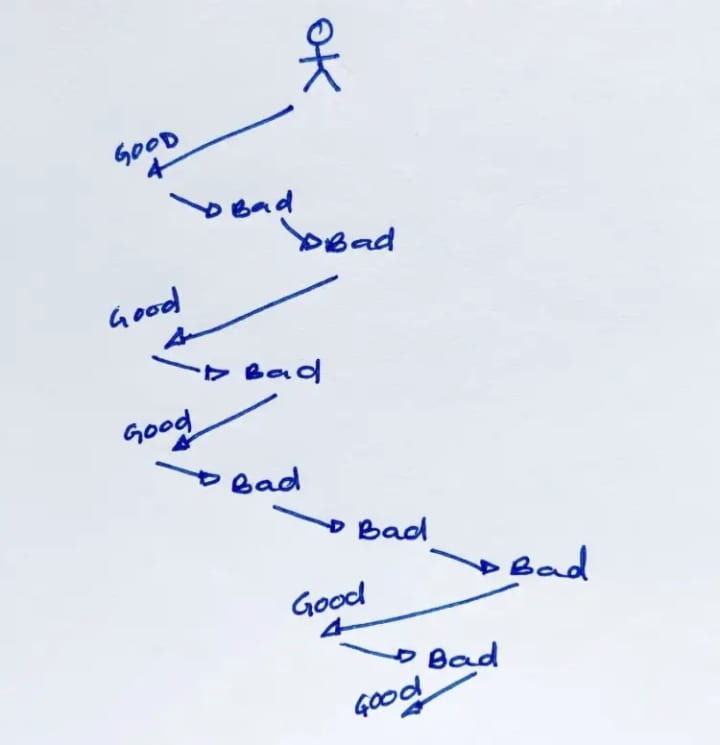 I can see that if we have the tendency to make what is considered "good" decisions, whenever we make a "bad" decision it won't entirely put is in that negative zone and vice versa. The quality of the decision matters a lot and not just the quantity. Yes, we can mess things up, but when it comes to major decisions, important ones — we really have to be careful.
[That is if you care enough about living a fairly easy life. I'm talking from a perspective of "normal people", some would say "smart people" by learning playing the human game or the capitalist game, if you will. I could also take an entirely different perspective on all of this too. The perspective of "follow your heart" …sigh…the Universe knows all too well how much I tend to dwell on the latter perspective. Follow your heart❤... If only it were that easy…deeper sigh…then pain kicks in. Go for it pain, take it. I'm pretty numb these days anyway — luckily.]
On control
There are events we can control, others where our control is limited and then we have the ones where we have no control — if at one point some control was possible, it no longer is. In any case, the last two cause us pain. When control is limited or no control possible.
But really…truly…how much control do we actually have in the moments where we thought control was possible? That's a good question. I would love to know.
It is often said that one cannot control what occurs externally, only how we react to it. Even though I appreciate the sentiment, it certainly does not always seem to be what happens, does it? We can at times be driven by something that does not seem "controllable". Just like the possibility that contrary to what we usually think: we have ideas and maybe ideas have us…. same would apply here → we don't have feelings, feelings have us. For a reason. A reason we often reason it out- if that makes sense. Nevertheless, it is true, we mustn't ignore reason for reason has allow us to achieve great things.
[Are the outcomes of reason always aligned with what we "need"? Do the outcomes outweigh the costs? In other words, is the benefit greater and long lasting or will it come back with a vengeance?
Would following the heart lead us down the same path? With the same repercussions? Or could it be that if we continue to follow our heart, we will be more prone to finding joy in the little things because we will be training our being to become more light-hearted and therefore, the impact of the unfortunate events will become less and less?]
The fork in the road.
"What road should I take?"
Where all we have is a candle with enough light to guide the next immediate step and not the next 10 to 50 steps — as we would often prefer.
"If only I could see the future"
What if there's no need to see the future because it's already written for us?
Humans are too fickle to control what their future holds. We are too impulsive and compulsive! As previously mentioned, "We do not always know what we want. More importantly, we do not always know or accept what we need".
Trust…Trust that whatever has our future lined out for us is synchronized with a higher order, whether we accept it or not. Yet don't lose faith in your ability to attract what you put out. Sounds contradicting, I did warn that life was "fantastically weird" like that.
On sacrifice.
Have you ever tried not stepping on ants as you walk? Or what about stepping on grass? Grass is living, yet we step on it daily even if we try to avoid it.
And that's just it… as simple as that. It is part of their natural purpose, it's ok. There will be times where you are attending to your "natural purpose" and you know what that is. It won't always be forever. There is a time for everything.
In the end, there is a beautiful order to everything. There really is…We are part of a cycle and much of our pain occurs when we attach ourselves too much — in that scenario, all I hope for is that I am worthy of my suffering. If the pain chose me, I hope I can be worthy enough of it and manage it well.
Reader insights
Nice work
Very well written. Keep up the good work!
Top insights
Expert insights and opinions

Arguments were carefully researched and presented

Eye opening

Niche topic & fresh perspectives

Excellent storytelling

Original narrative & well developed characters
Heartfelt and relatable

The story invoked strong personal emotions

On-point and relevant

Writing reflected the title & theme
Add your insights