The Urn
My passage to Italy. By- Shelly Sundin Mansell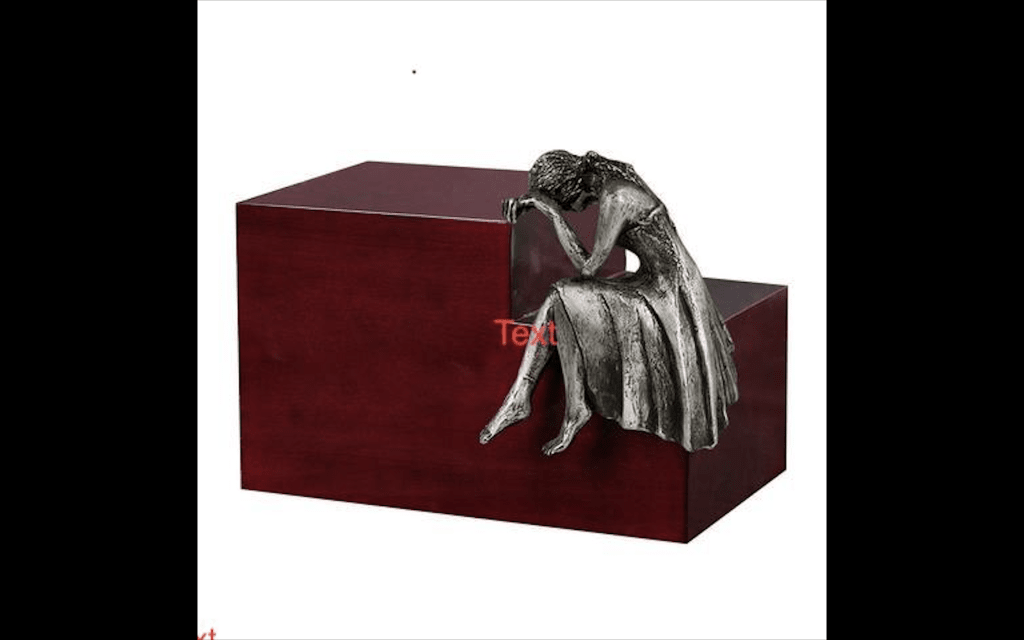 The garage door made a whining, whirring sound as it opened.
So many memories here.
As the dust particles kicked up my mind flashed back to better days. I asked myself "How long since I had been here?
The thick layer of dust answered that question. I had purposely avoided this place for two years. Ever since James had died.
The memories of him now swirled in my mind making me feel slightly drunk.
Then came the memories of the news channels flashing the wretched statistics of COVID. Hundreds of thousands dead. Along with them was my James. Dead now for two years.
This memory was worse than a migraine.
The day before I had received a small unmarked package with a note inside. My name on top in thick letters. No return address.
The note inside was simple. " I know my dad would have wanted you to have this- J.J." Inside was a half gallon size bag of ashes.
I now held the tangible evidence of his death. The ashes of the only man I had ever loved. It was James.
My mind switched back and I surveyed the dusty boxes in the garage. I reminded myself I was in here for a reason.
The urn.
Where was it?
What box was it in?
I had not looked at these boxes for two years so I started in the back where I thought it might be. It was here somewhere.
The urn was part of a lot I had purchased from an estate sale. It was a mismatched item included in a box of vintage photo frames and albums which I used to collect.
I no longer had any hobbies like that.
It was too much of a reminder of my Pre-COVID life..
The urn was an odd piece. At first you could not tell what it was until you opened it.
The wooden box had a silver woman figurine sitting on one side draped over the box in sadness. It kind of haunted me.
I had not given it a second thought until today.
Now I just had to locate the right box
. But which one?
As I had searched, memories of James came in and out of focus in my mind. Finally, my eyes settled on a green tote with a mismatched blue lid. Then I remembered what was in that box..
This is EXACTLY why I had not come in.
That box held all of l the photos and personal things from our time together.
Enough time had passed to where I did not cry every time his name was brought up but still I avoided this place and that box
. I had to face this though. It was time. It is what James wanted.
James and I met when we were both in our 50s. He and I had both been married and divorced. We both had exes who were textbook classic narcissists who almost ate us alive.
James and I were perfect for each other and used to joke about how in our next lives we would find each other earlier so we would have more time together.
Meeting James had been a godsend. The five years we spent together were like a daydream to me now. We were bonded spiritually and physically.
That was until Corona came prowling to our door like an intangible, cursed cat.
The box was dusty and I sorted through and found our wedding photos.
James and I were married in our home surrounded by supermarket flowers and generic tealight candles. James had proposed to me two weeks before he died. Our wedding was very quiet and solemn
It was perfect except there were no guests because of Corona.
In his vows James talked about how our marriage would bind us together after he was gone.
Time is elusive when someone is dying.
James died at 5:13 the next morning.
I continued flipping through photos and reminiscing. Then underneath my photos I found my journal.
It was just a simple black book with blank sheets in which I had journaled during that tough time. The journal and the photos had been here ever since.
I had not written since he died. I picked it up and pulled up a dusty chair and sat. Then I flipped it to an entry somewhere in the middle. It read,
March 13, 2020
"James just stopped in to see me at work. It was a surprise. I was packing up a box to take home. We have to work from home now I am terrified. I finally stood up for myself. I had declined to go to his house. I fear that I may be carrying the virus. His grandson whom I adore and his elderly mother were on my mind.
He had spent the morning trying to convince me that nothing bad was going to happen. We disagree so much on this. I understand the science. It really sucks having a brain like mine sometimes. I am hoping this does not tear us apart. I would not be able to live without him"
\I can remember that day and how angry I was. I was angry with him, Corona and the world. Nothing would ever be right again.
I kept scrolling. Most of what I wrote was about havoc that Corona had wreaked upon us and my feelings about how I struggled with his indifference.
James and I had been fighting so much I thought it would tear us apart. We managed through it though. James had always had a strong faith in God and felt he would be okay. He acted invincible. I loved that about him and I hated that about him.
Then 11 months later he was sick. It was just like a cold at first. I had been vaccinated but he chose not to. James fought off the virus at first but one night he woke up gasping for air and I had to call 911.
James was hospitalized and spent three weeks on a ventilator.. Since I was not allowed to visit so we were limited to daily facetime visits. So many people went through this. So many people died alone. He would tell me about how he could hear them calling the "codes" all day long.
James was hospitalized for five weeks and finally allowed to go home. But the virus had damaged his heart though and doctors stated it was grim. He needed full time care and oxygen. Those last few weeks we spent every moment together.
Now I remembered how strange time is when you are faced with death. There is a certain sense of anxiety and then when it comes you want to rewind everything and have so many new things to say.
Suddenly my head was spinning and I was so overwhelmed by finding the photos and black book I had to leave the garage.
I made a plan to search again in the morning.
That night was long as I tossed and turned. I dreamed about James. In my dreams we were in Italy. This was the last vacation we had planned before the wicked Corona came calling.
The trip had been planned after I had told him about my desire to find my biological father . I shared the story with James after I had known him for about a year. I had told him about a story my mom had shared with me on my 18th birthday. She told me the man who raised me was not my father. The truth was that my mom had met my biological father in 1969. He was smooth and had charmed her out of her virginity. Not long after he disappeared without knowing my mother was pregnant. In those times unwed mothers were shameful and had to deal with ridicule and discrimination. Not too long after she met my father who loved her so much he took us as a package. I never knew the truth until then.
Then a few years ago I had found family through the DNA website and was thrilled to find out they were in Southern Italy. I found several cousins and one great aunt. My biological father was deceased. We began communicating.
It was James's idea to travel to Italy to meet them. At the time James and I were planning It was planned for June and July of 2020. Then came Corona and travel was restricted.
From that day forward I gave no more thoughts of visiting.
No James. No Italy
Ok!, stop getting distracted" I told myself.
I had to find the urn today. I paced up and down the driveway then finally just clicked the button to open the garage.
My mind began to wander again.
I had dreamed about James the night before. In the dream I kept seeing a red blanket and I could hear James saying "The box with the red blanket"
Now that I thought about it, hadn't I read somewhere that people do not dream in color?
Was it James sending me a message?
That was eerie.
After a short search I found the right box. I slid it out and kneeled again on the concrete floor and pulled the lid off
The red blanket! I unwrapped it there. Then there it was in my hands. Smooth and cool
It was hauntingly serene.
I sent up a silent thank you to James.
I picked it up. The urn had some weight to it. I shook it and thought "What the heck?" I had never put anything into it!
I pulled out a folded manilla envelope. Inside were a few photos and a letter. The photos were of us on our trip to Hawaii in 2017. I smiled at the memory. Pina Coladas and warm sand.
James had always told me this was his favorite vacation with ne,
Then I saw the letter. Was this from James?
I opened the letter and it read.
"My dearest love
I am hoping this letter finds when you are healed and have found some peace. I asked J.J to wait before sending you my remains. You are my one true love and I know we did not have enough time together but in our next lives I will make sure to find you sooner. We will have had children together, grow old together and enjoy grandchildren. How I wish I had listened to you. This is my biggest regret. I love you so much. Please take this money and go to Italy if you have not already done so. Think of me along your journey. I will be with you each step of the way. Do not feel sad when you go. Remember that one day we'll be together again. I am sorry for making you wait to read these words. My wish was that time would have healed you.
Find your family and tell them about me. I will smile down upon each step of the way and know that I am always by your side.
I will love you eternally,
James
Inside of the map there was a cashier's check for 20,000 dollars dated for one week before his death.. The trip to Italy! I thought
I clutched the map, the letter and the check to my heart.
I picked up the urn and stepped out of the garage and looked up at the blue sky with creamy white clouds and whispered, "I love you James"
Tears came. FIrst there were tears of sadness and regret. Then finally tears of joy.
James had planned this perfectly. Even in his sickness he had thought of me.
"Thank you James'' I said again. I felt an infinite amount of joy in my heart.
I closed the garage down and closed the door in my heart that held all of my pain.
I went inside to look for my laptop. It was time to visit Italy.

Michelle Ruth
Special Education teacher, student advocate, mother, dancer and a writer. . I have now begun categorizing and refining my story drafts. The Good, The Bad and the Ugly. I protect the identities of the characters in my stories
See all posts by Michelle Ruth →