The Revolutionary Friendship of Malcolm X and Yuri Kochiyama
The most iconic civil rights duo you've never heard of.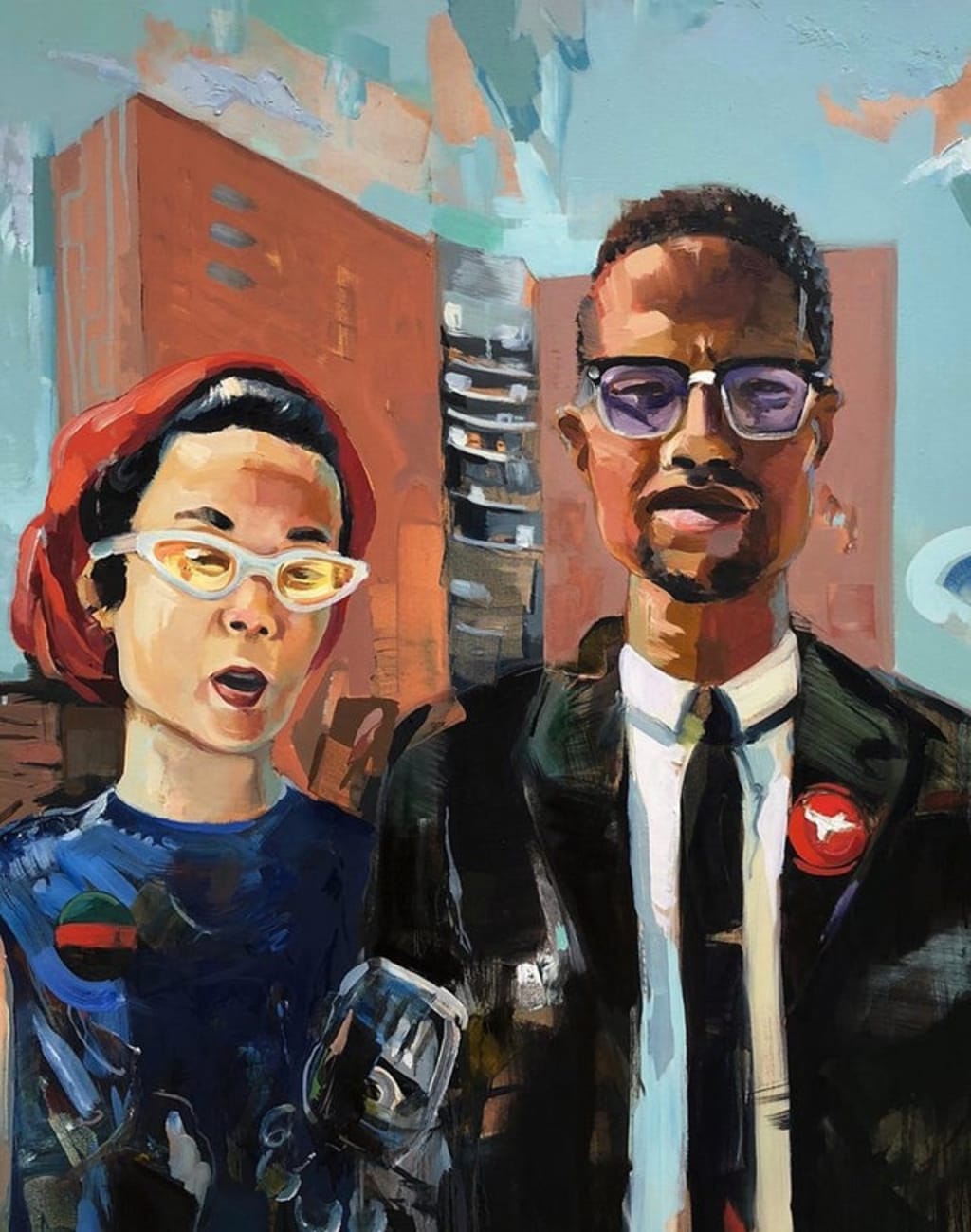 With a friendship rooted in racial activism, these American civil rights leaders exemplify Afro-Asian solidarity.
Today in alternate American history: the unlikely friendship of Malcolm X and Yuri Kochiyama.
Malcolm X and Yuri Kochiyama are both American civil rights icons. But while you probably learned about Malcolm X's lasting legacy in school, Kochiyama remains one of American history's unsung heroes. (And until recently, their friendship was even more of a mystery.) Despite the obscurity of their relationship, Yuri and Malcolm's unique bond forever changed the course of history.
An Unlikely Activist
In the spring of 1920, Mary Yuri Kochiyama was born to immigrant parents in San Pedro, California. Kochiyama described herself as "totally apolitical" in her teens and early-twenties, enjoying the comforts of small town life. After the 1942 bombing of Pearl Harbor, Kochiyama's world was uprooted as she and her family were transported to Jerome, Arkansas, where 120,000 Japanese Americans were imprisoned during WWII.
By the early 1960's, Kochiyama's politics were changing. After being released from internment, Kochiyama and her family moved to a low-income housing project in New York City. Fueled by the injustices she witnessed during Japanese internment, and influenced by her Black and Puerto Rican neighbors, Yuri began her explore her own ideology, spending time learning from Black activists and intellectuals at the Harlem Freedom School.
At this time, Malcolm X was already a household name in the civil rights movement. He was the national representative for the Nation of Islam, a prominent role which took him around the nation, lecturing, debating, and making high-profile media appearances. Malcolm was also frequently invited to speak at college campuses like Harvard and Oxford University about the emerging Black Power movement.
Despite their vastly different trajectories, Malcolm and Yuri's paths would soon cross.
A Friendship Is Born
Yuri Kochiyama and Malcolm X met on October 16, 1963 at the Brooklyn criminal court. As Malcolm was flooded by a crowd of young supporters, Kochiyama was hesitant to approach him, unsure how he would respond to an Asian-American woman. Eventually, Yuri gained the courage to approach Malcolm, asking to shake his hand. She was immediately "overwhelmed by his charisma and his warmth."
After their first meeting, Malcolm X accepted Kochiyama's invitation to address Hiroshima atomic bomb survivors and peace advocates at her Harlem home.
"You were bombed and have physical scars. We too have been bombed and you saw some of the scars in our neighborhood. We are constantly hit by the bombs of racism––which are just as devastating."

–Malcolm X, addressing Hiroshima atomic bomb survivors at Yuri Kochiyama's home.
At Malcolm's request, Yuri started attending his Organization of Afro-American Unity (OAAU) meetings and enrolled in the Malcolm X liberation school. "He opened my mind, like opening a door to a new world. He helped me to start thinking, studying, listening, and observing and seeing contradictions," Yuri later recalled.
As Malcolm continued to gain notoriety, traveling frequently for speeches, lectures and public appearances, Kochiyama worked behind the scenes in Harlem, supporting the Black liberation movement in New York City. Kochiyama was quick to highlight the differences in their activism––Malcolm was a leader of the Black liberation movement while her anti-racism education was just beginning. Despite these differences, their friendship transcended the boundaries of race, class and public recognition.
Malcolm and Yuri's friendship would continue until Malcom's tragic death, only 16 months after their first meeting.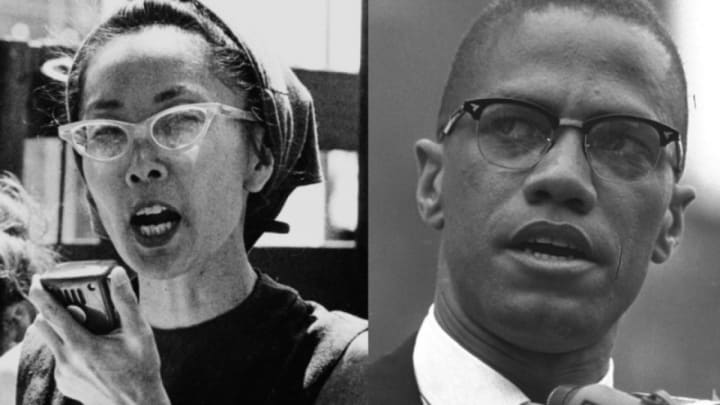 The Assassination of Malcolm X
Malcolm X was assassinated in 1965 while lecturing at the Audubon Ballroom in Harlem. In Malcolm's final moments, Yuri rushed to the stage, where she cradled his head and attempted to comfort him. A black-and-white photograph by Life magazine immortalizes the moment of unspeakable violence.
After the murder of Malcolm X, Kochiyama launched herself even further into political activism. Her NYC home became a weekly meeting place for Freedom Riders and other activists (eventually welcoming a young Tupac Shakur into the mix). Kochiyama's eldest daughter, Audee Kochiyama-Holman, recalls, "our house felt like it was the movement 24/7."
Their brief but formative friendship would shape the remainder of Kochiyama's life, as she dedicated her work to racial activism, social change and the anti-war movement.
In 2014, Yuri Kochiyama died of natural causes in Berkeley, California. The 93-year-old activist died peacefully in her sleep.
Author's Note: Additional Reading on Afro-Asian Solidarity
If you enjoyed this article, I encourage you to learn more about the activism of Malcolm X and Yuri Kochiyama, as well as additional accounts of Afro-Asian solidarity. Explore the wonderful sources listed below, including the Grassroots Leadership and Afro-Asian Solidarities excerpt written by Diane C. Fujino. NPR's popular 'Code Switch' podcast also has a fascinating 5-minute listen about Malcolm and Yuri's unique bond.
Listen & Learn: 'Yuri Kochiyama' written & performed by Blue Scholars, a Seattle-based hip-hop duo.
Sources:
Not Just A 'Black Thing': An Asian-American's Bond With Malcolm X. Hansi Lo Wang, NPR. (2013)
Timeline of Malcolm X's Life. American Experience, PBS.
The Impact of Malcolm X on Asian-American Politics and Activism. Yuri Kochiyama, Dartmouth. (1993)
Grassroots Leadership and Afro-Asian Solidarities. Diane C. Fujino, NYU Press. (2009)
Yuri Kochiyama, Activist and Former WWII Internee, Dies at 93. Hansi Lo Wang, NPR. (2014)
About the Creator
Rebecca writes about furniture design and luxury interiors. A veteran digital nomad, she currently resides between Portugal and New Zealand. Find her on Instagram at @rebecca_dangler.
Reader insights
Be the first to share your insights about this piece.
Add your insights