Tales from the Shadowhunter Academy
Thoughts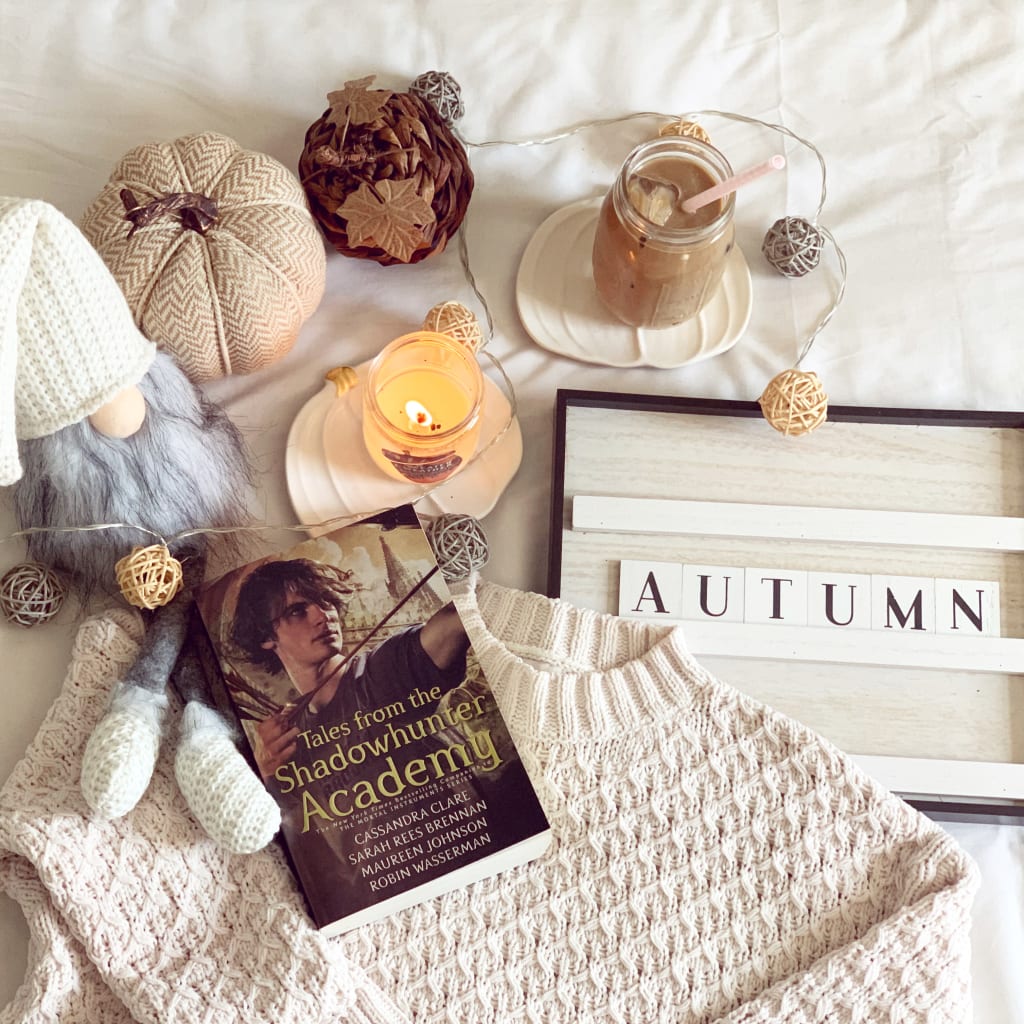 Photograph by Olivia Rose
At some point, I'm sure I'll share my thoughts on The Mortal Instruments series by Cassandra Clare, but it's quite the loaded review. Starting a bit smaller (and leaving out spoilers) I'd like to talk about Tales from the Shadowhunter Academy, and how I believe it is a wonderful addition to the The Mortal Instruments collection.
I love author Cassandra Clare. After reading The Mortal Instruments in it's entirety (at least three times now) I was eager and excited to read this book, which follows Simon Lewis, best friend to Clary Fray. That being said, I can pretty much say no more about the entire thing without spoiling the Simon plot-line in some way, so I'll keep it vague.
I absolutely adore Simon. He's sarcastic, funny, dorky and extremely relatable, given the circumstances. He has one of my favorite character arcs in The Mortal Instruments and is easily my favorite character of the first six books. I have found that this book flows at a much different pace than The Mortal Instruments, which did take me a few chapters to get used to. That being said, I do think the four authors (Cassandra Clare, Sarah Rees Brennan, Maureen Johnson, and Robin Wasserman) did an excellent job at piecing their work together in a seemless and cohesive way. It's nearly impossible (for me) to tell where one author's work ends and another begins. They touch on many different plots and relationships throughout the novel, even touching on the other series' by Cassandra Clare as well (such as The Infernal Devices and The Dark Artifices), which is great fan service in my opinion. Simon's character further develops throughout this novel, which is impressive considering the amount of time we've already watched him grow throughout the six TMI novels.
Something I can say is that the scenery and description in this book is insanely vivid. I truly felt transported to Idris. It was so easy to follow him through this book with my mind's eye, making each of his experiences that much more impactful for me. I'm aware that this book is not generally a fan favorite, but I would argue that it is just enough of a continuation to leave the reader satisfied. If she continued the Simon plot from the end of this book in a brand new series, I would be first in line to buy it.
Other plot lines touched upon by these talented authors are that of Robert Lightwood, Michael Wayland, Alex Lightwood, Magnus Bane, Isabelle Lightwood, Stephen Herondale, Maryse Lightwood, Ragnor Fell, Jocelyn Fairchild, Clary Fray, Jace, and Valentine (just to list a few). The new characters introduced, such as the ever-endearing George Lovelace and the temporarily-insufferable Johnathon Cartwright, are just as likable as the ones we've grown to know and love, and even the ones we've only just started to learn about. This is a great book to read between The Mortal Instruments and The Infernal Devices (which is compromised of three books), or after you've read them both all the way through. Watching my favorite relationships transform, in their own ways, from a completely new and fresh perspective was a delight for me. I only wish the authors had written more!
I'd just like to top this off with a big THANK YOU to Cassandra Clare for constantly producing new content for her eager readers, and for creating the Shadowhunter universe! It's a place I love to get lost in- she inspires me to be a better writer every day. That being said, I highly highly highly recommend The Mortal Instruments series (review coming soon!) and I, myself, cannot wait to continue my journey through The Infernal Devices and The Dark Artifices.