SPAGHETTI-STRAPS
~ The Kaiser-Frazer ~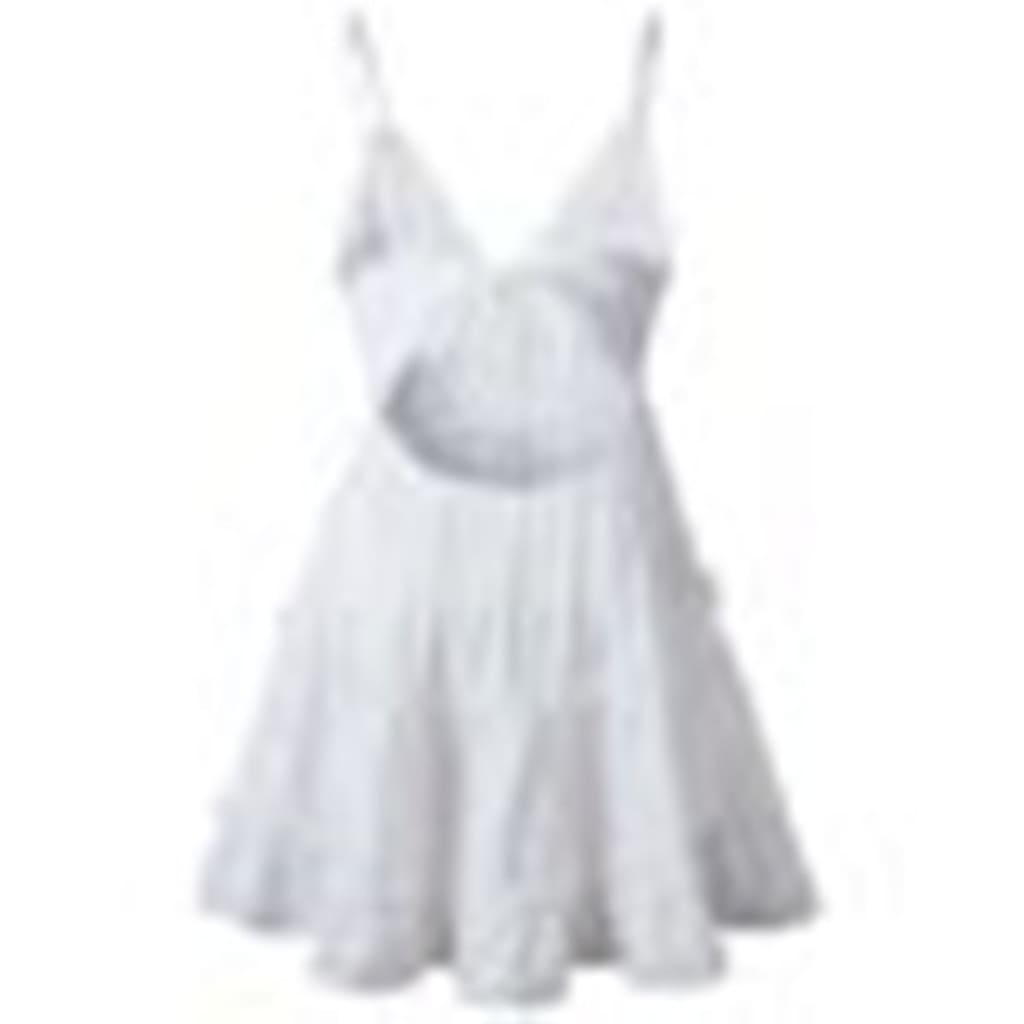 " IT "
SPAGHETTI-STRAPS
~ WHEW ~
By-Luck we met at the .25 Cent car wash — probably not a quarter anymore? It is such a vivid memory. I was on my knees with a white plastic-tip Tiparillo cigar between my teeth (cool at the time) and no shirt while polishing my 'Mag' wheels. I looked up to see this totally lovely sight — 'Hot' sight. A Woman wearing a 'Spaghetti-Strap' Sundress, that was quite transparent, I just couldn't stop staring! My weakness! She had me at 1st sight!
There she was, I knew she was my "IT" from that glance! I know, My Bad, 'Mr. Shallow'! She pulled-up right next to my car. Believe it-or Not: We had identical 'Twin' Chevy's, Really! A sure conversation starter. She started talking first...I was still in awe just looking at her. Soppy-Sentimental; still am!
Rita's Mother and Father died at a very early age. She became an integral part of our immediate family; especially when I was overseas in the service. She and Sis, Vicki Lynn, would short-drive to L.V. for popular 'Pan' (Panguingue) card-playing. This is a fast-Rummy-game dealt out of a table Shoe that was, according to 'Hoyle' legal to cheat by sitting on your extra cards—if you didn't get caught. Rumor was the game was invented in a house of prostitution while waiting for 'Johns'! As evidenced by the games 'Table-Talk-Dialogue' that are in the rule-book; or lack thereof!
Both were SO into Singer Tom Jones shows, that they would certainly combine their card playing to repeat performances of Tom; a girl crush by many in those days: I was actually a little jealous; I know, a Guy-Thing! Women (and probably a few men?) actually threw their undies (covering the stage) during his performances. No Kidding!
She told me favorite memories a few days before she died. One of which was when Dad doted over her; watching over her while I was away. He took her to Canter's Deli to Brunch 'Matzo-Brei smathered with sour-cream'. This special 'Cholesterol Load-Up' precluded her Saturday mornings Jewish Conversion classes in the Fairfax area. The 'Conversion' was a surprise for me; a family project during my deployment. Although, at first, I felt that I should have been consulted about this.
— Speaking of 1st Cars —
Vic had a Kaiser-Frazer: A very large, well rounded, odd looking post WW2 car, that was made out of salvaged tank parts. It was black (weathered-green-tinged). Dad gave her this unbendable armored sheet metal car for her 16th Birthday; a former war tanks protection for his Daughter.
As most little boys, we were fascinated by cars.
When we went to the Drive-In Theater. Sis and her chatty girlfriends would pack us up into the huge trunk—along with most of the neighborhood; Big-Boot! She would overly-instruct us not to move or make a sound, so that we wouldn't have to pay for admission to the drive-in ticket-taker: This way of entering the drive-ins got so popular, and dangerous breathing fumes, that most of the theaters started just charging by the car; not by the amount of people in it.
Certainly Drive-in theaters are not around so much these days since the land usage is more profitable for other building projects. But they were around every corner in the 60's — While NOT a lot of movie watching went on—But Best-Kissin' Ever!
Just wanted to think about that again — Now I Have.
It has always been kind of a tradition, in our little Family, that when you got a new car you'd go around to show it off by sounding your horn at everyone's houses: For real! Vicki Lynn was famous for this. Often sounding her horn in our driveway in her fancy cars...No more Tanks.
Remembering: I looked down over our balcony as she was Tooting and yelled at my Sister, "Wow, I'll be right down!" And Vic yelled up at me and said, "forget you, I'm taking Rita for a ride." Well, Rita Louise attended all Sunday family dinners, events, kids ball games, over many years — but never did she feel like such a part of the 'immediate' Family until that 'special' new-car-ride with Vic: Puts a smile on my face just thinking about it! Vic always went out of her way to be kind to everyone — and always made them feel so special.
Enough about cars ~ How 'bout chopped liver:
There were often a bunch of people in our little Hillrose Street kitchen making-up all sorts of food for weddings and other Temple functions—not a lot of Catering going on in those days. Including preparations for Lucky-Lar's and my 'Double' Bar-Mitzvah that Twins often did together; problem was we also had to split the Gifts~Gelt!
I recall I was allowed to turn the hand-crank-handle of the cast-iron food grinder (the predecessor to electric food processors). Making chopped liver in the meat grinder was a big-ordeal just trying to keep your fingers out of it while cranking the heavy gadget attached to the cutting board! Although these Traditional Jewish Recipes probably are not popular these days now that we know it's not just a whimsical 'Dietary' delight—along with other 'Brutal Sodium' standouts such as egg-noodle-Kugel and Big Scrumptious Matzo-Balls!
Big Sis, the self-appointed finger checker, was very protective of her little brothers. She was so noodgy that it was hard to figure out if it was us she was sheltering; or herself. For Instance: Often 'Vic' would take us to the Saturday afternoon matinee, and if there was something scary on the screen, she would grab both of our hands and run us up to the lobby; I'm thinking she was the one that was scared?
During one of these 'Cooking Day' frenzies, Cousin Billy Kantor fell down hitting his fore-head on the brick steps right outside of the kitchen door; he still has the scar. Dr. William Neil recently hinted that he is still threatening to bring a liability lawsuit for that incident.
Is it "Spaghetti-Strap" Weather Yet?
Jay Kantor, Chatsworth, Cal
"Senior" Vocal Author
For The Kids Someday
humanity
About the author
Reader insights
Nice work
Very well written. Keep up the good work!
Top insights
Easy to read and follow

Well-structured & engaging content

Heartfelt and relatable

The story invoked strong personal emotions
Add your insights