Small Town Covid Connections
Promoting Local Businesses One Story at a Time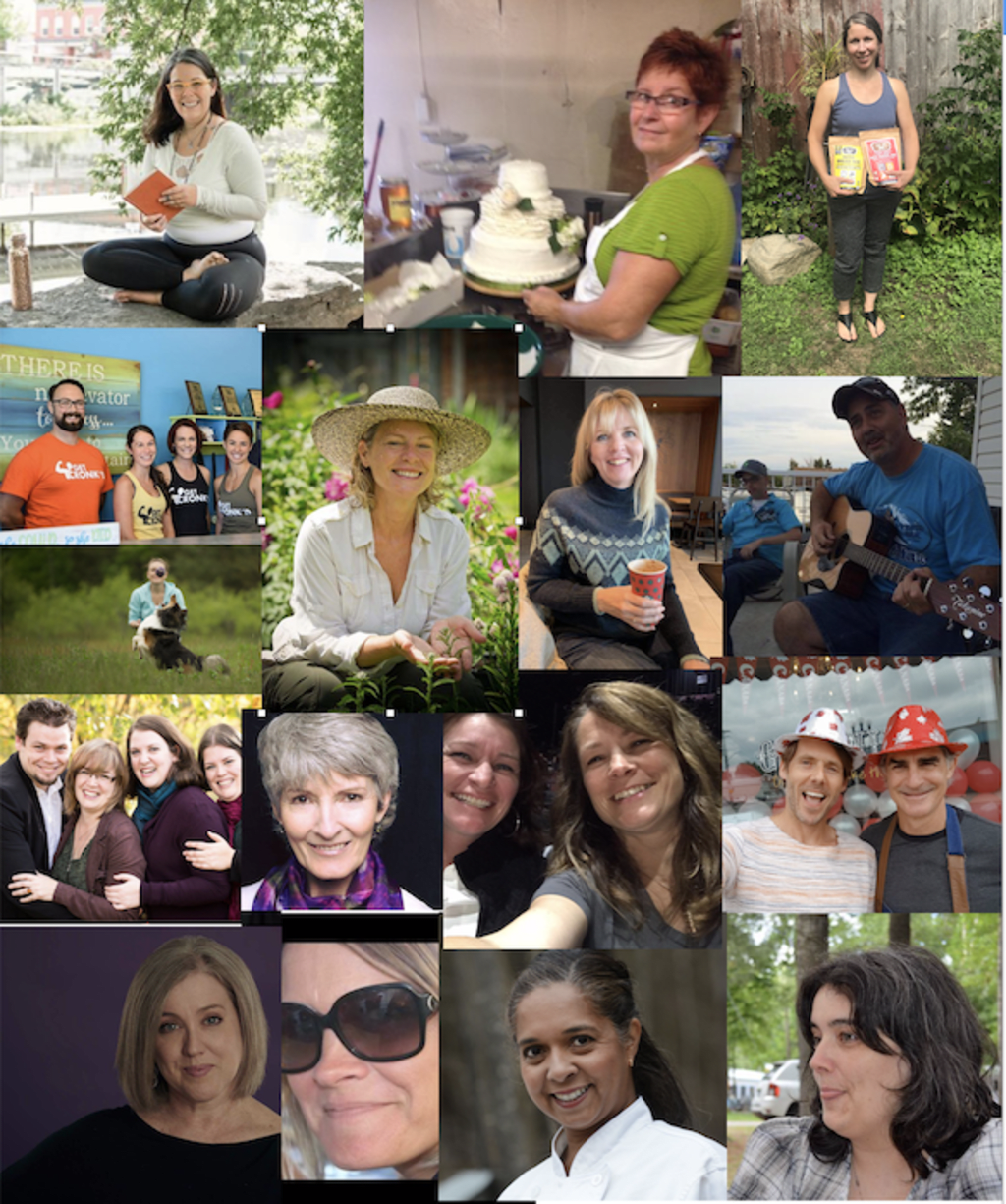 Some of the Entrepreneurs Interviewed in August 2020
I moved to Kemptville, Ontario in 2008 with my husband, our toddler and a very pregnant belly. Growing up, I never lived anywhere for more than two years. What I wanted more than anything was to set down roots, make connections and raise our daughters. This was going to be our home, a safe and stable environment for our children.
Once our second daughter was born, I joined local playgroups, met parents at the nearby playgrounds, participated in events and visited our beaches, toy stores and ice cream stands. Soon, it all felt very familar, safe and comforting. I loved our community!
My husband moved his business here when we purchased our home. His hair salon blossomed and his thriving clientele further connected us to this small community. I was a college professor when we moved here. When I returned from my extended maternity leave (18 months), I found the long commute and the time away from our daughters exhausting. I left my career, after twelve years of tenure, and converted a barn on our property into an art studio. I returned to my passion, working as an art therapist with groups of women.
Our daughters are now 12 and 15. They grew up here. Everywhere we go, we bump into someone we know. This is their hometown and that makes me very happy.
When Covid hit, we heard so many rumours of businesses on the brink of foreclosure or bankruptcy. Our town would never be the same without them. I wanted to help but my husband and I were unable to work due to Covid retrictions. We were too broke to shop or donate. That's when I decided to devote August 2020 to the promotion of local businesses. I had just over one hundred friends on my Facebook page. I figured I could tell the stories of various business owners and provide exposure while increasing their client base.
I borrowed my husband's ipad and visited local businesses asking if they'd like to be interviewed. We stepped outside so we could speak without wearing our masks and I stood or sat at an acceptable distance to record our interview. Some entrepreneurs were too shy to be filmed. I took notes during our off-camera interview and posted their story with a photo and a link to their website instead of a video.
What happened next still gives me chills. People liked and shared these stories. They commented on the posts, sharing experiences they had had at these shops over the years, praising the owners and their contributions to the community. The Facebook traffic slowly increased until each business was getting upwards of one thousand views. Grahame's Bakery reached 3.4K views which blew me away. This is the power of people loving on one another, cheering each other on and cherishing small businesses that hold so many personal memories.
In the months that followed, I heard so many stories of people who became very busy, sold out of an item that was mentioned during our interview or just had a lot of new clients visiting from nearby Ottawa. My favourite moment was when two businesses I had interviewed joined forces to offer their fitness programs online together. Amazing!
My business is focused on supporting moms through writing, public speaking and art therapy. I initially pivoted my business to provide online support but my internet connection was very poor and made running online groups impossible. Based on what I learned from this experience with Facebook interviews, I started promoting mothers through a new YouTube Channel. I now promote businesses owned by moms. I showcase art created by moms. I share stories of motherhood that celebrate our diversity as mothers.
In December, I provided journaling prompts for some personal exploration because I couldn't run the journaling groups online. I called it Come Home to Yourself for the Holidays. Every day, people had an opportunity to tune in and do some soul searching which they could share with others or explore on their own.
I am currently nominating mothers for Mom Spotlights every day on Facebook for the month of January. Every day, I name and celebrate a mom from our community. The moms are always surprised and deeply moved. All this to say that this one spontaneous project launched last August has led to so many intiatives that have allowed me to highlight the amazing people in my community and give back without costing me a penny.
Thank you for the opportunity to share this experience with you!