Sewing for Charity
Putting a fabric stash and a heart to good use.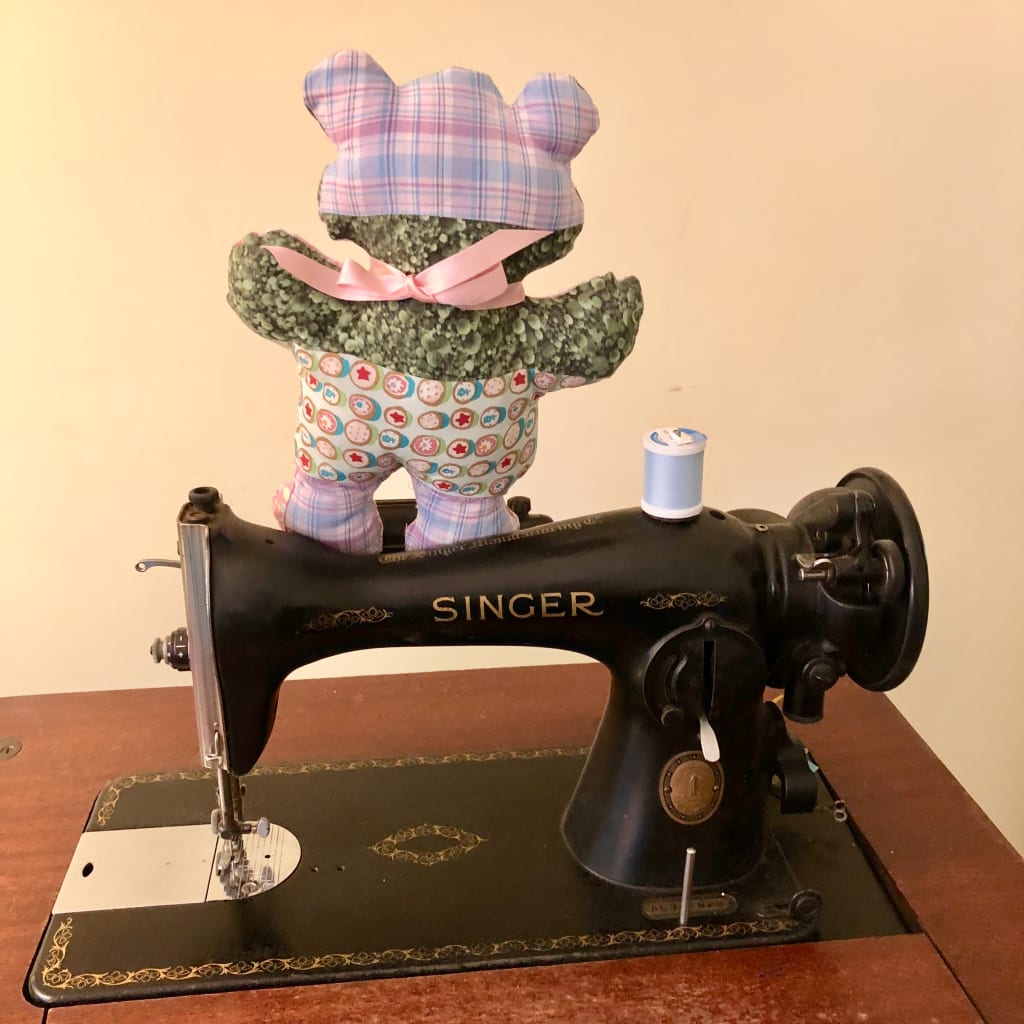 One of Ruth Reier's teddy bears. Photo by author.
"Charity, like the sun, brightens every object on which it shines." Confucius
I can still see them. Their bold saffron-yellow and black dashikis with matching pants captured my attention. The warm color splashed sunnily against Dulles terminal's neutral palette of gray, chrome, and glass. The clutch of men wore identical clothing, like twins — or in their case, septuplets. Each of the seven grasped a translucent plastic bag, less than half-full. Their faces, variations on a theme, wore matching expressions of disorientation, apprehension, and fatigue. A bland-faced representative of the government or an NGO shepherded these refugees. The escalator whisked me up and away from the sight of them.
Their vulnerability touched my heart and I wished them well. Others had already extended friendly hands to them — the anonymous seamstresses, the "sewists," the artist-sewers. They had cut and sewed the bolts of African fabric, so the men had new clothes for their new homeland.
My mother had opened me to the world of charity sewing, of making and giving away clothing and household goods to those in need, to children and men and women she would never meet. She spent many of the hours and dollars of her final decades sewing for charity. Nearly all her handwork was on behalf of children. A precise, meticulous needlewoman, she carefully matched her quilts to an unknown child's imagined taste and age. She chortled when she snared a particularly winning pattern at a good price. The quilts were for Project Linus , a non-profit organization which gives new handmade blankets and afghans to "traumatized, ill, or otherwise needy children." Since its inception in 1995, Project Linus has delivered over eight million blankets to children.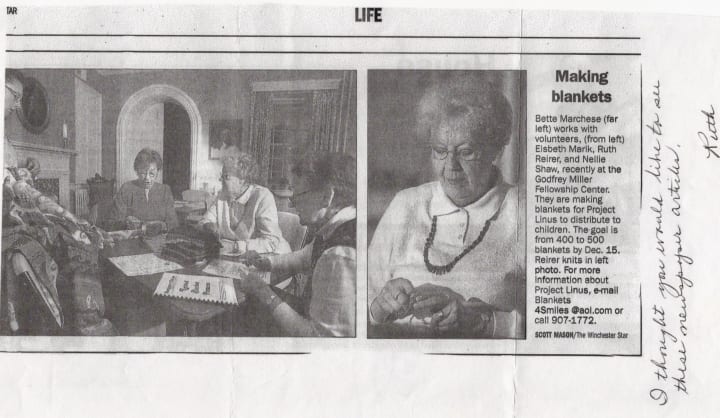 Closer to her heart was her teddy bear work. She and other women gathered regularly at the Godfrey Miller Home, at the time a senior activity center, in Winchester, Virginia to put together stuffed teddy bears. Faceless and with no moving parts, the simple cotton toys served an important function — solace and comfort for children interacting with Fire and Rescue, the police, the Salvation Army, and other community organizations. Hundreds of bears helped make life a little happier. My mother and like-minded sweet women would use their mylar patterns to trace and cut out the bears, often from donated fabric. They'd gather together and chatting amiably together over piles of batting and fabric, sew and stuff them. Some women disliked sewing them, so some were brought in ready to be filled with batting. In her journal, Mom wrote of sewing twenty-seven bears at home in one afternoon to t ake to the center.
The motivation for the sewists who made the refugees' clothing will remain a mystery to me, but I understand my mother's kindliness to needy children. Like all Americans in her age group, she was a child of the Great Depression, and like many, she did not fare well.
With a fourth-grade education, my grandfather struggled to support his wife and four daughters. As the Depression ground on, he sank into alcoholism that would not lift until he was treated in the 1950s.
My mother and grandmother did not discuss the discomforts and embarrassments of poverty with me until I was an adult. Then, when they did, the revelations came with a breathtaking casualness that spoke of their intimacy with very hard times.
I remember one time, back home for a visit from med school, I stood by my grandmother as she breaded pork chops. She rolled out saltine crackers till they were almost dust. Beating an egg with milk, she dipped in the chops, rolled them in the saltines, then fried them. Soon the warm aroma of cooking pork filled her kitchen. They were good. At dinner, I asked her where she got the recipe. She explained she learned to make them from a neighbor, a Hungarian. During the Depression, the woman came to the door one day with a platter of cooked pork chops made in this way.
"They tasted so good. We had had nothing but canned tomatoes and fried cornmeal mush to eat for four days. I guess she knew that."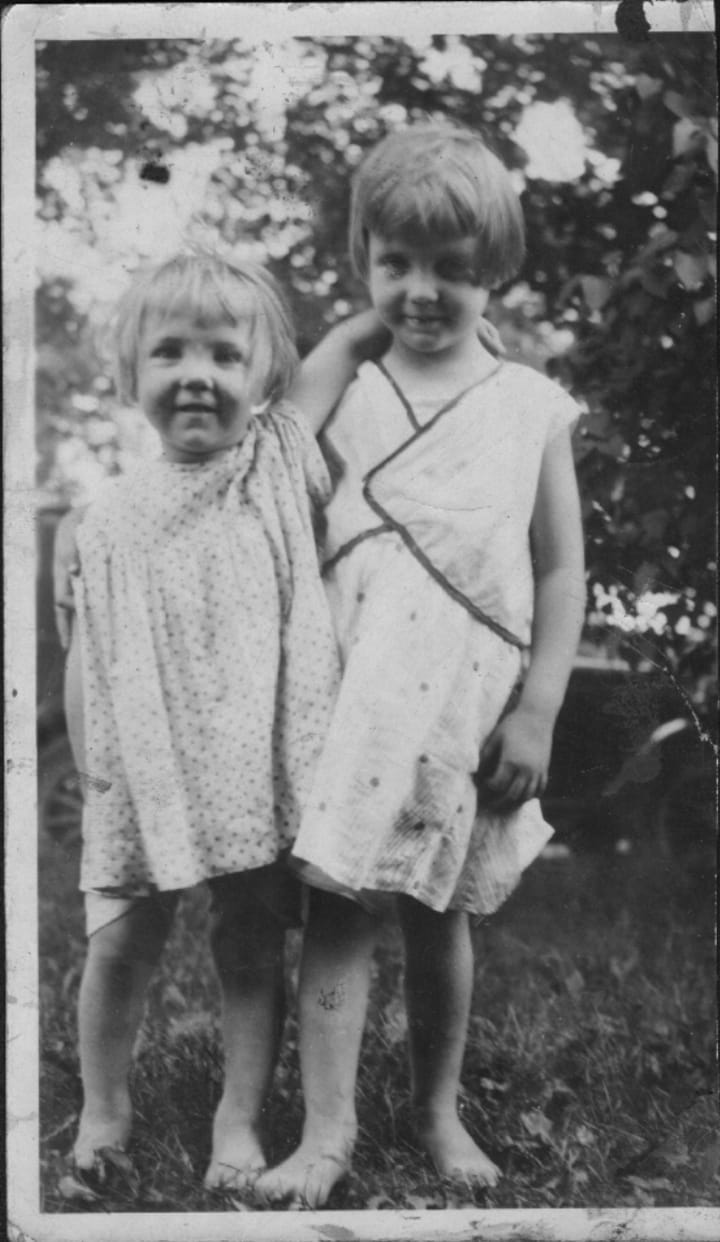 Another time, my mother, seeing a wooden antique shoe form I had bought at a shop, recalled her father using one to eke out every possible day of wear from her childhood shoes. Then, she mentioned that she and her sisters only had shoes from September to May and went barefoot the rest of the time. Another afternoon, she spoke about how humiliated she felt when she walked home from grade school to see the entirety of her family's belongings on the sidewalk. They had been evicted. Steely-eyed, she described living crammed in the upstairs bedroom of a relative with her parents and three sisters, tolerated but not welcomed. It's not difficult to understand my mother's dedication to charity sewing.
Today charity sewing opportunities range from informal small local efforts to large, highly organized and established national organizations. Projects range from highly prescriptive requests for items based on specific patterns to less rigid activities. Popular recipients are children — both those living in the United States and abroad, hospitalized people, cancer patients, those at risk for domestic violence, the elderly, and military veterans. Some groups donate their sewing efforts as a way to witness or spread their religious beliefs.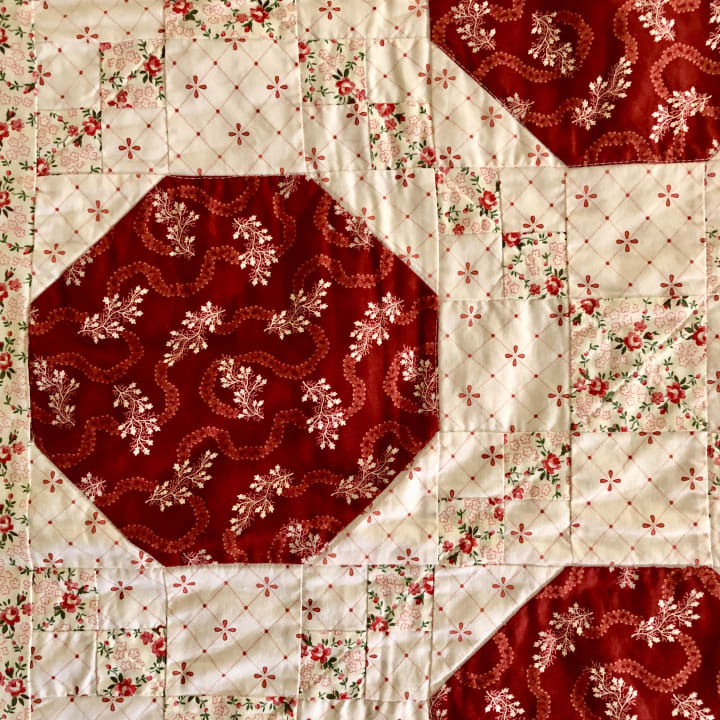 For example, Putting Prayers to Action is a Kentucky-based non-profit which serves Appalachian children. They travel through the Appalachian Mountains of Kentucky, West Virginia, Tennessee, and Virginia three times a year. They include religious messaging, clothing, and a few toys with their outreach. Putting Prayers to Action has detailed lists of what donations are needed, including hand-sewn items.
Station Stitchers in Purcellville, Virginia is one of the country's numerous local charity efforts. A few years ago, I visited their storefront center, a wonderous riot of color, sewing machines, and bustling volunteers. I interviewed one of the women behind this effort and was struck by her dedication. After thirty-five years working for the government and traveling the seas, oceanographer Peggy Dunning retired. Within two weeks, she was "bored out of my skull." She went to a fabric store, saw a quilt she liked, and from there became integral to the establishment of Station Stitchers. Since 2010, the non-profit Station Stitchers quilting studio has created and donated hundreds of quilts to the underserved in Loudoun County. The volunteer sewists also make smaller items that they sell to help fund their work.
Sewists may do charity sewing to experiment with new projects, to use up their fabric stash, or to simply scratch that sewing itch. After a person has outfitted every toddler within a mile of your home and every relative down to the second cousin once removed level, their gaze turns to the horizon. They've made a quilt for every bed, curtains for the bathroom, pj's for their spouse — what next? Well, charity sewing comes to mind.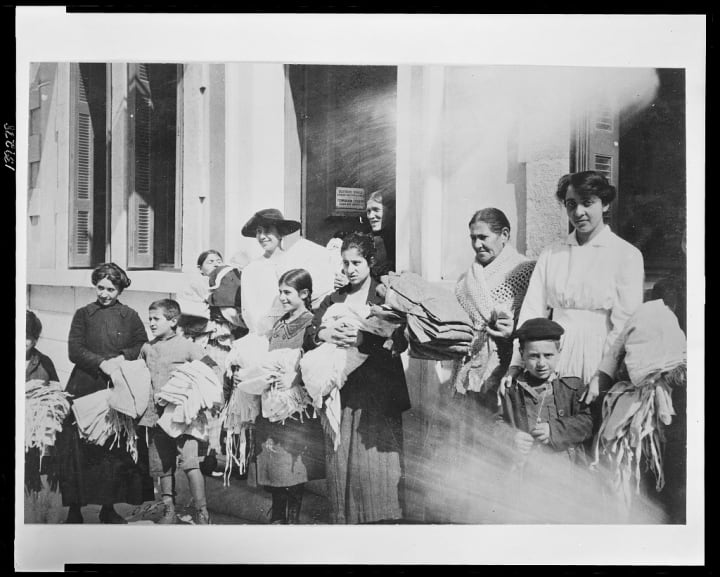 National and international organizations can best be found online. In addition to Project Linus, Quilts of Valor provides quilts to veterans and service members of the U.S. military. Days for Girls provides menstrual health kits on an international level.Ryan's Case for Smiles gives cheery handsewn pillowcases to hospitalized children around the world.
There is turnover, especially in the international arena and in local efforts. Volunteer sewists seeking a longer-term opportunity might seek organizations with a formal non-profit structure, local chapters, and a track record of several years in existence.
Local efforts, like my mother's teddy bear project, are typically informal. Usually, they include direct contact and social get-togethers. Fabric and craft stores can be one way to find them.
Social services, religious organizations, hospital social workers, and domestic violence service organizations also may have information about what's going on in a region.
My mother's fancy sewing machine has found a new home with a teenage sewing enthusiast. Maybe one day it will again turn out hand-sewn items for folks in need. I have Mom's mylar teddy bear pattern and have begun to put together my first bears. I look forward to following — at least a little bit — in my mother's footsteps.
"No one has ever become poor from giving." Anne Frank
About the Creator
Diane Helentjaris uncovers the overlooked. Her latest book Diaspora is a poetry chapbook of the aftermath of immigration. www.dianehelentjaris.com
Reader insights
Be the first to share your insights about this piece.
Add your insights