Said the Lion to the Lamb
To love is to be covered in blood and surrounded by poetry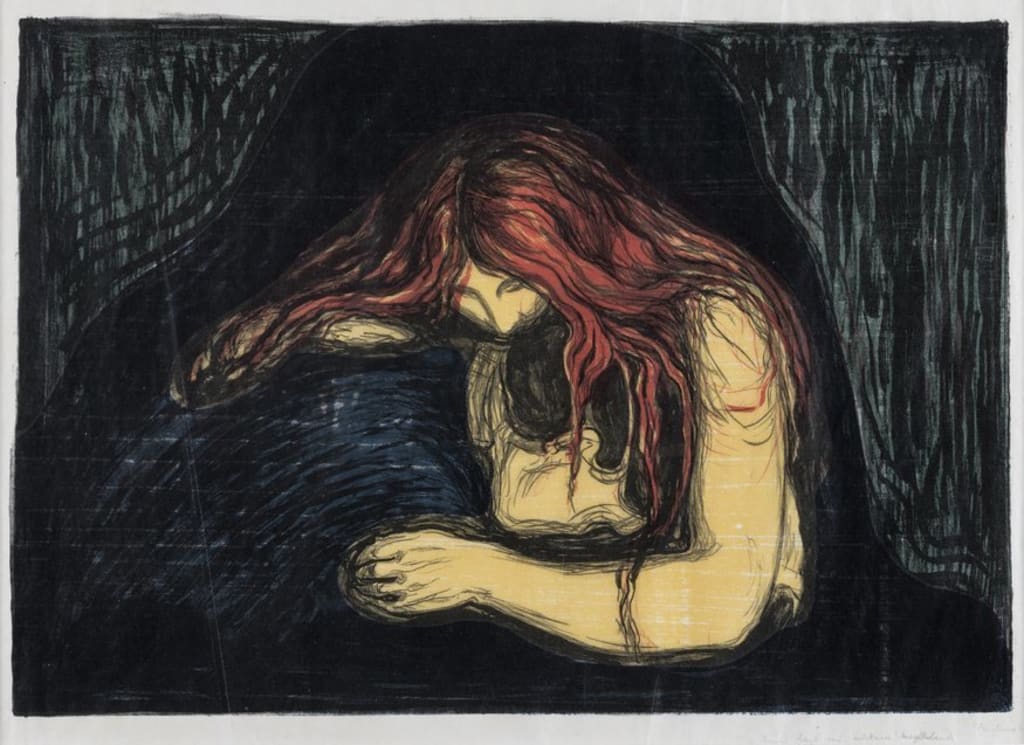 "You left before I woke and now the room feels cold. Do I dare move from these crumpled sheets, this mattress that slumbers in the musk of you? In the twilight hours, you caught my breath between your teeth as I held your bleeding soul between my palms. Though I'd given you everything, I wanted to give you more. I longed to wrap your hollowed skeleton in my skin, and heave the fiery essence of you into my cold veins. Giving you my body was the least of it. The whole time, you held me like a glass vase, afraid to shatter my fragile walls. I begged for you to dive right in, and you danced around the surface, unsure of yourself, unsure of me. It's okay though. I'm unsure of me, too. Unsure of the untamed scars etched into my being. Unsure of the starved, bone-thin frame this soul calls a home. Unsure of the wildfire burning, consuming, licking the backs of my pupils. I can feel it making its home there, in the back of my brain. An unquenchable curiosity, a never-ending ache. I leave the bodies of lovers piled in the wake of trying to destroy it. Perhaps you will be one too. Perhaps you will save me. Maybe I'll save you. Who is to know? But as we wait to find out, let me dip my hands into the sloppy, wet mess of your soul as we morph into a single being on this wild planet we call home."
"When I look at you, I wonder, why are you at war with yourself? You are oh so lovely on the outside, but so lonely beneath that tough skin marked by the claws of your demons. I want you to see it. I want you to take a deep look inside yourself, and wonder at the empty chasms slowly disappearing from the lack of being shared. I want you see it, and realize how the silence echoes in your chest, how it longs to be found, understood, and gentle. Yet your silence makes you aggressive. It makes you hurt, it makes you angry. You burn recklessly, loneliness dancing on your nerve endings. But darling, it doesn't have to be that way. Let me in, let the world in. Feel the sunlight burn the worry away. Bring your thoughts to refuge. And perhaps, in that process, I could share my soul with you too.
I'm lying in the dew now as the sky blushes from the smile of the sun. My mind is still with you in the curtained dark where your body drifts warm underneath the blankets and sheets stained with the sweat of our affair. It's cold without you out here, but the sun is starting to warm the cold corners of the world with its loving rays. I feel its red glow within my chest. I wish you could feel it it too. If you awoke and came to lie down beside me, I'd borrow the cigarette puffing at your lips, and say, do it, hold your arms out, bring the sky to your heart, and watch as the sun melts every iceberg inside your chest. Breathe in a new air, and share with me the childlike playfulness of your soul. You would look at me with those soft, marble-green eyes of yours, all big and curious, a small smile tugging at the corners of your mouth. Then you would do it, a little bit too forced, awkward, and nervous as you are. But that's what I love about you. You live with this constant fear, and yet you defeat it time and time again. You take control, and attempt to free yourself from its cold clutches, yet you are never able to permanently unhook its talons from your back. You are so afraid of your own demons, I dare not share mine with you, and risk adding my burden to what pains you. You have such a soft heart. Every second of time pierces you with thick, bloody emotions. You ache when the world aches, which means you suffer all the time. It's as if you are too aware of all the darkness enslaving so many souls, your blood turning hot as you chew over the violence of the world. It shoots arrows in your spirit and holds an anchor deep within your being. I wish the Earth would grow vines around you, ward off those evil spirits that haunt you with their green shield. But only you can command that dream into existence. I wish you could see that. And I wish you could see this now. Cotton candy blotches echo through the pale blue and golden air. I wonder what you're dreaming about. I wonder if you wonder about me. I wonder if you will ever get to know the bruised monster behind my mask. I hope you do. I hope you don't."
love

Eden Rowland
Raised a wild creature of the mountains, I am most at peace surrounded by trees and soil and the untamed beings of nature. I find home in stories bleeding with wild humanity and prefer to write about people rather than speak to them.
See all posts by Eden Rowland →