Reference Point
Mirror my mirror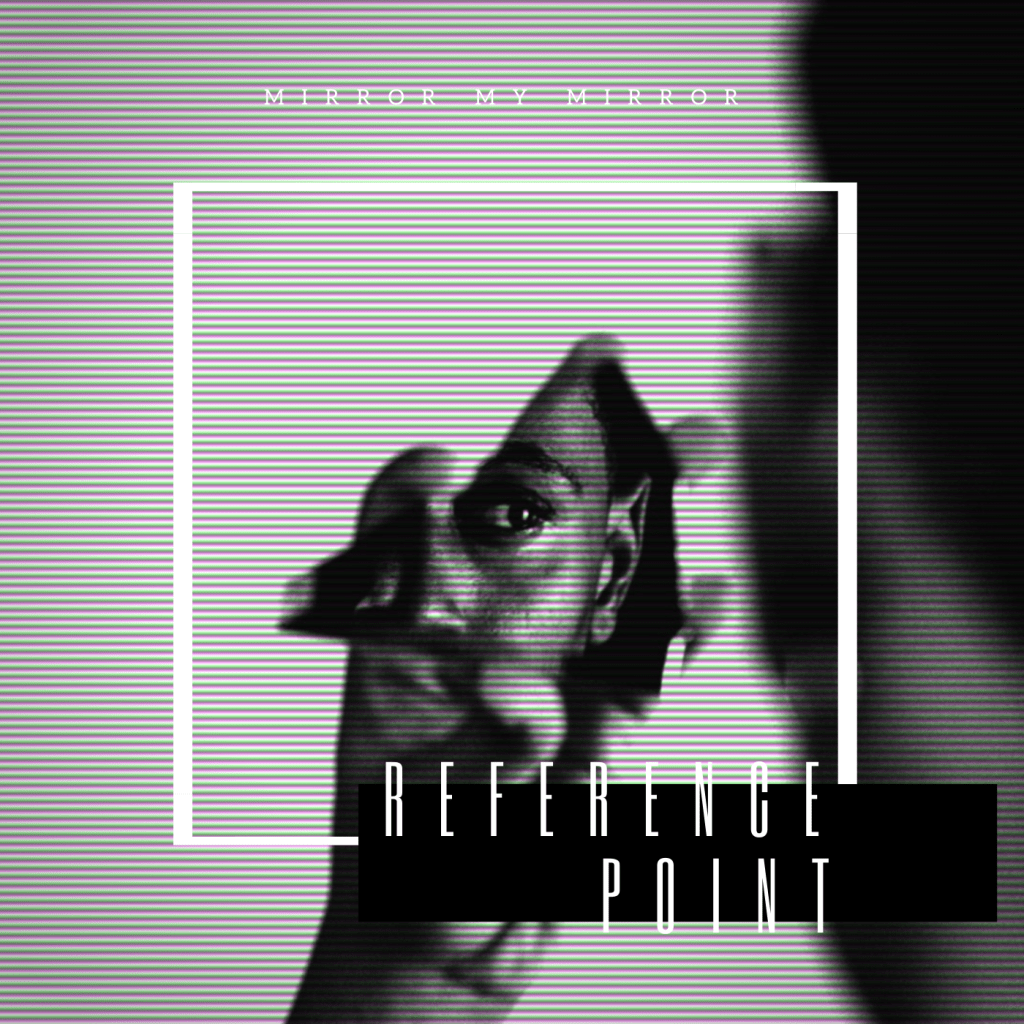 There was never really a thought to use water. To comb out that hair with water. Those brush strokes made sounds of ripped branches that came out of resistance. It resisted itself from the coarse-textured nappy headed hair that told colourful stories. Tales often heard through wired telephones. Most of these stories rhymed with many different types of black and brown skinned heads. Mama would always say, "that's why you gotta brush your hair out every day. If you did, maybe it wouldn't hurt as much."
Being tender headed was an issue. Most black girls were tender headed from the nape of their necks. They called it the "kitchen." And that kitchen had to be straightened out in order to be manageable and to fit within the conventional paradigm of normality. Mamas had to cook that hair out of its rawness to favor presentable looks that influenced decisions. We had to dress ourselves up with the proper attire and speak the pretty language. Ain't no mismatched vernacular slang coming out of your mouth no matter how connected you are to your mother tongue! "No jigaboos allowed here," was a statement that would be translated from the old spoken language of "no coloured folks allowed." The word jibaboo is still a slur. And it hurts more when the blinded integrated black folks would say it to their own babies.
But that hair. Oh, that hair carries the roots of our ancestors, mirroring our sister's thick and thin strands. But that hair is ours. That kinky, curly, nappy headed hair, is ours. Ours to braid, to tie, to curl, to straighten, to add to, to burn, but also to love. Our hair has gone through journeys of trial-and-error. Hate and ridiculed for centuries and decades all because it stood tall, bold and bare. And to be bold and bare, is to tell the truth.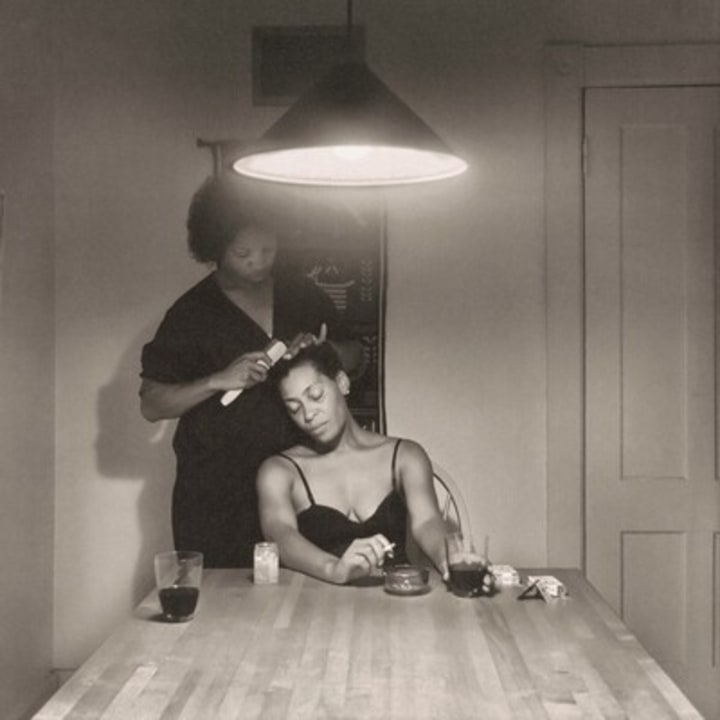 See these scenes are intimate. Carrie Mae Weems' The Kitchen Table Series, are photographs of familiar scenes of intimate connections we continue to have. We know this picture. We mirror this picture. In fact, we sat there last night. We sat at the kitchen table as mama straightened out that back kitchen to ease tension and emotions, and to let that hair calm down because her attitude needed a caretaker that cared. See she got character. She got class. And if that hair could talk, she'd say "Let me go, and i'll grow!"
Around the kitchen table, mama would hear about my sister's pain of work affairs and love affairs while combing out her hair. As she smoked cigarettes to help pass the time, mama would talk about what it meant to be the kind of woman whose voice doesn't shake when she speaks. My older sister, who I referred to as sissy, is the kind of woman who is aware of herself. The kind of woman who wants to be loved by what she shows us. But strangers see her complexities as a threat. They see her as difficult and complicated. Unashamed and too intense. And they try to tame her because being too much, doesn't fit their archaic definition of femininity. Patriarchy couldn't regulate her mind after the causation of the battle of monogamy, family, polygamy, and this schism between us vs. them. That kind of man loves his manipulated tactics he has on her. These domestic spaces tell it all. Mama talked about it all but she's a traditionalist-that's her veil and reminds sissy that taking a man's side made her forget to take the side that's familiar. To take the side of a woman.
These domestic spaces were common for the everyday people and we dressed that table up from Monday-to-Friday. We placed coasters, table mats and lukewarm water. We followed the rules of civility and placed the cutlery the etiquette way. Throwing a couple yellow roses in a silver vase for Sunday dinners cause everyone's inside to turn that house into a home. It was a place of sanctuary embedding experiences that bonded us together during the storms of struggle. An incense that liberated an aroma of Black vocality; allowing space for vulnerability. But if those walls could talk, they'd reveal broken promises. Especially the promises that made sissy cry, every time her lover made lying a habit she stopped predicting. Sissy wasn't a 16 year old waiting around to count the days until some man who never understood his manhood would be ready to choose her, and only her. She believed that he was her plan, and a woman shouldn't need to have a plan B, if plan A was supposed to last.
That kitchen was like our church. The meaning of the Church is establishing a connection with people who share similar beliefs and values so, mama was like our preacher, and we were her congregants. Every time she spoke the truth about something-life, politics or love, we'd say "Amen, Alleluia and tell 'em!" But sometimes it'd get too preachy. Too preachy for my stubbornness. But mama didn't stop me from my humble opinions. She needed me to understand how things are like in life so that my rebel desires wouldn't come from naivety. She was a bit better than regular Sunday school. She didn't paint pretty pictures and give them fairy-tale endings. Her pictures were the color grey. Sophisticated rich shades of grey. Her stories had substance. So much so that it became a type of religion to hear those dark narratives of an imperfect heroine. She made it comfortable for the sisters in the neighborhood to come over on Thursday nights because they sought solace in her religion. And the sisters loved hearing about them only to play telephone with the girls next door. That's where the sips from the tea came from. That, and a lot of "you didn't hear this from me" defenses.
Sunday school was on Thursday nights at mama's house for the women and the girls in the neighborhood, until Sunday school became our everyday. We would talk about anything and everything. Food, culture, hair and those underlying lessons to teach our own daughters some day. "No better person to teach you about the beauty of your hair and yourself than the women who came before. They'll be your reference point," mama attested.
Even today, Black men unravel their veils too. The ones that prevented some of them from seeing us as we are. Josef Adamu, founder of Sunday School Creative - a platform that demonstrates storytelling through visual literacy, is an ally for Black women and voluntarily puts himself as a viewer and a supporter in his short film the "The Hair Appointment." In the film, you could feel his presence as someone who's there to listen. Similar to a gentlemanly feeling of a man rising when a woman enters the room. This assures me that chivalry isn't dead and works well in platonic settings. He's sensed as an outsider coming in and witnessing the lives of Black women and their ways of living.
The Hair Appointment shows us our culture and our Africanness. Josef's purpose was to cast a light in celebrating natural hair braiding through the Black woman experience. His need for demonstrating raw storytelling epitomizes a love story of Black womanhood and Sunday night hairdos, with vintage tones while showing the detail in hair-styling. The one minute film below, took place at Alima's Braiding Salon in Brooklyn, New York. East New York to be exact- Brownsville to paint you a picture. It exhibits nostalgic feelings of the memories of our upbringing; depicting the contrast between a generational shift. An outside viewer- that is, a gaze that's unfamiliar with the complexities of us due to our refusal of subscribing to a white ideology, gets to witness the creation of diverse looks of hair braiding. Therefore, this toxic gaze can no longer harbour a closeted phobia they have on us, because behind the public face of stereotypes lies the truth. It's unfetishized black beauty and it comes in different black hues of brown.
These modalities of us shape the way we see ourselves today. We have decided to free ourselves from a slavery mentality that has depicted what we are supposed to do or who we are supposed to exemplify. We learn to unlearn when we fully discover our Black power. The hair we have, that kinky, curly, nappy-headed hair we have, allows us to show up as we are. To be heard through the mellifluous of our voices.
Joshua Kissi created the social media page Hour Stories, which speaks to our stories as it pertains to the voices of Black creatives, and our differing talents that frames our Black communities. Social conventions built by society will sometimes try to make fools out of us. Making us feel so invisible that we become a rarity viewed as tainted desires. And the usual "they" will continue to illustrate polluted or romanticized narratives of us- the ones that are far from the truth and animated. If we were numbers, we'd be the odd ones. Loved by a white gaze in which time has conjured up a vexed relationship that continues to appropriate our culture and some of us, have continued to play the game. As Carrie Mae Weems would say, "you framed the likes of me and I framed you, but we were both framed by modernism."
Hour Stories highlights the importance of space, identity, voice and creativity through the panorama of black life. We are the seeds once planted by our ancestors, who watered the roots of our mothers, who were once daughters hearing stories that have become scriptures for us. To fully be ourselves is to be in alignment and to understand what it means to be at home. It means to move forward with remembrance of where we came from and to embrace our truths. Awareness is the word. I am aware of what it means to be whole, and what it means to be Black. The women I think about become my reference point- my work cited page. And the strange case of an unfamiliar gaze isn't just looking at me, but the Black women who stand behind me-seen and unseen. Either way, there are mirrors here. And for the unfamiliar gaze, we are your mirrors. So it's time you wake up, to look at us, and love us, like the love you have for our culture.