One Night with PRINCE
Another Vegas Experience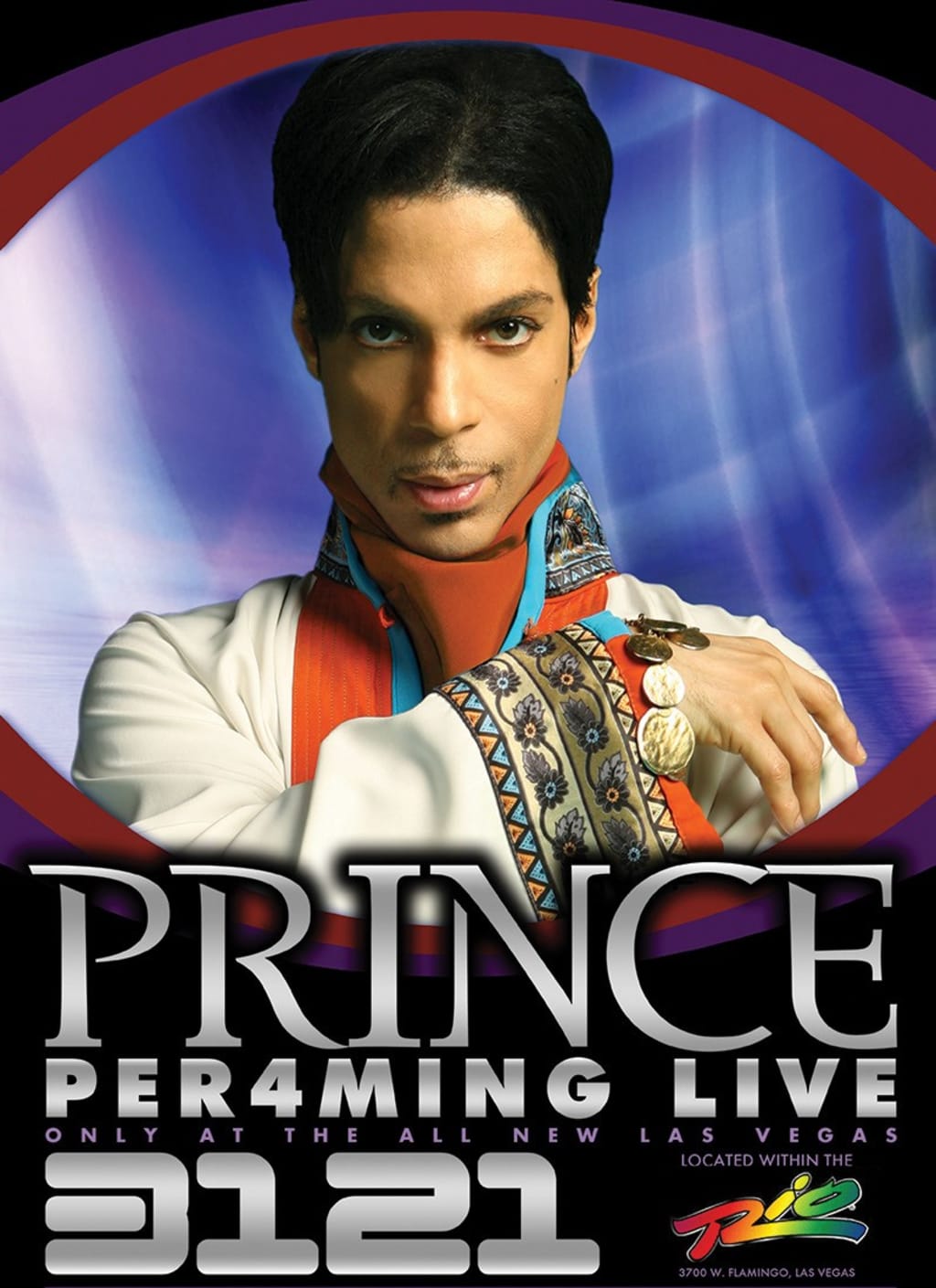 photo courtesy of Behance.net
Back in the latter part of 2006 , (I'm not sure of the exact date) Prince had a nightclub called 3121 at the Rio Hotel in Las Vegas. It was the club associated with Prince's 3121 album. It wasn't there for long but it garnered a lot of attention in a very short period of time. Of course, since it was his nightclub, Prince played on occasion and some nights you might get a surprise performance from Chaka Khan, Sly and the Family Stone or even Morris Day and The Time.
During this period I was working as a Guest Services usher at the Colosseum at Caesar's Palace where Celine Dion's "A New Day" Las Vegas revue headlined several nights a week. Caesar's and Celine was one of the best jobs I've ever had. The Colosseum is one of the largest venues in Las Vegas with nearly 4200 seats top to bottom. Sometimes while working my knees didn't quite agree with me, and my penchant for an In-N-Out Burger every now and again, which made the 2nd Mezzanine stairs a bit difficult to climb up and down. However, I pulled through.
Sometimes my supervisor would have me monitoring the in-house radio system, which meant I'd be listening out for other ushers on the upper levels inside the Colosseum to call me about audience members recording the show,and that was not permitted. My main task was of course seating guests as well as directing them to gift shops, restrooms, or back to the casino without disruption to the show. It was fun and the way I enjoyed my job I'd always greet patrons with a smile and sometimes a song or dance because I knew they'd enjoy. I loved being in an environment that truly showcased by personality. Working Guest Services was such a switch from working my day job at a hospital. The energy shift was amazing and I always looked forward to what I would encounter at the Colosseum.
While working one night I was assigned an area closest to the stage (Front Orchestra) as well as the Colosseum auditorium door adjacent to both the guest elevator and one of the entrances to the stage area. We couldn't let guests go through the stage areas or they'd end up right in Celine's lap (and then I'd be out of a job). This was a night full of surpises and I had no idea what I was about to experience.
On this particular night I was standing outside of my assigned door in Front Orchestra because I needed to listen out for any radio calls. I remember leaving out the Vom door to listen to the radio but it wasn't for me. I decided to stay out within the lobby area for a few minutes. As I was standing there I saw with my own 2 eyes about 30 feet away from me, Prince.
(Yeah…you read that right. Prince. Prince Rogers Nelson. Yup Prince.)
He was walking toward the elevator with a small entourage. My eyes were so fixed on Prince I was blind to anything else. He glanced my way but then, we stared at each other for a brief moment. Prince saw me. I couldn't move. Seeing him stopped me in my tracks. I don't remember if my knees locked or if I started drooling but I couldn't move or turn away. I actually was in the presence of Prince. I feel like Prince and I had a moment and as I'm writing this you can't tell me that we didn't.
Suddenly I had to come out of my Prince fog because I was needed on the radio. I believe they had to call me more than once because I was still awe struck. As I gathered myself together (because I wanted to look important and professional) I responded to the other person on radio "Go for Front Orchestra" and suddenly, Prince was gone. I couldn't even tell you if I took care of whatever the person on the radio was asking for. My mind was fixed on Prince. I didn't see him again that night.
Of course, no one believed I'd had that moment with Prince, but I knew. I went home that night blasting "Sign O The Times" from my car stereo. I tried but couldn't sleep reminiscing about that small moment with Prince.
The next morning I'd gone to work at my full-time job and headed back to Caesar's and the Colosseum that evening telling everyone who would listen that I had a moment with Prince. This night I was working at the next level above; Rear Orchestra. Still great seats for patrons and still a smile on my face because I loved my job. During our pre-shift the House Manager asked the team of ushers if some of us were interested in going to see a free show at another casino. When she announced it during pre-shift I didn't recognize the name of the show so I had no interest. After pre-shift, I bounced up the stairs to my section as per my usual.
A little bit after Celine's show began I was outside of my designated door and another of my other supervisors came through with a pen and pad asking again if ushers were interested in seeing another show. I thought it was for the same infomation the House Manager asked about during pre-shift so I knew I wasn't interested and was prepared to decline. When my supervisor approached and asked, I was doubtful in my initial response until he immediately replied, "So…you don't want to see Prince at 3121 tonight?" (Elongated pause) My jaw dropped to the floor. My mind changed instantly. I immediately said yes and prayed to God that Celine would hurry up her show so I could get to Prince.
I remember anxiously pushing guests out the door and sprinting home to shower (I called out from my day job the next day as I remember that was a Thursday night) change and put on some smell good only to head back to the strip, and the Rio to meet up with my other Colosseum coworkers.
The venue was small and intimate with horseshoe arranged seating. VIP tables decorated along the mirrored wall and the dance-floor in the middle with the stage straight ahead. None of us wanted tables so we tried to get as close to the stage as possible, but that didn't happen. At least not yet. So, I stood there with all the 5'10" and above fans in front of me, while my 5'6" self was trying to protrude my neck to see the show. Prince wasn't very tall so my average female height was a hindrance. No problem. As people were dancing so was I, and the next thing I know I had danced and wiggled my way to the stage. I found myself towards the right of the stage where one of the 3121 dancers was performing and in my eyesight was Prince in an off-white suite and his signature guitar killing the music as only he could. The dancers helped hype the show and I was in music heaven. If you remember the 3121 tour and Prince's Superbowl performance, you remember the twins Maya and Nandy McClean. These two amazing beauties electrified the stage while Prince did his thing.
As I was grooving to the sounds of Prince and in total awe, Prince asked for a few folks to come on stage and dance with him. Oh, HELL YEAH! I was ready. The dancer on my side of the stage was waving person after person onto the stage but when she got to me she pulled the velvet rope across the stage entrance and said she had no more room. WAIT!! What?!! Why would she do that with me?….ME of all people? I looked at her dead in her eye and shouted "You have GOT to be kidding me?!" The dancer looked me and said "I have room for ONE more." I have no idea who the person to my left was but I shoved my purse and coat in their arms, uttered "hold my stuff" and jumped on stage.
This time I was 10 feet away from Prince. I was on his stage at 3121. Me! I still get the shakes thinking about it. I was dancing on stage with Prince.
One other crazy note about that night. This performance was right after the death of soul and funk music legend James Brown. Maceo Parker was Prince's special guest. Elated, I realized I was on stage with nothing but legends. Don't ask me what song was playing because I don't remember and as awestruck as I was in that moment, it really didn't matter. I had 2 amazing encounters with one of the greatest musicians, songwriters, performers, human beings in the world.
The next time I worked at the Colosseum I felt like a superstar as my coworkers were amazed that I got on stage at Prince's show.
3121 is gone now, as is Prince. It breaks my heart to think that we'll never be able to experience him again. The closest thing any of us will get to is at the Paisley Park Museum in Minessota or the periodic release of his music from the Paisley Park vault. The one thing I know is no one can take these memories or experiences away from me.
I'm sure other people have similar stories or even better stories than mine but no one will ever be able to take away my precious moments with Prince at the Colosseum at Caesars, or 3121, away from me.
Whooo Whee!!! We miss you Prince.
About the Creator
Just a woman who likes to write. I particularly like to write about my personal experience with Baltimore history. Hopefully I've piqued your interest and you enjoy what I have to offer. Stay positive. Thanks for checking me out.
Reader insights
Be the first to share your insights about this piece.
Add your insights