Not Just for Auld Lang Syne
But also for what's to come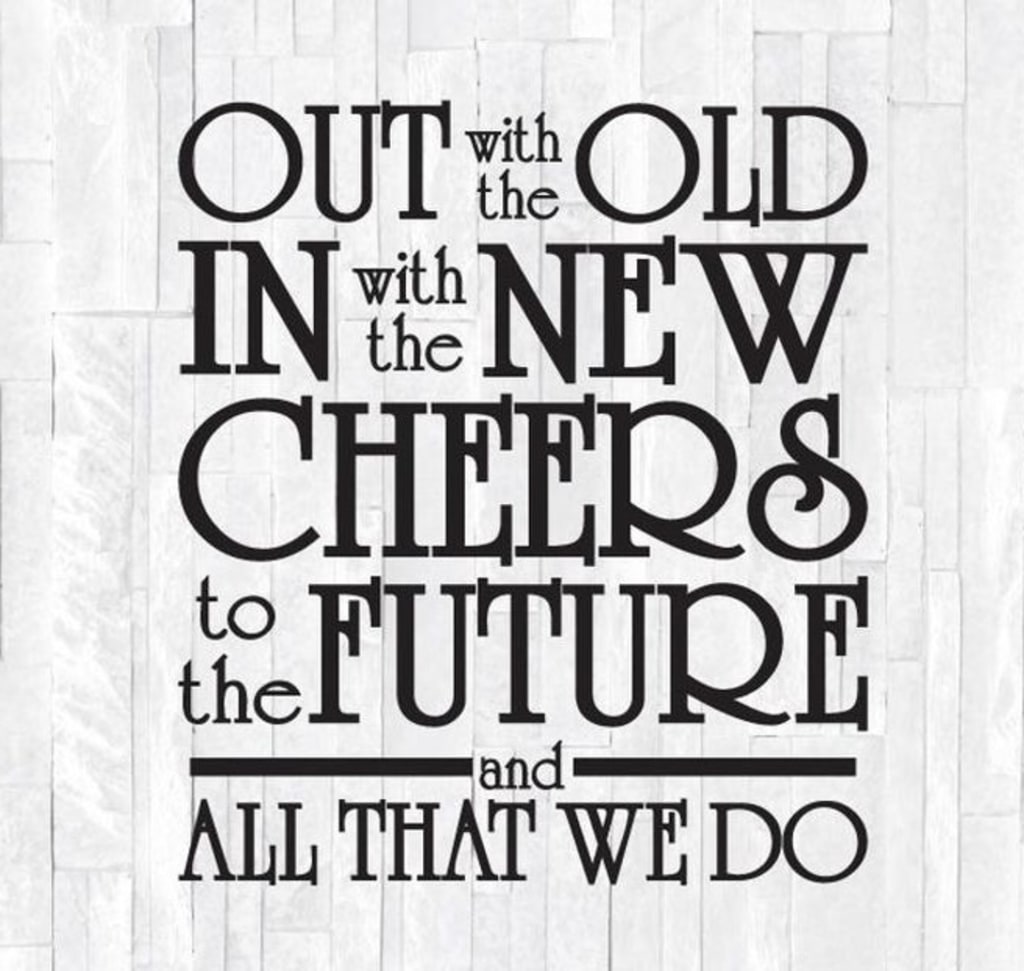 Cheers!
Sitting around my house this past week or so has given me much time to reflect.
My kids aren't little anymore - they're all adults doing their own thing. Sure, they made time for their mama, and for that I'm grateful, but I recognize and appreciate their shared need to have their own plans and schedules.
My partner is retired, but he's also keeping busy with his commitments to the town and to hockey. Plus he's been feeling under the weather and we both agree that I am not meant to be any kind of nurse or health care provider. (Nope, not even a little bit.)
Although I could have worked, I opted to take three days of annual leave simply for the sake of enjoying some disengagement from the workplace.
So although I have had occasion to visit with friends and have delighted in eating every single morsel of anything put in front of me, I've also had ample time to sit and ponder - not just about what's gone by but also about what may lay ahead.
Last week, I wrote and shared this on my personal writing page:
It's been a year…
I'm not even saying that sarcastically.
I mean it with my whole heart.
This past year…
My youngest son began casual employment with Marine Atlantic.
My oldest son bought his first house and lives there happily with his partner and their kitten.
My daughter secured full-time permanent employment with the HRM as a Legislative Assistant.
My partner got himself a truck, laid to rest his dear aunt, and enjoyed the thrill of having his son and daughter-in-law move just a little bit closer to us [and now they're engaged to be married!].
And me? I got to watch the people I love take steps to make their dreams come true, make peace with the past, and continue to set goals for the future. What's more, I got to take the trip of a lifetime and run my last marathon.
For all that the past couple of years have taken away from us, we have also gained so much.
Time… to notice and appreciate sunrises, sunsets, music, laughter, training runs, good coffee, friends, phone calls, text messages, walks with the dog. These little things have served to enhance my appreciation of the bigger things.
This isn't "stuff" any of us are going to find beneath the tree [on Christmas] morning. Rather, it is the stuff I intend to carry with me in my heart all year through. And then some!
On this particular day though, as folks are making resolutions for the year ahead, I am also reflecting on the concepts of change, of growth, and of what those concepts mean for me.
I'm trying to figure out my place in the scheme of things, what my role may be, where this path I'm on may lead. And I can't believe for a second that I'm alone in this transitional phase of life. I sense (I hope) that many are also in a state of "flux".
It's always easier to give advice than it is to take it, right? So maybe if I frame it this way, it might also take root in me.
So here is my wish for you (and by extension, for me too!):
Whether the last year has made you stronger or softer, I hope it has also made you question what you consider to be "normal". I hope it has helped you set goals for yourself. I hope you realize that, good or bad, the past is just that: it has passed. Tomorrow is a new day - and you have a say in what it's going to bring. You are an active participant in how it unfolds - perhaps not in your circumstances themselves, but definitely in how you respond to them.
So with that in mind, I wish you grace.
I wish you peace - whether it's with your past or with the present moment.
I wish you invaluable learning opportunities, discoveries, and new ways of looking at old things.
I wish you a sense of connection with others, whatever that may look or feel like for you.
I wish you the challenge of opening your mind to new ideas, to new ways of thinking, to creating new habits, to finding the good in each day.
And at the risk of allowing my inner Dolly Parton to surface, "above all this, I wish you love".
Not just because the date on the calendar is changing… but because it's a gentle reminder you are also capable of change, of moving forward, of redefining not just yourself, but your surroundings.
About the Creator
Ms. Carroll is a 40-something year-old veteran public servant and mother of three adult children. She and her partner Hal live in Amherst NS with a sweet, anxiety-ridden rescue dog. Shelley loves running, red wine, and laughter.
She/Her
Reader insights
Be the first to share your insights about this piece.
Add your insights